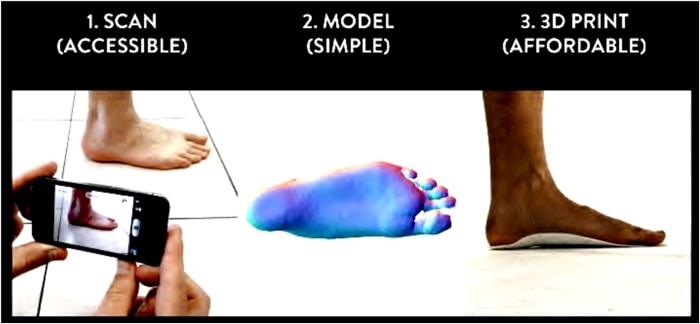 Everyone wears shoes. But not everyone wears shoes fitted exactly to his/her feet. Human feet are complex and even when you can categorise them into "flat feet" or other types, getting the right shoe is not easy.
Winner of Virgin Media Business' Three New Things event, "Three Over Seven", promises a nifty solution which takes advantage of currently-trending 3D printers.
How about being able to scan your own foot with a mobile app and get 3D printed sole shoes, completely tailored to your feet? That sounds like a dream comes true for all shoe wearers. For shoe manufacturers, this is also a game changer because it means that they can make only what they need to (compared to having to cater for everyone, which is not cost effective).
The "Three New Things" event itself was attended by 250 people who brainstormed for innovations and ideas under one roof. BuffaloGrid took the second place for offering smart solar electricity solution using SMS as payment for off grid areas. CubeSat was on the third place for offering a 3D space-based connectivity solution. All of them will get the price of £25,000 of business telecoms, support from Sir Richard Branson, and mentoring session with the Virgin Media Business Senior Management Team. More details at Three New Things site. Or, you can ask a question to Virgin Media Business twitter account (@vmbusiness) or join the conversations with the hashtag #3NewThings.
Here is a short clip about the event and the winners:
If Cinderella lives at this age, she would probably be jumping up and down with tears of joy.
Disclosure: This post has been sponsored by Virgin Media Business, but all thoughts are my own