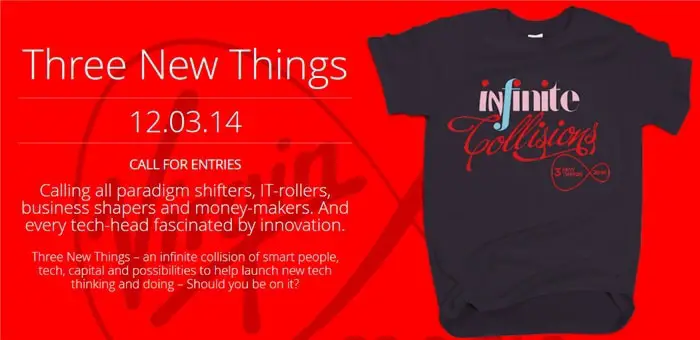 Each year, we see new innovation in technology: software, consumer products, hardware, network efficiency, security breakthrough, and much more. Why I love about writing technology here at Craving Tech is because there is always something to write. There is always something new to talk about, and be excited about.
Virgin Media Business is calling those with creativity, ideas, and innovative thinking for an event that will take place in London, March 2014. The goal is to find "Three new things" – three new digital innovations that will rock the technology world this year.
Finding new innovation is not easy, obviously. However, what if we cram 250 IT genius into a room to brainstorm and present ideas? Two heads are better than one. Two hundreds and fifty heads? Guess we'll find out soon enough!
There will only be 1 winner in this competition and the prize includes:
Up to £25,000 FREE business telecoms for a year.
Introductions to Virgin Media Business vast network (including consultation from 2 members of Virgin Media Business' Senior Leadership Team.
Mentoring and Support, including an opportunity to talk one on one with Sir Richard Branson for half an hour, a UK billionaire who is also the founder of Virgin Group.
The competition is currently on-going and you can register your interest at Virgin Media Business' Three New Things page. If you think you have a really great idea to present and promote, you are encouraged to submit your entry through their page. If you win, you can make your dream comes true.
The event is being held at the London Film Museum South Bank, for 12th of March 2014.
Disclosure: This is a sponsored post by Virgin Media Business. All opinions are 100% mine