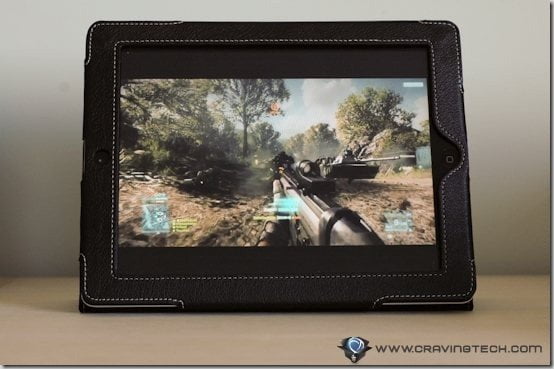 Snugg iPad 2 Case Review – The Snugg iPad 2 Case is made of PU leather material to protect your iPad 2 while on the move. As such, the Snugg case is made with extra protection here and there to make sure your iPad 2 stays firm in side, and stays safe.
The Snugg iPad 2 Case design overall is of high quality and craftsmanship (the stitches are very well done, unlike a few iPad 2 cases I've seen in the past). The Snugg logo is embossed in front of the case but the rest of the surface is flat black.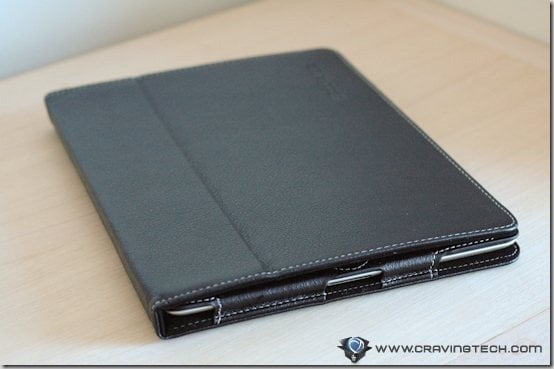 At the back of the Snugg iPad 2 case, we can see a flip stand which can transform the iPad 2 case into a cool iPad 2 stand, perfect for watching movies and such. Simply flip the front cover to the back and snuck it on the "hook", it's easy.
Like the official Apple's Smart Case, the Snugg iPad 2 case also supports waking up the iPad 2 from its sleep when the cover is opened. When you close the cover, the iPad 2 will go back to sleep automatically.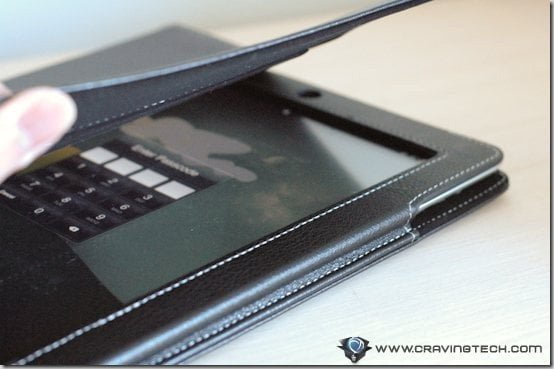 Snugg iPad 2 case protects the iPad 2 surrounding body and only let a few parts exposed. As a result of this though, it hides away the iPad 2 aesthetics but for the extra protection, it's worth it.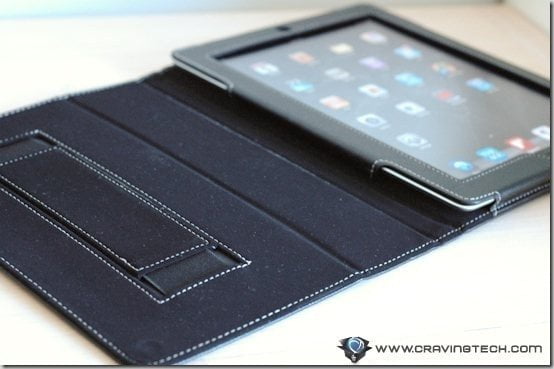 There is also an extra elastic hand strap in which you can slip your hands in. It's really useful as a tighter grip when you have to hold the iPad 2 with one hand while you are walking or reading an e-magazine (or when you are doing number two in the toilet :)). It also gives an extra look to the case overall.
There are also cut-outs to the Snugg iPad 2 case so you can recharge the iPad 2 without taking the case out, use the buttons, ports, jacks, and even taking photos with the front or back camera.

There is also another angle that you can use with the Snugg iPad 2 case for typing, which is great as you can carry this to a meeting and such: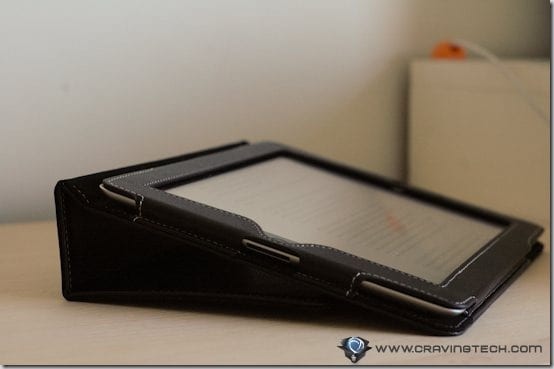 So all of these features make the Snugg iPad 2 case a great all-around case that has good ample of protections, auto wake & sleep, a hand strap, and can even be transformed into a stand. It certainly does not offer anything new out there, but it's a great case if you want to combine all the necessary stuffs you need from a case.
Note: Snugg iPad 2 case review sample was provided for the review
Snugg iPad 2 Case Review – Pros
+ Good amount of protection
+ Good craftsmanship
+ PU Leather material
+ Can be transformed into a stand
+ Has a typing angle
+ Cut-outs for ports, jacks, and cameras
+ Can auto wake/sleep the iPad 2
Snugg iPad 2 Case Review – Cons
– Adds bulk to the iPad 2, making it heavier