Note: This is a guest post written by Jeeva Shanmugam
According to business insider Ice Universe, Samsung's forthcoming Galaxy Z Fold 5 is expected to use a novel "droplet" hinge design, also known as a "dumbbell" hinge within the firm. The primary display of the Samsung Galaxy Z Fold 5 is believed to be wrinkle-free thanks to the newest technologies used in it.
Samsung has used the same type of hinge throughout the development of its flagship foldable tablet, which has left a noticeable crease on the inner display in each of its previous four iterations. Samsung's design is one of the two primary hinge designs now used for foldable smartphones.
I would like to discuss a few of the anticipated features and design changes in the forthcoming Samsung Galaxy Z Fold 5. Let's tear them one by one.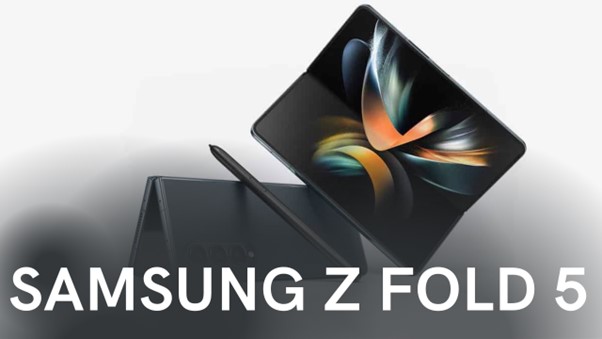 Samsung Galaxy Z Fold 5 "Droplet" Style Hinge
The Samsung Z Fold 5 "Droplet" design is a concept for a foldable phone that incorporates a unique droplet-shaped foldable display. The droplet shape allows for a larger screen size when opened, while still maintaining a compact and portable design when closed. The phone also features a sleek and minimalist design, with a slim profile and minimal bezels around the display.
The foldable display is made of durable and flexible materials, making it resistant to scratches and drops. The "Droplet" design also includes a built-in stylus for easy and precise navigation and note-taking. Overall, the Samsung Z Fold 5 "Droplet" design is a unique and innovative concept that combines the convenience of a foldable phone with a sleek and modern design.
The main display's crease has been a problem for the Galaxy Z Fold and Flip series for a long time since it is noticeable and feels rough while using the main display, especially when watching movies or other material. The performance of devices like the OPPO Find N and OPPO Find N2 in this area still surpasses that of the Galaxy Z Fold 4, despite the Galaxy Z Fold 4's improvements over earlier versions in terms of reducing the crease.
Samsung's delay in implementing the "droplet" or "waterdrop" hinge design is not totally known. It has been said that the lack of water resistance was a major factor, however, it appears that Samsung has solved this problem, as the Galaxy Z Fold 5 will continue to be water resistant while having a different hinge design.
Samsung Galaxy Z Fold 5 Camera Upgrade
Along with a significant aesthetic change, Samsung's next foldable may also see an increase in camera megapixels. According to one speculation, the Galaxy Z Fold 5 might get an upgrade to a 108MP primary camera.
The Fold 5 may receive the 108MP camera from the Samsung Galaxy S22 Ultra, according to the Vietnamese publication The Pixel (opens in new tab). A 64MP telephoto camera with 2x optical zoom and a 12MP ultrawide camera may also be added to the phone.
Samsung has already emphasized the value of enhancing the cameras on its foldable, so we wonder whether there is any truth to this report. With the Galaxy S23 Ultra's rumored 200MP camera, Samsung's Galaxy S series is also likely to surpass a new megapixel milestone. On February 1, the Galaxy S23 series is anticipated to go on sale.
The Fold 5 could include a new Qualcomm chipset and be a little bigger and heavier than the Fold 4, according to prior reports from the Vietnamese publication. An even earlier rumor that said the Fold 5 will be built of a lighter material and thinner and lighter contradicts this.
Samsung Galaxy Z Fold 5 Expected Features
Foldable Display: The Samsung Z Fold 5 is expected to feature a foldable OLED display, with a high resolution and a large screen size.
Improved Hinge: The hinge mechanism is expected to be more durable and smooth, providing a better folding experience.
5G Connectivity: The device is expected to support 5G networks, allowing for faster internet speeds and more reliable connections.
High-performance Processor: The device is expected to be powered by a high-performance processor, such as the Snapdragon 888, for smooth and efficient performance.
Improved Camera: The device is expected to feature an improved camera system, with a high-resolution sensor and advanced features such as optical zoom and night mode.
Longer Battery Life: The device is expected to have a larger battery capacity, allowing for longer usage times between charges.
In-display Fingerprint Sensor: The device is expected to feature an in-display fingerprint sensor for secure and convenient unlocking.
Water and Dust Resistance: The device is expected to have an IP rating for water and dust resistance, making it more durable and resistant to damage.
Stylus Support: The device is expected to support the use of a stylus, allowing for precision input and drawing capabilities.
Advanced AI: The device is expected to have advanced AI features, such as facial recognition and voice control, for a more intuitive and convenient user experience.
Final Phases
It's important to remember that the Galaxy Z Fold 5 is anticipated to be released in the second half of the year. The Galaxy S23 series will officially debut on February 1st at the Unpacked event, according to the company.
So we will have to wait and see what Samsung's next foldable phone has in store as there is still plenty of time. However, the Galaxy Z Fold 5 appears to be one of the major hitters this year and may even top the list of the best folding phones thanks to rumors of the design and expected features of the foldable device