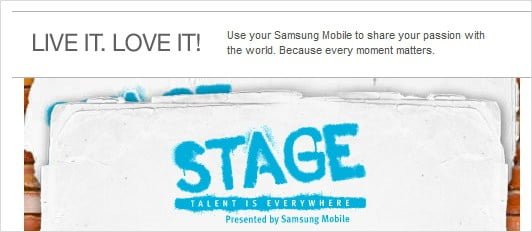 Samsung Ultimate YouTube Talent Contest – You think that you've got talent? Why don't you prove it by submitting your unique video to Samsung Mobile Stage competition? If you are picked as the winner, you can walk with $10,000 as the prize! Not to mention that you will certainly be popular among possible millions of YouTube viewers!
Samsung Mobile Stage is part of Samsung's "Live it. Love it!" campaign and opens for everyone in the world. Use your Samsung mobile or tablet to record your golden moment and compete against other people with great talents all over the world. There are also monthly winners being picked for $3,000 cash in prizes from the 1st of July until the 1st of November 2011.
Check the magic trick video below as an eye opener but of course, you don't have to do magic to participate and win :)
For more info about the Samsung Mobile Stage competition, check out Samsung's Facebook page.
Disclosure: This post is sponsored by Samsung