As iPhones get taller and taller, Samsung phones get bigger and bigger. Okay, scratch that joke, it's old. But Samsung GALAXY S4 does get bigger compared to the Samsung GALAXY S3 (check out my Samsung GALAXY S3 review) – it now features a 5" screen.
The screen comes with a 1080×1920 pixel Full HD Super AMOLED display (441 ppi), which goes beyond what iPhone 5 offers (though the clarity of the display will have to be compared side by side). It comes with 2 GB of RAM, 4G/LTE, and the latest Android operating system, 4.2.2 (Jelly Bean). To add into this huge specifications, the Samsung GALAXY S4 is also powered by Octa (yes, octa, or 8) processor. I seriously don't know why our phones need such a tremendous horsepower but it may be required to power the new features on the GALAXY S4. It also gets slimmer and thinner.
There are plenty of motion detection capabilities on the S4. You can watch a video and while you look away, the video can auto-pause by itself (Samsung Smart Pause). Or, a-la Minority Report, you can swipe your hands above the phone left-and-right to browse pages (yup, without having to touch the screen – Air Gesture). Not sure how many would do this in front of the public, but it still sounds cool nevertheless (and handy if your hands are full or dirty).
Samsung GALAXY S4 will be available in 2 colors: the Black Mist and White Frost.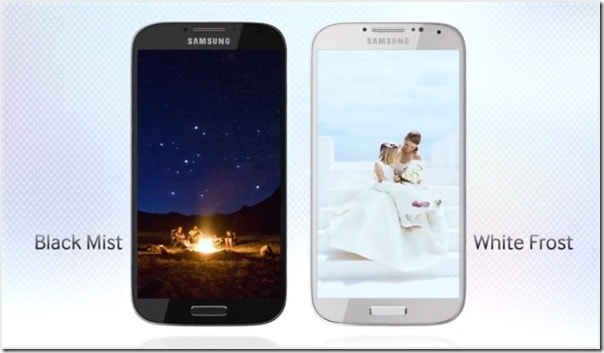 Like the Samsung GALAXY Note 2 (check out my Samsung GALAXY Note 2 review), you can do a "hover" (Air View) on the screen to access certain actions (this time, you can use your finger rather than a stylus).
The S4 is also capable to use both front and rear cameras at the same time (and take shots – Dual Shot).
The Group Play features allows you to share music and play games with other Samsung GALAXY S4 users.
The interesting bit is probably the S Health which is like having your own fitness tracker device with you at all times. The phone has a built-in pedometer to track the number of steps you make and also sensors to measure the temperature on the room you are in. There is also an integrated diet tracking solution on the device with calories calculator .
All these make us realise that Samsung seems to go all the way by introducing tons and tons of new innovative features, which goes beyond the stock Android operating system. The big question is of course, are we going to use them at all? Or they are just gimmicks? Only time will tell.
What do you think of the GALAXY S4? I was a bit disappointed that the looks don't change much at all and it is still plastic-y. Not sure that I want a 5" phone as well.