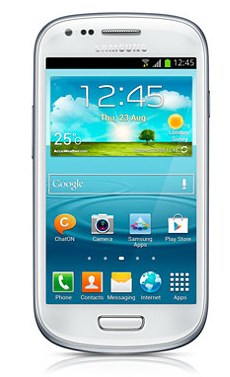 Samsung's Baby: The Galaxy S III Mini – The original Samsung Galaxy S III is Samsung's flagship mobile phone to date. However, the product is quite expensive and without a data plan, owners of the device will not be able to enjoy the latest services included like the LTE.
LTE is one of the most recent developments introduced to the mobile world. LTE stands for Long Term Evolution, which may also be referred to as 4G, which supports mobile and roaming Internet access.
Just recently, Samsung introduced Galaxy S III's smaller version: the Galaxy S III mini. The specifications of the Mini are close to its predecessor. The device is Samsung's version of Apple's iPad Mini, which is basically a smaller version of their iPad 2.
The price range of the Android phone is similar to the middle-ranged handsets that are currently available in the market. Some Android users may also find it easier to place toll free calls and otherwise using the Android phone since it can easily be grasped by one hand.
Will the S III Mini then deliver the same productivity as its big brother?
Samsung Galaxy S III Mini – Internet Speed
Unfortunately for those who are used to browsing at 100mbps speeds, the Samsung Galaxy S III Mini does not have LTE connectivity. If you prefer 4G over 3G, go for the original Galaxy S III. This is one huge difference of the Mini from the S III: its LTE capabilities.
However, that does not mean that the browsing experience with this tiny device is not satisfactory. In fact, the device is capable of HSPA+ Internet with an average speed of 7mbps. That is respectable enough to download your favorite online games from Temple Run 2 to Coin Dozer, and fast enough to load YouTube videos. Like most of the phones introduced as of late, the smartphone is capable of mobile Internet tethering which enables you to share your Internet connection with up to 5 devices.
This technology allows you to use your laptop to download the online games from various online sites. Loading Java-enabled online gaming sites is possible, provided that your local service provider's network connection does not fluctuate. It is highly recommended to use the android versions of your favorite games and applications because even if the Internet gets disconnected, you can still continue with the game after regaining a signal.
Samsung Galaxy S III Mini – Camera
The specifications of a phone's built in camera are just as important as its ability to place calls and send text messages. S III mini has a 5MP camera, which has fewer pixels compared to the Galaxy S III's stunning 8 megapixels.
Either way, photographs taken using Samsung's latest offering are still vibrant and beautiful. Both have dual LED flash that is perfect for low light situations. The big difference is the original S III's capability to shoot 1080p HD videos, as compared to the 720p in Galaxy S III Mini.
Then again, who buys an android phone for the sole purpose of shooting 1080p HD videos? This minor flaw, if you can call it one, can be easily dismissed and overlooked by those looking for feature-rich yet affordable android phones.
Samsung Galaxy S III Mini – Super AMOLED Display
Both handsets have super AMOLED display and high pixel per inch densities. With this, watching HD videos on YouTube is just superb.
This also applies to rich 3D graphics when playing games like Need for Speed or Final Fantasy IV.
Samsung Galaxy S III Mini – S Beam Technology
A mobile phone's ultimate goal is to send and receive calls and text messages. S Beam Technology is a breakthrough concept that is available on this device. With its NFC or Near Field Communication feature, you can share content like videos, music, and pictures easily. With a limit of 10MB, you can share content by just tapping the device to an S Beam-enabled handset like the Galaxy S IIIor Samsung Galaxy Note II.
Note: Samsung GALAXY S III mini images courtesy of Samsung UK