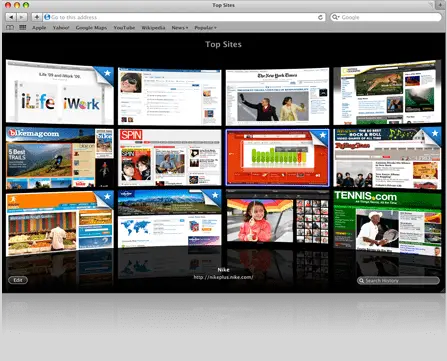 Prettier doesn't mean better. Or does it? Safari 4 Beta for Mac + PC has actually proven to be prettier AND better at the same time. If you have been using Safari 3 for your browsing needs, you'll be surprised with Safari 4 and I'd highly recommend to upgrade your Safari 3.
Safari 4 New Features
Top Sites



Top sites will display your most visited sites and rank them accordingly. You can also lock its position on the grid, making it a great looking shortcut. This is like Google Chrome Most Visited combined with Opera's Speed Dial.
For some unknown reasons, The Top Sites doesn't get displayed very well on my old XP machine with a GeForce 5 card: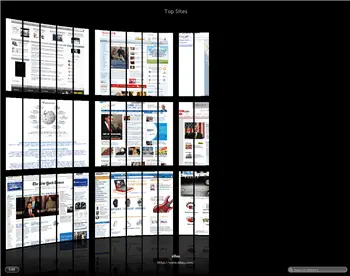 Nitro Engine
According to Apple, Safari 4 executes JavaScript up to 30 times faster than Internet Explorer 7 and more than 3 times faster than Firefox 3.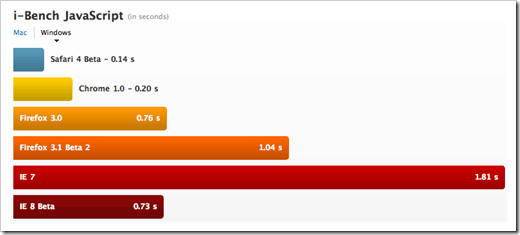 Windows Native Look and Feel
Unlike the previous versions of Safari, Safari 4 features a native look (title bars, borders, and toolbars). If you remember, previously it has its own look (similar to the one on Mac) and Safari felt out of place. In Safari 4, it will follow whatever visual style you are using (if you are on XP) and has a glass look in Vista and 7.


Developer Tools
Safari 4 provides some nice built-in tools for web developers ever included in a browser. You can inspect Javascript codes, CSS, and also find out the performance or loading times of your own sites.
For example, I can easily check what components are slowing down my blog and by how many seconds: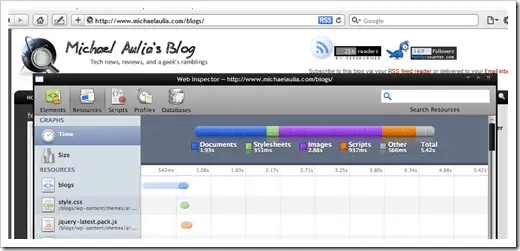 For other Safari 4 features, check out the Safari 4 What's New page.
Should you use Safari? Well if you mainly use your browser for browsing the web and can't be bothered with personal customizations or extensions, then you'd love Safari 4. It looks so pleasing in the eye and also has a nice font rendering. Reading on your computer can never be the same!
However, I wish that Safari 4….
has a better URL auto completion on its URL bar. In Firefox 3 and Chrome, you can type "aulia" to find all URLs that you've visited containing the word "aulia" (including the page's title). In Safari, it will only find URLs starting with "aulia" instead.
has extensions like Firefox.
is not heavy on old machines (it feels lighter than Firefox but not as light as Chrome – well Chrome is using the same engine as Safari so it should feel the same).
offers to save the password after I can login to a password-protected page (like Chrome) rather than before. I want to make sure that I've entered the right login credentials before I let Safari save it.
can detect a middle click when I point to a tab to close it. This is more like a preference, though. You can always close a tab by clicking on the 'x' close sign on it