ROG Chakram X Mouse Review – Gaming mouse market is always interesting to see from time to time. Lately, the innovation seems to focus on designing lightweight or super-lightweight gaming mice. This leaves some void for mice in the heavyweight category. Asus ROG has launched ROG Chakram X , the successor of ROG Chakram. ROG Chakram X fills this void in the heavyweight category and it's a good thing since it offers what lightweight gaming mouse does not.
ROG Chakram X Wireless Review – Packaging Contents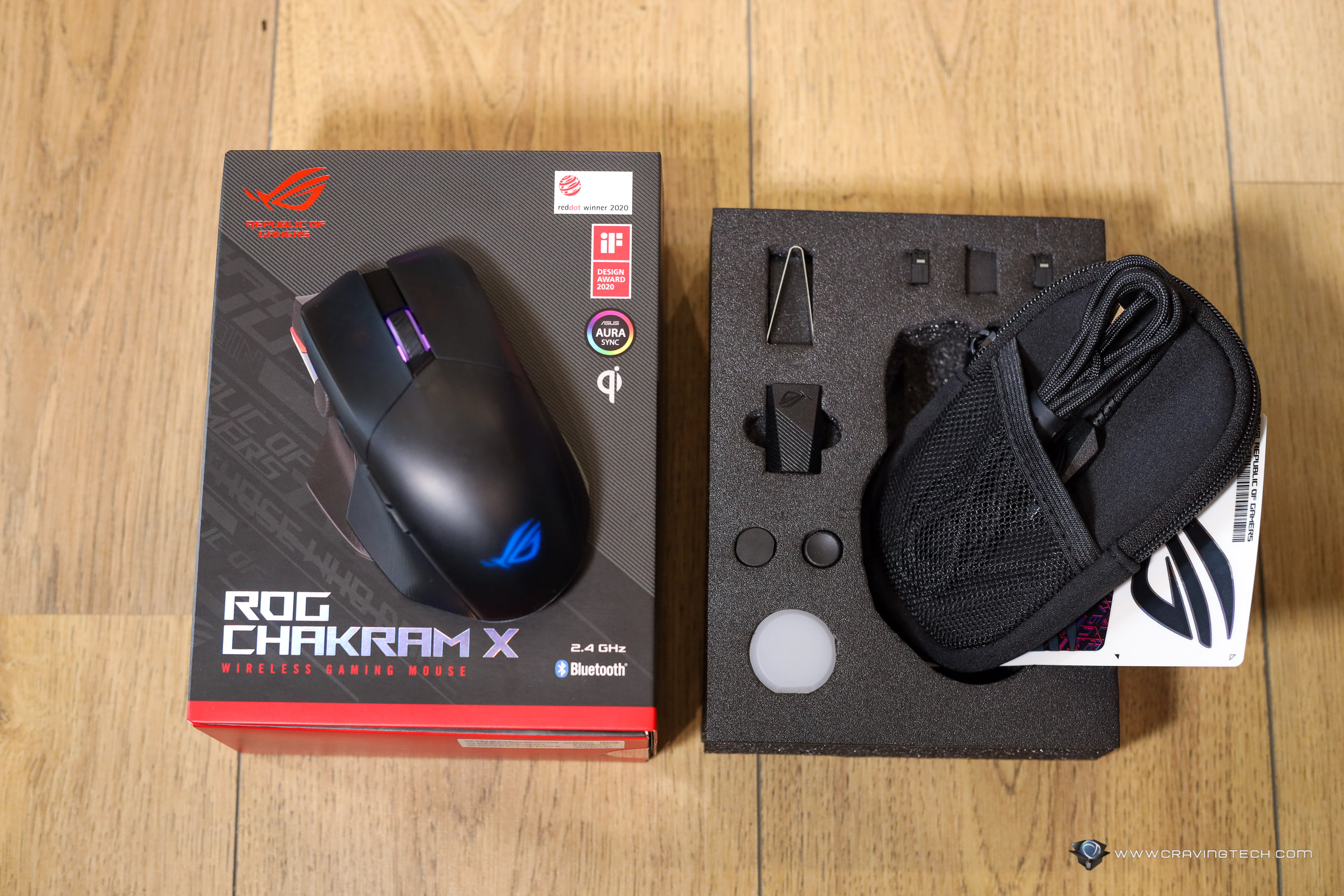 ROG Chakram X comes with a customisable joystick pad, a joystick cover, USB A to type C cable for wired use (and charging it at the same time), travel pouch, wireless USB dongle, wireless dongle extender, two spare micro switches, switch remover and paperworks. Overall, it's a generous inclusion out of the box.
ROG Chakram X Wireless Review – Features
The new ROG Chakram X weighs 127 grams excluding cable. One of the biggest selling points is ROG Chakram X is able to operate in tri-mode connectivity: wireless mode, wired mode, or Bluetooth mode. This offers tons of flexibility to use ROG Chakram X as your travel mouse with the included travel pouch and also a great companion for your laptop and portable devices.
ROG Chakram X sets the bar on competitive gaming mouse market offering 8,000hz polling rate in wired mode, 2,000Hz polling rate in wireless mode, and enough polling rate in Bluetooth mode which focuses on doing productivity tasks. ROG Chakram X optical sensor delivers the next generation 36,000 DPI sensor performance.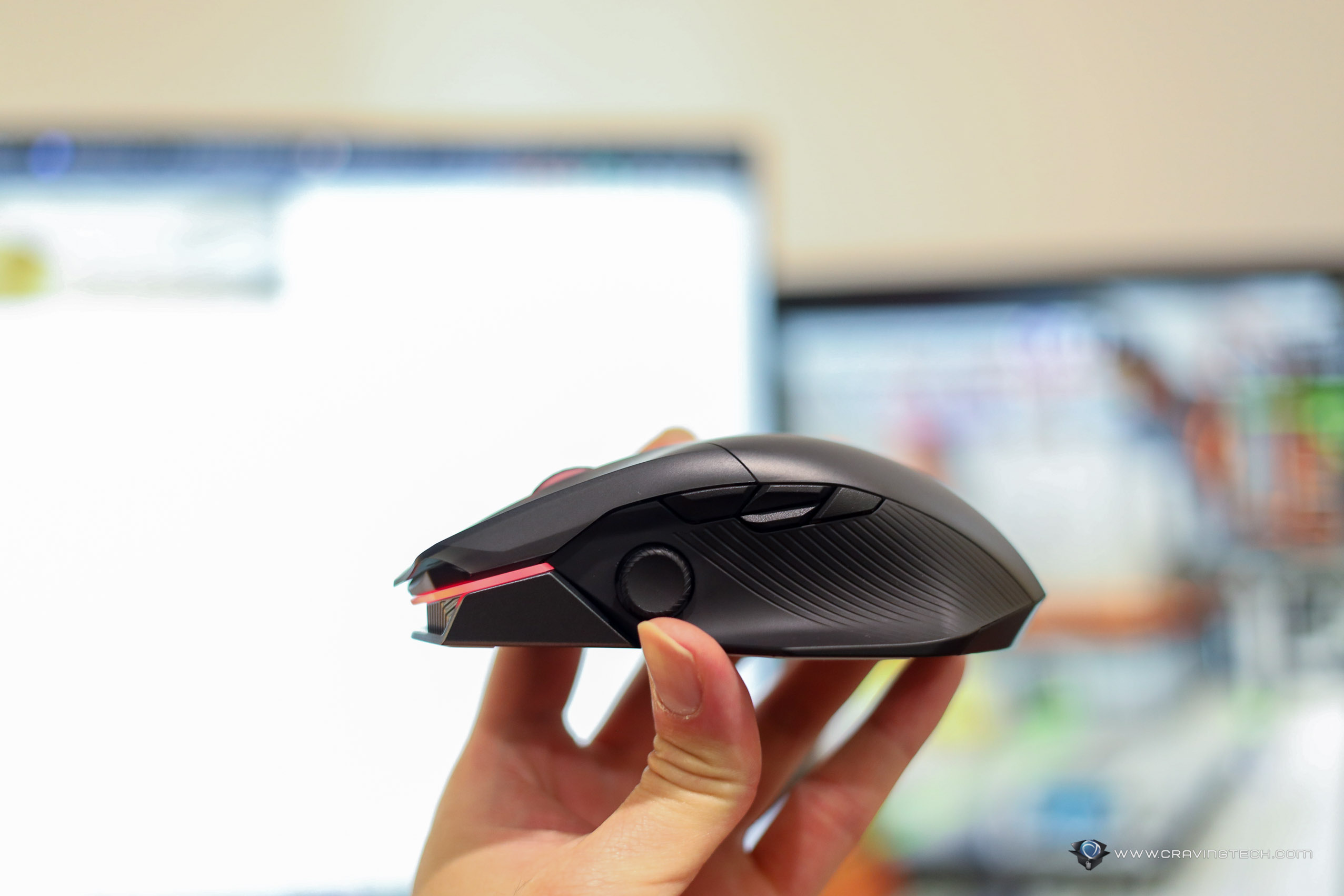 ROG Chakram X also comes with a unique analog joystick on the side which is a four directional analog joystick. By default, it behaves the same as the keyboard numpad: Up, Down, Left and Right.
ROG Chakram X Wireless Review – Performance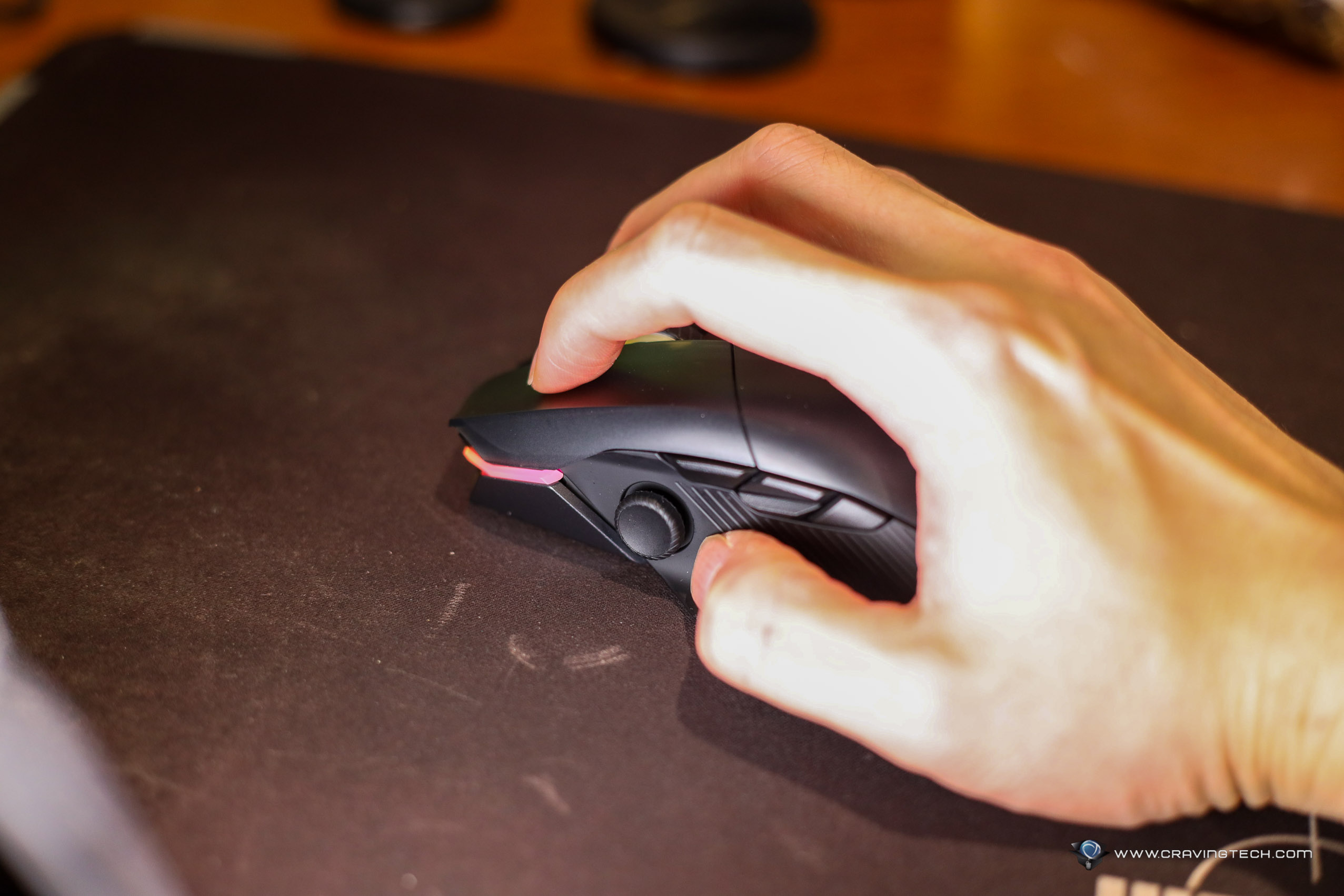 The ROG Chakram X is built specifically for right handed gamers. The size does fit for medium and large hand users. Due to the weight, you could expect more controls and stability on your aim. ROG Chakram X also offers a slight ergonomic design that may help prevent muscle fatigue from long gaming sessions. The PTFE mouse feet glide smoothly on the mouse pad.
The Joystick on ROG Chakram X at first glance looks gimmicky. After spending more than 2 weeks with it, it actually performs better than I've found with a typical MMORPG mouse that needs a deep learning curve to train your thumb's muscle memory. Four directional joysticks are customisable to ASUS Armoury Crate software. The rest of the four side buttons also follow a directional approach which takes just a slight effort to get used to. But honestly, the placement of these buttons are hard to reach compared to the analog joystick. ROG Chakram X offers several joystick pads out of the box to suit your preferences.
RGB features are present if you're into this kind of flashy light. It's handy during dimmed or dark gaming sessions. ROG logo is a show off and you have the option to switch it with your own customised logo.
ROG Chakram X sensor is capable of being more precise in wired mode with 8,000Hz polling rate which benefits to even precise aimer. Wireless mode capability reaches 2,000 Hz polling rate which is better than typical wireless mouse available in the market which usually has a 1,000 Hz polling rate. Bluetooth mode delivers 250 Hz polling rate which is not suitable for fast paced or precision-demanding gaming but handy for productivity tasks with iPad or a work laptop. Playing Overwatch or FPS games on 2,000 Hz polling rate is definitely a treat on aiming and it's not terrible given the 127 grams weight. 
DPI adjustment is located underneath the mouse to avoid being triggered accidentally and so does the tri-mode connectivity switch.
Customisation on the micro switch is nice and definitely caters for mouse enthusiasts. I like that they provided spare switches which are Japanese Omron switch that have a more subtle click sound than the installed ones (which are the Red-coloured ROG mouse switches). The clicking on the default Red-coloured mouse switches still sound a little dampened, which I like.
Palm and claw grip benefits the most from ROG Chakram X ergonomics as it gives support for long gaming sessions. Claw grip users might experience differently depending on the palm size and I can see medium to large hands will find no problem using this mouse.
I mainly charge the ROG Chakram X with the supplied USB cable. I noticed the mouse could be charged wirelessly with a Qi compatible charger, so that's pretty cool. The battery life is advertised to last up to 114 hours of uninterrupted gameplay. I've found that after more than a week of use with medium brightness, ROG Chakram X is still not out of juice, so that's neat.
ROG Chakram X Wireless Review – Conclusion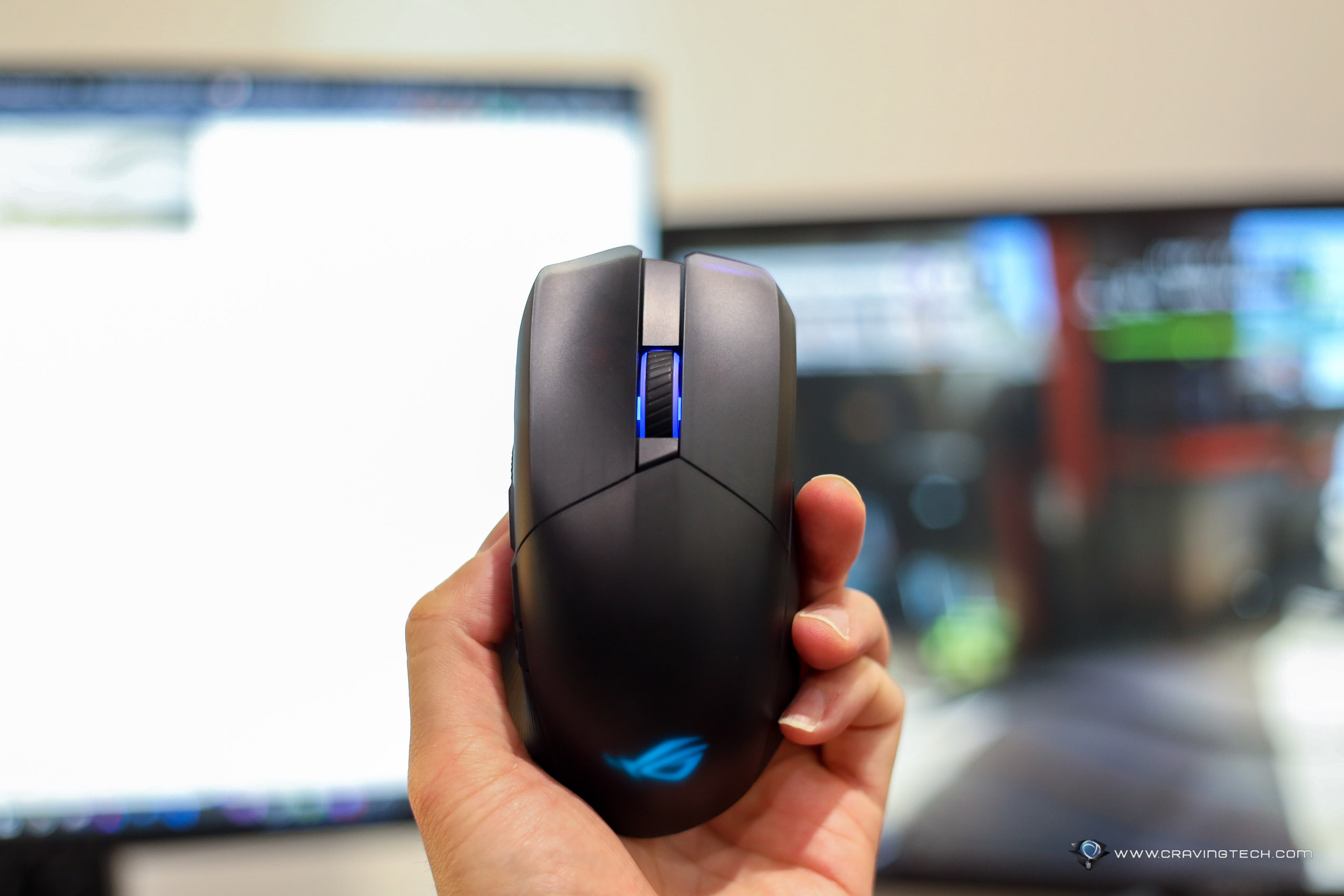 It's awesome that the ROG Chakram X comes with a bundle of accessories out of the box. It does fall into the heavyweight category at 127 grams, but the ergonomics and size are a definite win for bigger hand gamers, especially those palm grip users as the weightier mouse offers more stability as you glide it on a mouse pad.
The flexibility to switch between wired, wireless (2.4GHz), and Bluetooth offers versatility to bring the mouse anywhere given the included pouch in the box. The ROG Chakram X is priced at A$269 and available now in Australia. Also available at Amazon.com.
Disclosure: ROG Chakram X review sample was supplied for reviewing
ROG Chakram X Review
Summary
A customisable, wireless gaming mouse from ROG with programmable, detachable joystick
Pros
Highly customisable as you can change lots of things on this mouse
Supports 8,000Hz polling rate on wired and 2,000Hz on wireless, plus 650 IPS
Nice to grip, non-slippery
Unique 4-directional joystick
Supports Qi wireless charging
Excellent battery life
NVIDIA Reflex compatible
DPI switch button at the bottom to prevent accidental DPI switching
Cons
Bit on the heavy side, more suitable for palm-grip users or those who don't like lightweight gaming mouse
Side button positions feel a bit awkward
Pricier than the competition, especially if you can't be bothered with the customisations