Razer Barracuda Pro Review – We've now seen many wireless gaming headsets come with an active noise cancelling feature here in 2022. This is because the trend is now gearing towards making a hybrid gaming headset which is for gamers who both game at home and on-the-go.
So for example, you can game on the PC or console at home but you'd like to have a flexible headset that can also be used with your phone or Nintendo Switch via Bluetooth, say. This requirement means that the wireless headset needs to have a good noise cancellation to block all the distractions from outside, but also has a good and simple design. Nobody wants to wear a headset outside with the silly microphone boom dangling around.
If you are in this category, stay a while and check out Razer's latest flagship, hybrid, wireless gaming headset – the Barracuda Pro.
Razer Barracuda Pro Review – Unboxing and Packaging Contents
Razer Barracuda Pro Review – Design & Features
A simple, all-black design offers the classic design that most of us like while wearing headphones outside the comfort of our home. So yeah, no fancy RGB lighting here. And while the headset doesn't look as premium as the Sennheiser MOMENTUM 3 Wireless, its simplicity means you can practically wear this anywhere, including at work to listen to music without attracting too much attention.
The headset cups can be folded flat so you can place it in the included travelling case easily. The spacious case can pretty much carry all the things you need like its charging cable, extension, and even the wireless dongle itself.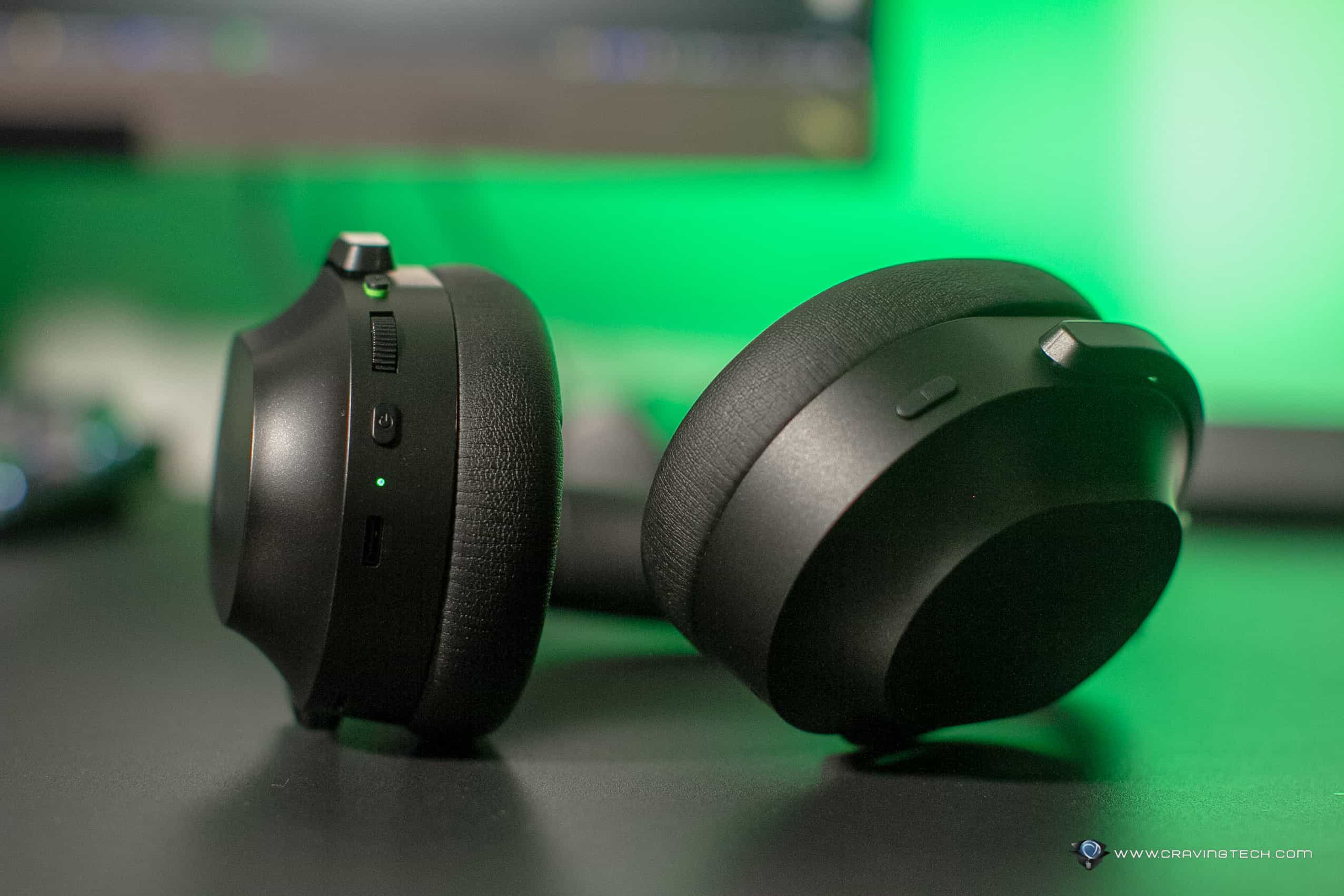 As I mentioned earlier, this is supposed to be a hybrid wireless headset, so you won't see any microphone boom here. I guess Razer can opt for having a removable microphone boom with the headset but it'd be a pain having to attach/detach it frequently. What you get, are integrated beamforming noise-cancelling microphones embedded inside the headset.
Compared to a headset with dedicated microphone boom, the voice quality is definitely not the same though my teammates at Overwatch never seemed to have any problems in hearing my voice clearly. You should be fine if you are only using the Barracuda Pro for gaming and not for professional content creation.
As for the Active Noise Cancelling, it is actually pretty good. I managed to use the headset outside and played around different settings, including trying out the Ambient mode where you can hear your surroundings. The Barracuda Pro's ANC managed to dampened the wind noise during a windy Melbourne day and it also feels quite natural (I didn't notice the usual air pressure feel from active noise cancelling headphones). It didn't block noise like passing cars or a siren from an ambulance in the distant though, I guess it's a good thing for safety?
I haven't tested it on a plane or train, but I recon it will work great in trains and buses. For plane's engine noise, I'm going to assume that proper ANC headphones like my Bose QC45 will do a much better job, but the Barracuda Pro should be sufficient enough so you can still enjoy your content.
Ambient mode works great and can be toggled with just the press of a dedicated button on the headset (ANC On, ANC Off, and Ambient). I also like that there's a voice prompt to notify which mode you are on. While playing games in my quiet Study area, I definitely don't need all these fancy features but if you are living in a noisy environment, the Barracuda Pro's ANC will serve you well. It blocks the humming noise from the nearby PC fans and our running drier downstairs.
I also realised that even if I turned Ambient mode on, I still could barely hear my wife calling me from our bedroom. I guess when you are playing online and competitively, there's probably not much you can do to avoid this situation. But I wish the surrounding noise can be amplified further in this mode.
Connection wise, the headset supports both 2.4GHz wireless and Bluetooth. Thanks to Razer SmartSwitch Dual Wireless, you can just double tap on the button to toggle between the two wireless modes. Unfortunately, there is no 3.5mm wired mode with the headset. This is because running ANC, THX AAA, and beamforming noise-cancelling microphones require power to run properly.
According to Razer, you can use the headset for up to 40 hours of non-stop use. When the battery is running flat, you can thankfully plug the USB-C charging cable to your PC and still use the headset while it's charging.
Razer Barracuda Pro Review – Sound and Gameplay Experience
Whether you are using the Barracuda Pro to play games, watch movies, or listen to music, you'll love the sound quality. Overall, the sound is powerful and the Bass is pretty satisfying – which you can tweak further through the Synapse's EQ and presets. We can thank these to the powerful built-in amp inside the headset, powered by THX AAA (Achromatic Audio Amplifier).
Plus, there's also THX Spatial Audio that you can enable/disable, and even calibrate.
While playing Overwatch 2 Beta, I could hear all the enemies' footsteps and even the little grunt and sound each character makes in the game – which gave enemy positions away. This allowed me to communicate clearly to my teammates of incoming danger, even before seeing the enemies on screen.
There were also times where I could react instantly as Mei by placing an ice wall in front of an enemy's Cassidy who was unleashing his ultimate ability behind our backs. If I was wearing bad headsets with bad audio positioning, I would still be trying to pinpoint where he was.
Unfortunately there's no replay mode yet in Overwatch 2 Beta, so no short gameplay video clips as proofs this time.
Razer Barracuda Pro Review Conclusion
Razer Barracuda Pro is Razer's latest, flagship, wireless gaming headset with all the bells and whistles needed for hybrid gaming i.e, when you game both at home at the comfort of your desk and on the go. The fact that you can just carry your favourite wireless headset with you outside and switch easily to Bluetooth is godsend.
This Razer's wireless headset also has a good Active Noise Cancelling (ANC) feature with Ambient mode, THX Spatial Audio, great audio quality, comfortable to wear, and even comes with a carrying, hard case.
Razer Barracuda Pro retails for A$439.95 and available now at Razer website or retailers around Australia.
Disclosure: Razer Barracuda Pro review sample was supplied for reviewing
Razer Barracuda Pro Review
Summary
Razer's latest, flagship, hybrid, wireless gaming headset comes with everything you need to both game at home and on-the-go
Pros
Simple design, doesn't attract attention on the go
Supports both 2.4GHz and Bluetooth 5.2, and can easily switch between them with just a button
ANC, Ambient Mode, and noise-cancelling microphones
THX Spatial Audio
Comes with hard, carrying case
Good sound quality, powerful
Cons
Microphone quality is not as good, but comes with noise cancelling and can be tweaked further through Synapse
No 3.5mm wired option
Took a while to find out with my fingers where the buttons and controls are, without looking