I was trying to find some good skins for my PHPBB3 forum some where else, but couldn't manage to find the one I like. Most of the skins I love are for PHPBB2. Even going to the PHPBB forums didn't satisfy me.
Luckily I found this site, http://demo.phpbb3styles.net. It has so many PHPBB3 styles/skins/themes to download and you can preview the skins directly on the page!
After a few searches, I picked the "SimpleLight" PHPBB3 style. It's the best, simplest, most elegant PHPBB3 style (in my opinion), but there are many others to choose from!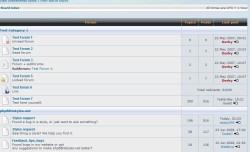 Enjoy!