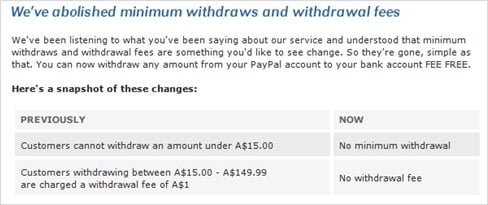 Got a newsletter from PayPal today stating that they have taken out the withdrawal fee! In the past, you could only withdraw when you had a balance of $15 minimum and you would be charged $1 if you withdrew below $150.
As of now, you can withdraw as much as you like without being charged a fee. If you are really tight financially, this change is a life saver for you. I wish they have a service to notify you when the dollar is strong though because I never know when is the good time to transfer my USD balance to my Australian bank account… (when the Australian dollar is strong)
PayPal complete fee structure.