Overwatch 2 release date is October 4 (or October 5 here in Australia) but there are much bigger news. A full content roadmap has been released officially by the Overwatch team and it shows plenty of promises and excitement for Overwatch 2 fans.
Overwatch 2 will also have seasonal updates and a Battle Pass that will feature new contents like new heroes, maps, game modes, cosmetics, etc.
And yes, the game will still be free to play though we'll still have to wait to find out how the game will be monetised. There will be no more loot boxes in Overwatch 2 because the team thinks that it doesn't offer good experience to the players.
So if you want a specific item or skin that you want, you can now directly get it from the Battle Pass or the in-game shop. The team will deliver seasonal content every nine weeks to ensure that there's always something fresh and exciting. There will be more cosmetics in game like banners and charms that you can attach to your weapons.
Here is Overwatch 2 Content Roadmap so you can check when new heroes and other contents will make it to the game: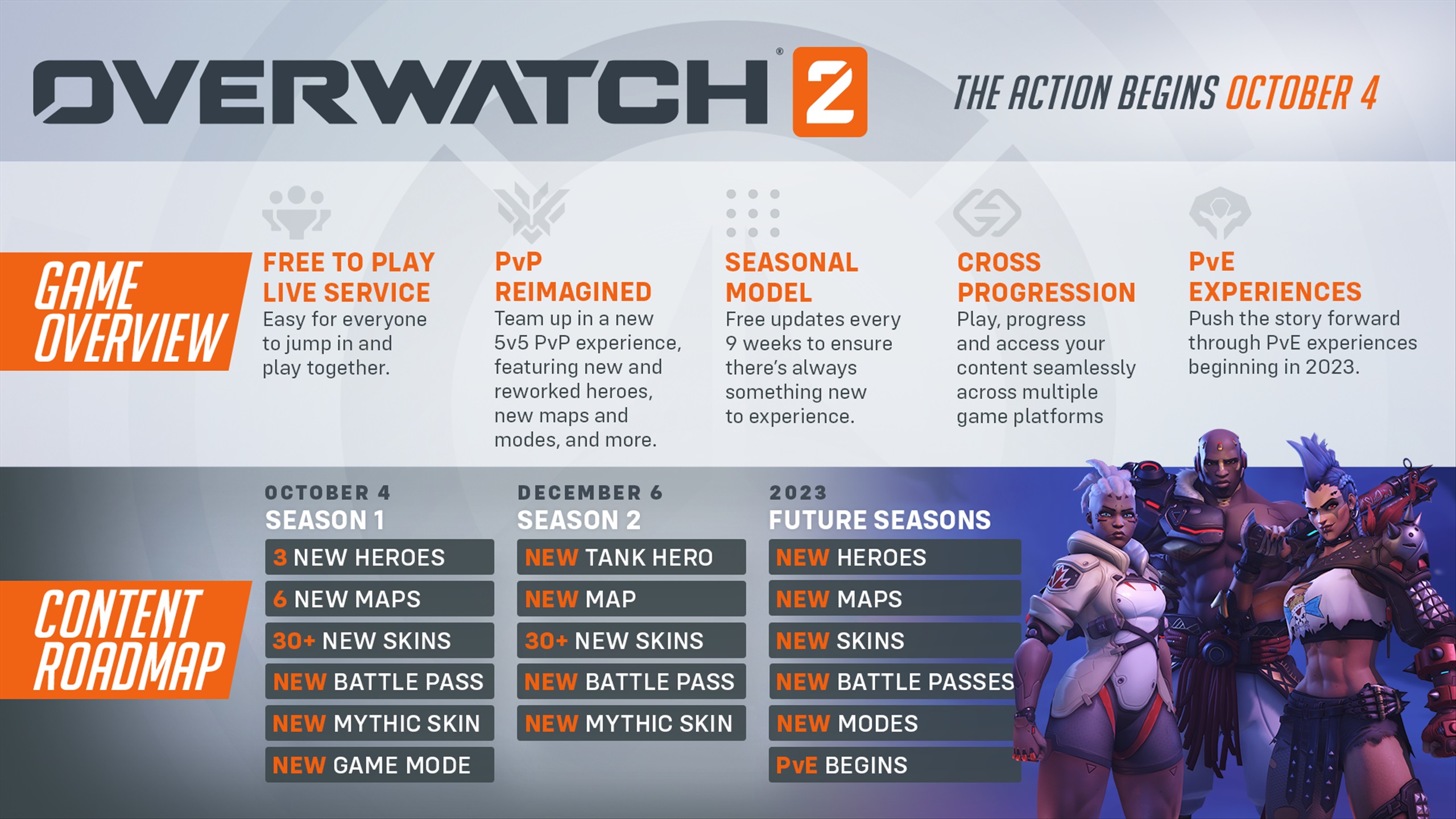 The three new heroes in Season 1 will be Sojourn, Junker Queen, and the unannounced support hero (Fox Girl?). Overwatch 2 Mythic Skins are the next tier from Legendary Skins and they are supposed to more epic. You can get some details out of our media interview sessions with the Overwatch team in this article here.
There will also be an unannounced new Tank Hero on Season 2 which is not long now – December 2022.
Overwatch 2 PvE will launch in 2023 (with no exact date being announced yet) so if you are looking forward to that one, it will be here soon.
Here is the official video if you haven't watched it yet – VERY Worth a watch: