I'd say that nowadays, most of us at home have more than just our sole computer (whether it be a Desktop or a Laptop). We now have smartphones (and some even own more than just 1 smartphone), tablets, and many more. As such, it can be a pain to think about a whole complete solution to protect these devices from unwanted intrusions, viruses, or Trojans.
We can always go and look for a specific solution per device, or alternatively, you can trust Symantec's all-in-one solution, Norton 360 Multi-Device.
As the name of the product suggests, Norton 360 Multi-Device can be installed in multiple devices under one license (up to 5 devices to be exact). This can be a combination of any Macs, PCs, Android smartphones and Android tablets. The license gives a full year of protection under 5 different devices. I find that after I activated the license in my Windows 8 Desktop computer (yes, it works flawlessly in Windows 8), I could easily login to my Symantec account and download + install it on my Samsung Ultrabook. It can't get any easier than that.
Norton 360 Multi-Device does not just focus on system protection and threat elimination, but also other maintenance such as performing backup, PC TuneUp, and also theft protection for tablets and smartphones.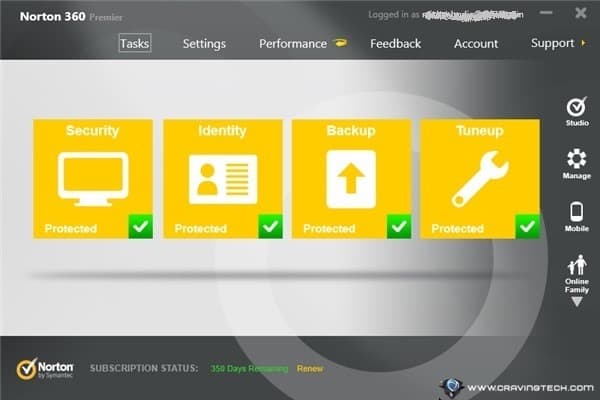 As far as protection goes, Norton 360 Multi-Device bombards you with all the goodies such as the popular Norton Antivirus (scan, stop, and eliminate viruses), Norton Safe Web (gives you an indicator of a bad/safe link of internet search results), built-in firewall (more powerful than the Windows' default), anti-spam (which works great on my Outlook 2013 Preview), anti-phishing, and more.
The integrity of your system can be scanned using a quick, comprehensive, or a custom scan. Norton 360 Multi-Device will give you an insight report about what threats were detected and what actions it performed.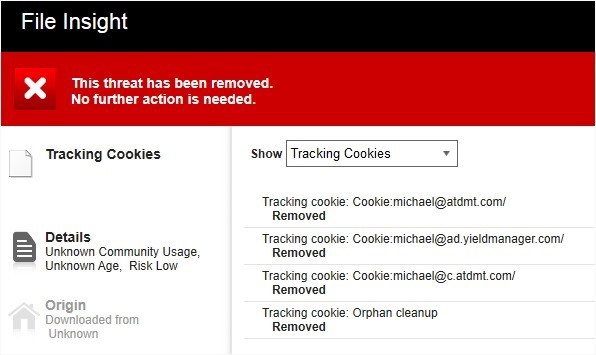 Norton Safe Web also protects your search results on the net so you can even prevent yourself going to a malicious website. It will tag each search result with a green "OK" label if a site is deemed safe.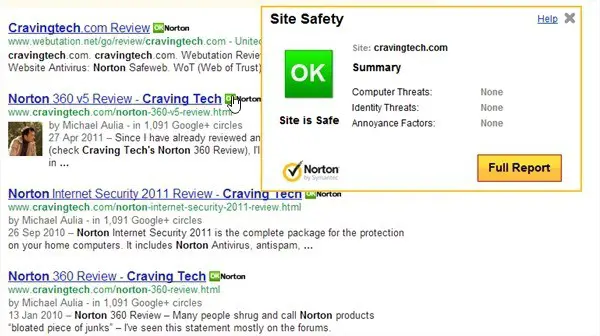 If you are not good at remembering and managing your password, Norton 360 Multi-Device has a module called Norton Identity Safe, a password manager that can manage your passwords safely for you while you browse and enter your login credentials.
Norton 360 Multi-Device anti-spam protection will prevent you from clicking a nasty link on a scam email, which can cost you dearly (i.e if you are fooled thinking that you've just got an email from your financial institution)! Suspected spam emails will be tagged clearly with the "[Norton AntiSpam]" label on the email subject.

So far, it hasn't mistakenly captured a legit email as a spam while I'm using the software for a few weeks now, which is cool.
When you download a file from the net, the Norton 360 Multi-Device kicks in to check the safety of the file.
There are many other tools being built into the Norton 360 Multi-Device such as as a registry cleaner, a secured online storage (25 GB) to backup your data, alert when a program takes a high amount of CPU resources, and more.
If you own an Android device, there is also a Remote Lock (to lock your device from ever being used) or more drastically, Remote Wipe (to wipe your device completely).
Norton 360 Multi-Device Review Conclusion
Norton 360 Multi-Device
Norton 360 Multi-Device is a complete one-stop solution when you have more than 1 computer or/and device at home and you just want to have a unified protection for them all. Besides, rather than having to learn and tweak different software settings, it's much easier to tinker with the same software anywhere, reducing the learning curve drastically.
Note: Norton 360 Multi-Device review license was provided for the review