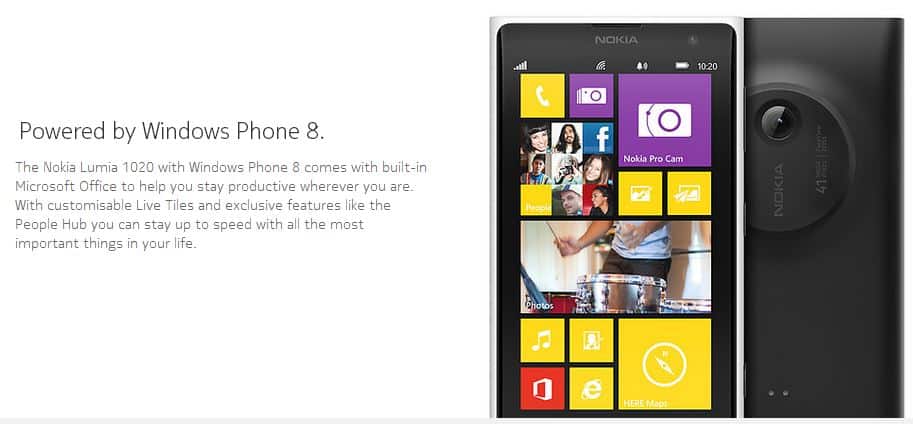 Stephen Baxter, Nokia Lumia Product Marketing Manager demoed their latest flagship smartphone, the Nokia Lumia 1020. If you haven't read the news yet, the Lumia 1020 will be coming to Australia really soon at $899 RRP.
At Microsoft Tech-Ed Australia 2013, I was in awe for seeing the lossless zoom demo for the first time (to be honest, I haven't really read more about this specific feature before),
The lossless zoom takes the advantage of Lumia 1020's 41Megapixel camera where you can zoom in really close without any quality loss (technically). For example, where ever you are sitting at, you can always do a crop using the lossless zoom to get that closer shot you want (and reframe it). You won't get blurry images as you would normally do with other phones.
For example, you can sit at a football match, take a photo of the match from far away, and zoom in close to see the score (which was what Stephen demoing to the press earlier). Amazingly, this can also be done on video recording, even in 1080p resolution.

The device also comes with Nokia's pre-installed apps such as the Nokia Pro Cam, Nokia Transit, Nokia Music, Microsoft Office Mobile, and the HERE Maps.
Nokia Pro Cam
Nokia Pro Camera is the stock camera app on the Lumia 1020 which also allows you to edit your taken images directly in the phone. User interface is quite intuitive – you can simply change the shot settings (white balance, exposure, etc)  just by sliding up and down.
The app also has a handy tutorial for those who want to learn more about shutter speed, exposure, and other advanced settings (or you can set all to Auto, as what most people will normally do). But if you want to learn more, the tutorials let you see the effect of changing the settings within the app directly. Nokia Pro Camera is an exclusive app for all the PureView range, which includes the older Lumia 925 and 920.
Nokia Transit
With Nokia Transit, you can find out all available transit options to take you to your destination on public transport (Ferry, Bus, Train, etc). It also has all the details of the route numbers and the time taken to the destination, so you can plan ahead.
HERE Maps
Zooming in close with the HERE maps, you can browse for all the stores in the airports, uni campuses, and other indoor venues. More will be rolled out monthly as a free service for those with Lumia devices. You can click on the individual store to find out its opening hours, etc.
Nokia Music
Free streaming music? Oh yeah. Best feature, ever, however, is the ability to save a whole mix directly to your phone to play it again later on the plane or when you are offline.
If you want to get more than that, a $4.99 per month subscription fee is available for higher encoding rate and unlimited downloads/saves to the device.
The Nokia Music app is available on all Lumia range phones.
Microsoft Office Mobile
Exclusive on Windows Phone, you'll get a free full version of Microsoft Office mobile pre-installed. Switch back between mobile and desktop Office and you'll get the same exact look and formatting of all your Office documents. Pretty handy for business travellers alike.
Don't want to carry a point-and-shoot camera? With the Lumia 1020, you really won't ever need one. It is both your point-and-shoot camera and phone.
Disclosure: I'm here as a guest of Microsoft Australia and being sponsored to cover press events at TechEd 2013.