I don't know about you, but I hate cleaning. I've always wanted someone or something to do it for me. Admit it, we don't have time for it. Not to mention that dust and dirt which somehow always manages to find its way back to our carpets.  Do you wish there was someone, or something, that can do the job for us, without us having to lift a finger?
That is what XV-21 from Neato Robotics offers – a robotic vacuum cleaner that cleans your floors automatically and periodically, even when you are far away from home.
Neato XV-21 Unboxing Video:
Neato XV-21 Packaging: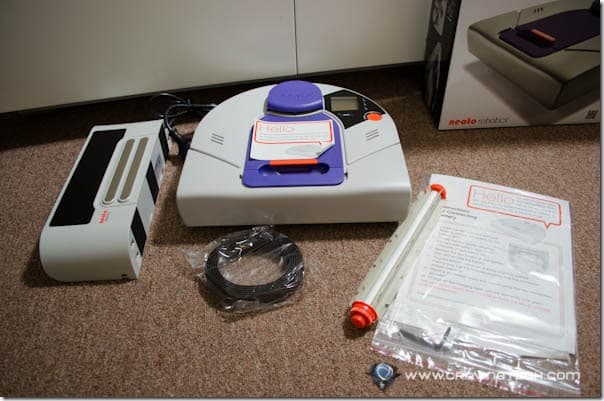 The XV-21 model is specifically designed for pet owners and allergy sufferers. According to Neato:
The bristle brush traps pet hair and lifts it from the surface. Then the special pleated filter removes particles from the air stream down to 0.3 microns in size, including mold, spores, cat and dog dander, dust mites, pollen, textile and carpet fibers.
The unit is equipped with an infrared sensor that will scan and create a virtual map of the room it's in.

This is useful to map the current room layout, obstacles in the room, and also to know what other rooms are in the house. At times, I can see it circling around to update its virtual map.
Thanks to this technology, the XV-21 cleans every corner and area in a room more accurately.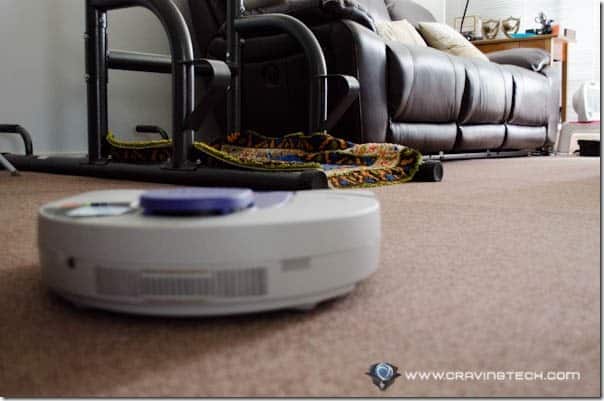 In my 2 bedroom apartment, I find that the XV-21 goes to all areas such as the kitchen, toilet, living room, and also the bedrooms. It seems to clean a room inside out before moving on to the next (which is great). From my tests, the XV-21 will try to go around the corners and edges of a room first before cleaning the whole area in rectangular pattern.
I'm also amazed at how it maneuvers around corners really well (such as chairs, couch, and wall edges).
When the Neato bot is running out of battery, it will go back to the charging station automatically to recharge. When the battery is full, it goes out of the charging station and resume cleaning. It'll also go back automatically when it has finished vacuuming the whole house.
Testing it a few times, I noticed that it has a rather short battery life (due to the powerful suction it requires, I guess) and have to go back to the station 1-2 times to clean the whole apartment. Nevertheless, it's nothing to worry about as you are not supposed to be taking care of it anyway. Besides, you can let it work for you while you are at work. You come back home and it has completed your vacuuming chores! The battery lasts about 60-90 minutes before it has to be recharged.
According to my experience and confirmed by Neato, it returns to its base for recharge at between 15-20% remaining charge. If unsuccessful in finding its base, it shuts down at about 10%.
You can schedule the bot to automatically start vacuuming at certain days and time. The interface is really simple to use and the message on-screen is always family friendly and helpful.
All dirt, dust, and hair goes into the dirt bin (equipped with a pet and allergy filter). To clean it, you simply take the bin out from the unit, empty it, and place it back. No refill bags to buy and you can clean the filters out easily. If the dirt bin is full, a friendly message will be displayed on the screen while the XV-21 goes into pause mode.
I couldn't believe at first how much dust and dirt it sucked up. This is how the dirt bin looks like when I first tested it out: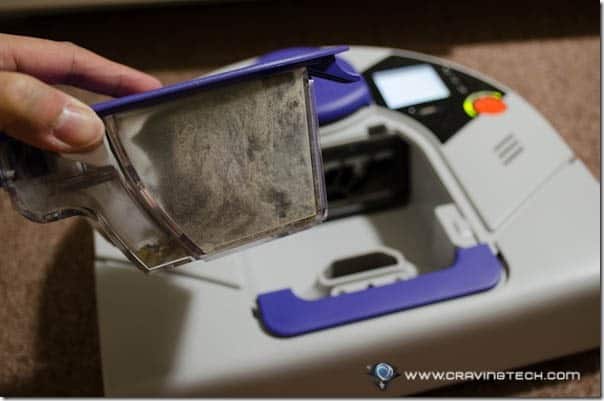 Now, we frequently vacuum our carpets with a good vacuum cleaner, so this proves that the Neato XV-21 has a good brush and power suction!
Occasionally, it will get stuck on dangling cables. I do notice that it has a good mechanism to get out of sticky situations like this. It'll try to steer its way from the trouble or go in reverse. If all fails, it releases a short burst of sudden jump to get out (which normally works in almost all situations). Neat.
When it gets stuck and I have to move the bot somewhere, sometimes it fails to find its way back to the charging station later on. This doesn't seem to happen often though and only when I move the bot somewhere else from the current position. Nevertheless, I don't see this as a show stopper.
Overall, I'm really, really amazed with the Neato XV-21. To be honest, this is not the first vacuum cleaner bot that I've reviewed before. The other model, Robomaid, does not map the room so it bumps here and there and does not cover the area well. The Robomaid also cannot work its way around obstacles and edges as neatly as the Neato XV-21. Not to mention once the Robomaid is out of battery, it goes back to the charging station and stops cleaning (or more like it goes around and around until it's out of battery).
With Neato XV-21, it knows what and where to clean, resumes its cleaning, and covers the whole house. Amazing!
Neato XV-21 Review – Conclusion
Can this replace your vacuum cleaner totally? Well, yes and no. You might still want to keep a portable vacuum cleaner handy so you can clean hard-to-reach edges, ceilings, and your upholstery. But the Neato XV-21 can definitely be the main vacuum cleaner to clean large areas of your house and best of all, you can simply schedule once and forget about it.
It is also a perfect gift for your mum as she can now focus more on family and you are giving her a great help by reducing one of her daily chores at home. The Neato XV-21 is available in Myer Australia and David Jones Australia for $799.
Disclosure: The Neato XV-21 review sample was provided for the review. Opinions are 100% mine
[AMAZONPRODUCTS asin="B007JOJ9QQ"]