Motorola Moto E Review (2nd Generation) – There are many flagship Android smartphones around to shop and grab for, but to some, they are quite costly.
Most high-end smartphones cost around $800-1000 these days and packed with so many cool features that you probably don't use in daily basis.
The Motorola Moto E 2nd Generation only costs around A$250 which is really enticing to some (especially to newcomers to the smartphone era), but without sacrificing qualities and somehow still manages to bring amazement to my eyes.
I still know a few people with phones running on an old Symbian OS and to them, paying a $400-800 for a smartphone is not justifiable. However, the Moto E should grab their attention because this is probably just the perfect phone for their budget and needs.
Moto E 2nd Generation Review – Packaging
Moto E 2nd Generation Review – Design & Features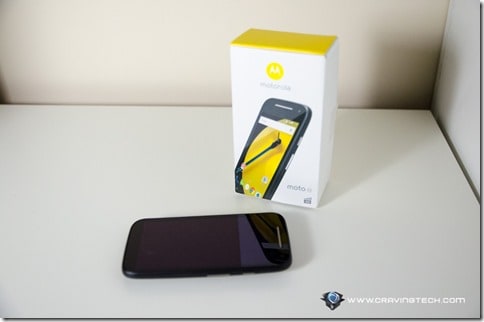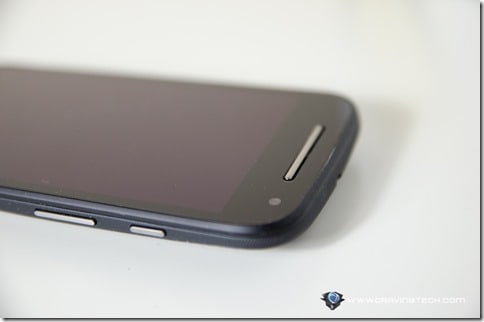 The Moto E 2nd Generation that I have for review here is powered by Android's latest OS Lollipop and also supports 4G LTE. It has a 4.5″ qHD screen and powered by a Quad Core processor with 1GB of RAM.
The phone's size is actually just right (especially if you are not a fan of using a "phablet") and comfortable to use with one hand. As a comparison, most phone these days are either 4.7″, 5″, 5.5″, or 6″.
In a way, if you are used to using a bigger phone, the Moto E screen can somewhat feel small and you end up have to scroll up and down more often.
The clarity of the screen is actually unexpected for a phone of this price. The colors, text, and everything else looks clear and sharp.
The only minor things are the viewing angle (it gets harder to see if you are not staring at it straight) and that the screen is quite reflective (which makes it a bit harder to see under direct sun light). These never annoy me in a way, however, as I can still see and read what's on the screen.
Thanks to the easy-to-grip material, the Moto E doesn't feel slippery and can be hold firmly in any position and situation. The band can also be changed with a more colorful option and taking it out will reveal the dual SIM and microSD slots.
Yes, the Moto E takes 2 SIM cards – which is another cool extra coming from a low budget phone.
Performance wise, again, I was amazed at how smooth the experience actually is for daily use (i.e browsing, messaging, and using social media applications like Twitter/Facebook/Instagram). Sure, opening a new app may take a while longer compared to using a more powerful smartphone, but things don't stutter and you may not even notice it if you've never used a higher end smartphone before.
Moto E Camera
As expected, you can't really wish to get a good camera lens with that price. Saying that, however, Moto E takes quite a decent shot, assuming there is enough light to capture it.
Daylight, outdoor photos are the best (basically places with plenty amount of lights):
However, the camera suffers when taking photos in a low lit environment. It can still take a good shot clearly, but grains started to appear and the quality of the shot degrades.
Selfies are okay as well, assuming there is enough light – but you basically don't get the Moto E for its camera.
Moto E 2nd Gen – Battery Life
Housing a 2,390mAh battery, the Moto E can run for a whole day and more, depending on your usage. On my day-to-day usage (which involves chatting, reading news, Facebook, and Twitter), I could still get about 60-70% of battery left by the end of the day (with no gaming and video watching).
The Motorola Ambient Display technology helps a lot here to reserve more battery. Normally, you'd have to turn the phone on to see if you have any missed notifications. Or the phone turns the full display on whenever a notification comes in. These actions would consume power and here is how Ambient Display comes into play.
Motorola Ambient Display helps by showing notifications without the need to turn the whole display on. It's actually a minimalist, yet elegant solution. It will also show which apps the notifications belong to (using the apps notification icon) so you can decide whether to then turn the phone on and check them.
You don't even need to touch the power button to see whether you have missed notifications. Simply grab the phone off your desk and the Ambient Display notification will display for a brief period of time after detecting the motion. Nifty.
Moto E 2nd Gen Review Conclusion
Motorola Moto E 2nd Generation (2015) phone proves that you don't need to have the most powerful and slimmest phone in the planet to enjoy it to the fullest.
The Moto E is definitely not designed for those who own one of the flagship phones, but it's the perfect phone running the latest Android operating system that won't blow your wallet out (especially if this is going to be your first smartphone).
The Moto E is highly affordable, takes decent shots, has a really good battery life, and a good high resolution screen. It's the phone that will satisfy your decision in getting into the smartphone market and probably as a stepping stone to entice you to a higher model like the Moto X Style some time in the future.
Disclosure: Review sample was sponsored by Motorola but all opinions are mine
[AMAZONPRODUCTS asin="B00TFAVFL4″]