Motorola has launched three new devices today, showcasing their commitment to innovative technology. These devices include the ThinkPhone by Motorola, the moto g53 5G, and the moto e13. Each device offers unique features with varying price points for different customer needs.
The ThinkPhone by Motorola, priced at $999, is available in Carbon Black at JB Hi-Fi and Lenovo.com.au. It redefines smartphone and PC integration, providing a seamless connection for business use. The moto g53 5G is available for $329 in Ink Blue and boasts a superfast performance and edge-to-edge display. It will be available at Telstra from 26 April 2023 on Telstra Prepaid plans for $269. The moto e13, priced at $149, offers a multidimensional audio-visual experience and a sleek, lightweight design. It will be available in Cosmic Black at Telstra on Prepaid plans from 9 May 2023 and at Optus on prepaid from 26 April 2023.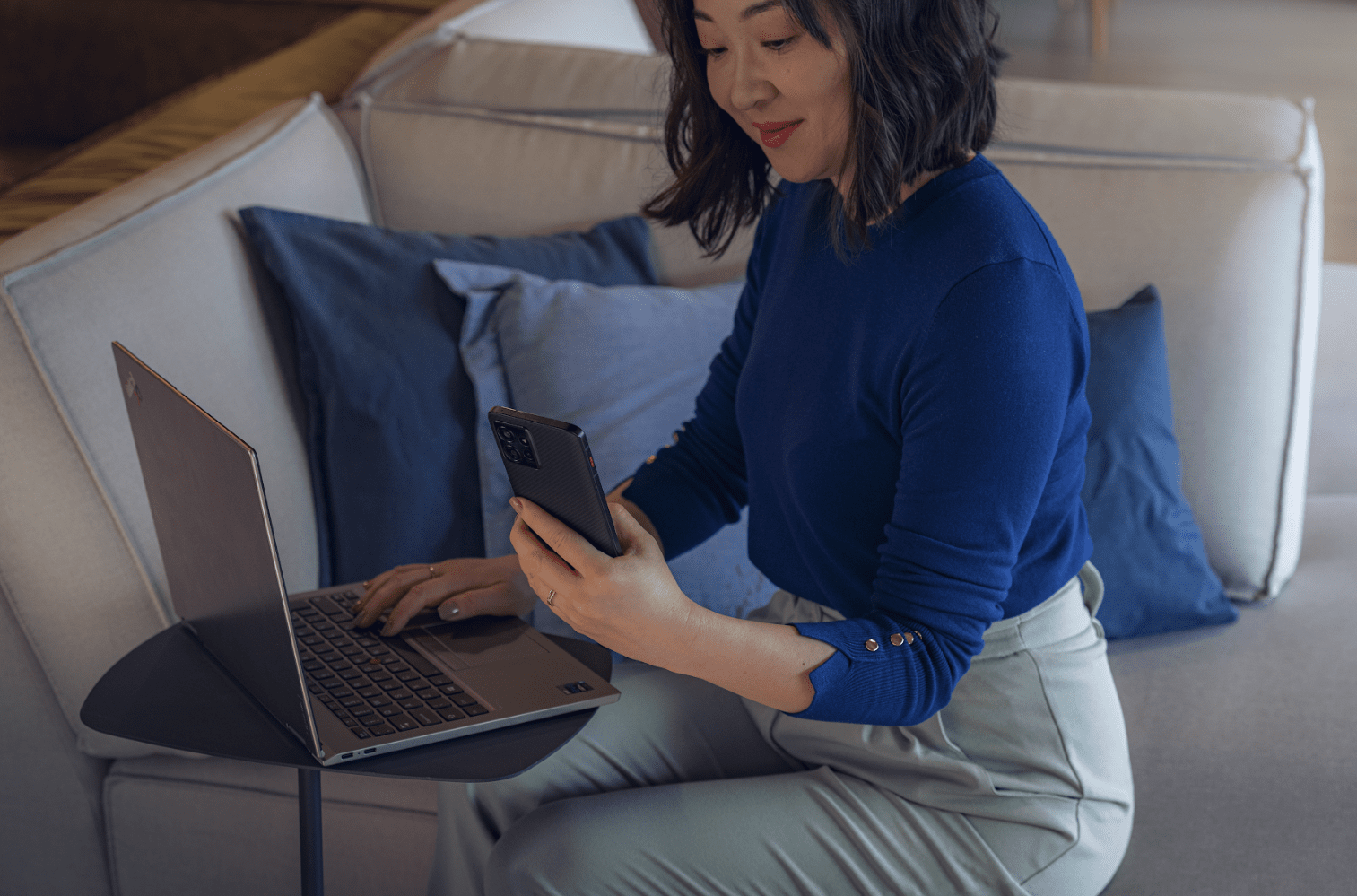 ThinkPhone
Motorola's ThinkPhone is a high-performance device designed for individuals and businesses, combining Lenovo's business expertise with Motorola's mobile innovation. Its sleek design features a lightweight aramid fiber and aircraft-grade aluminum frame, with Gorilla Glass VictusTM and IP68 certification to protect against water and dust damage. The device also has a customisable Red Key for instant access to important business and field apps, and Think 2 Think connectivity through Ready For.
ThinkPhone is focused on delivering a secure and seamless experience for users, with ThinkShield providing full manageability and protection backed by a suite of security features. Moto KeySafe adds an additional layer of security by storing sensitive data in a tamper-resistant environment, while the new Moto Secure App allows users to manage network security, app permissions, and create a secret folder for sensitive data. For families, ThinkPhone includes Family Space, a designated "safe space" for kids to learn and play while allowing parents to control screen time and app access.
With a large 6.6" FHD+ display with 144Hz refresh rate and Snapdragon 8+ Gen 1 Mobile Platform, ThinkPhone is designed for peak performance and productivity. It comes preloaded with Microsoft 365, Outlook, and Teams mobile apps and supports 5G technology and Wi-Fi 6E compatibility for fast internet speeds. The device also boasts a 50MP Ultra Pixel camera for premium image quality on video calls, along with 15W wireless charging and a 68W TurboPower universal charger.
moto g53 5G
The new moto g53 5G has been carefully crafted to bring consumers a beautiful design, amazing photography capabilities, and an immersive multidimensional sound experience.
It features an advanced 50MP camera system with Quad Pixel technology that can capture brilliant details day or night. Additionally, it comes with a dedicated Macro Vision camera that allows extreme close-ups. The device also packs a powerful 5000mAh battery that can last throughout the day, even at blazing fast 5G speeds. It is powered by the Snapdragon® 480+ 5G Mobile Platform and 4GB of RAM, which leverage 5G networks to deliver blazing fast speeds.
The gorgeous 6.5" 120Hz display of the moto g53 5G provides an edge-to-edge view, creating an 85% screen-to-body ratio that is perfect for movie watching, game immersion, or video chats that bring you closer than ever. The device also features Dolby Atmos multidimensional sound and stereo speakers that transform the audio experience with improved bass, cleaner vocals, and more clarity than ever.
In addition to these features, the moto g53 5G also comes with ThinkShield for mobile, the new Moto Secure App, Family Spaces enabled, and new te reo Maori language through an update.
moto e13
The moto e13 boasts a lightweight, compact design with a large 6.5" HD+ ultra-wide display and a long-lasting 5000mAh battery, making it easy to carry and perfect for all-day use.
Capture professional-looking photos in an instant with the 13MP AI-enabled camera system and 5MP selfie camera. The moto e13's 6.5" HD+ display offers sharp and clear visuals, while Dolby Atmos multidimensional sound enhances the audio experience with greater depth and detail, creating an immersive audio-visual experience.
Connectivity is not an issue with the moto e13 supporting 2.4GHz and 5GHz dual-band Wi-Fi frequencies and Bluetooth 5.0. Users can enjoy a faster data speed, longer wireless range and improved power efficiency, making multitasking across different devices and networks smooth and seamless.
The moto e13 is also powered by an octa-core processor, providing fast, efficient performance for video chats and AI photo capabilities. With the 5000mAh battery, users can use the moto e13 throughout the day without worrying about running out of power.
ThinkPhone by Motorola, moto g53 5G, and moto e13 Price and Availability
ThinkPhone by Motorola: RRP AU$999, available in Carbon Black at JB Hi-Fi and Lenovo.com.au. On sale from 30 March 2023
moto g53 5G: RRP AU$329, available in Ink Blue at JB Hi-Fi, The Good Guys, Officeworks, Big W and Lenovo.com.au from 18th April 2023. The moto g53 5G will be available at Telstra from 26 April 2023 at AU$269.
moto e13: RRP AU$149, available in Cosmic Black at Telstra on prepaid plans on 9th May 2023 and Optus on prepaid from 26th April 2023.