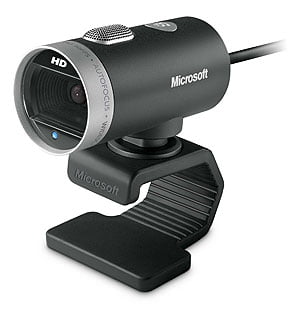 Now that everything is "High Definition" from the TV in our living room to YouTube videos, Microsoft just released a new webcam, the LifeCam Cinema, that offers widescreen video with a native 720p sensor.
"When we started working on LifeCam Cinema almost a year ago, we were motivated by the fact that new computer displays were predominantly widescreen and top social networking sites were allowing widescreen video," said Stuart Milton, systems engineer for Microsoft Hardware. "LifeCam Cinema sets the stage for the next generation of webcam use: uploading widescreen videos with amazing quality to social networking sites and soon chatting live with friends and family in widescreen format."
I'm using the LifeCam Show webcam at the moment and I'm very happy with the video & sound quality it produces (Check my LifeCam Show review). It'd be interesting to record HD videos with this baby.
I'm waiting for a more official release from Microsoft Australia (and hopefully a review unit) soon, so expect more details and pricing about the LifeCam Cinema.
Source: Microsoft US Press Release