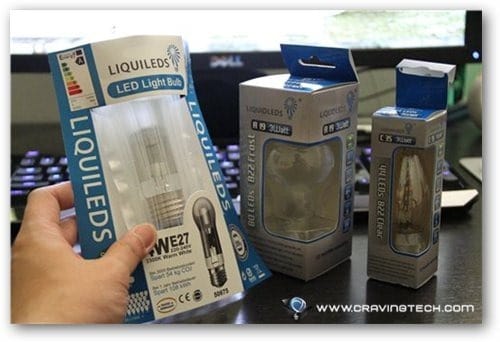 Call me an ignorant technology enthusiast, but I didn't know that LED light bulbs are now so affordable that they can easily replace our CFL and incandescent bulbs.
If you don't know what a CFL or an incandescent light bulb is, it's basically the old light bulb you are using on your study lamps or the ones on the ceiling – it looks like this (image from wikipedia):

Most of us know about the LED technologies from computer monitors or our new TV set at home so the concept of LED lights are not actually new. However, this is honestly the first time I know that LED technologies have made it into consumer light bulbs like the samples I have here from an Australian company called Liquidleds.
Why LED light bulbs are better than the old incandescent light bulb
Consumes less power
Smaller size
Mercury free (non poisonous)
Much longer life span
Produces less heat
Ever tried touching an incandescent light bulb even after you switch it off for some time? It's terribly hot. Now, after I used one of the samples to review (an LED light bulb from Liquidleds), I could still touch the bulb as it is just warm compared to a hot incandescent light bulb. In summer, my bedroom temperature goes crazily hot and having an incandescent light bulb in my study lamp only made things worse. If only I knew about this LED light bulb, things would be different then.
The samples that I got from Liquidleds are:
Liquidleds Liquid Globe
The Liquid Globe looks really cool and you can actually see the liquid inside the transparent glass:
It uses only 4 Watts of power (equivalent to 40W incandescent light bulb) and also has 30,000 hours of lifespan. It features Liquidleds' patented Liquid Immersed Thermal Management Solution™ (LITMS™) technology – a special liquid solution that improves both heat dissipation and bulb's lifespan.
Now, the power may not be enough to light an entire room but if you normally turn a dim light in your living room before you go to bed, then the Liquid Globe makes a great choice for that purpose.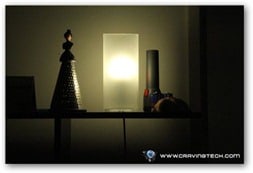 We normally do this before we go to bed in my apartment (see the night lamp we are using on the right). Our night lamp is a 7 Watt light bulb so we'll save even more power if we use one of these LED light bulb samples (unfortunately they don't fit in :()
Liquidleds GLS 3.2W
The GLS 3.2W is dimmable, only consumes 3.2W (equivalent to 40W incandescent), and has a 15,000 hours of lifespan. It produces a soft warm light, perfect for public areas (lobbies, halls, or stairways).
Liquidleds Candle 2.7W
The Candle 2.7W is dimmable, only consumes 2.7W (equivalent to 25W incandescent), and has a 15,000 hours of lifespan.
The Candle LED bulb is a candle-like shape so it's perfect for a chandelier or any lamps for the living and dining rooms.
So Australians, if you are after some LED light bulbs to save more power and have a safer environment (mercury free), make sure to have a browse on these LED light bulbs at Liquidleds.com.au.
The 10W (equivalent to 60W incandescent) and 15W (equivalent to 85W incandescent) light bulbs' samples will be sent to me by the end of the month, so I'll keep you posted whether they are bright and good enough to lit your entire bedroom or even the living room.