Note: This is a guest post written by Andrew Thompson
Security is a fast-paced field in which we have only one agenda: network security. Network security is rapidly evolving as new devices from various manufacturers enter the market to demonstrate their capabilities and defend the enterprise. Nonetheless, these devices need to be handled by skilled operators.
Organizations use network security as the first line of defense against hackers. There is a growing demand for specialist software developers. So, how can your CV capture the recruiters' attention before you have had a chance to sit down face-to-face with them?
Novice and experienced individuals alike can demonstrate their initial level of skill by obtaining a standard level of certification. Let's have a look at some of the certificates that are required in the realm of network security.
SASE Expert Level 1 by Cato Networks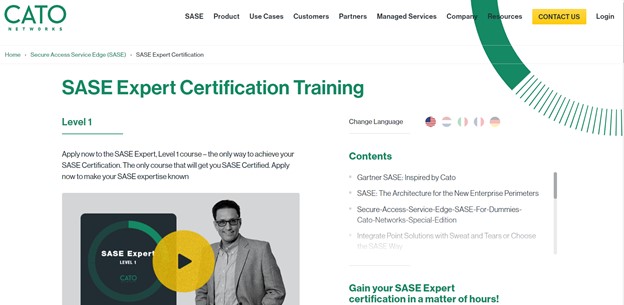 Secure Access Service Edge (SASE) is a global cloud service that combines network services and security point solutions. Gartner calls it the future of network security since it delivers an altogether new architectural approach. SASE enables IT to reclaim its proper place as a business facilitator by delivering a cloud-native, adaptive network designed for today's dynamic digital business environment.
Due to its dynamic capacity, 64% of businesses use or plan on shifting to a SASE architecture. So, completing this certificate will give you a leg up in any organization using SASE. The course gives you a thorough understanding of data security, threat protection, and everything related to CASBs and enterprise WANs. It gives you all the training you need to be a commercial network specialist.
The SASE Expert Certification is quickly becoming a must-have for proving you have the networking and security skills in demand in the industry.
Network+ by Comptia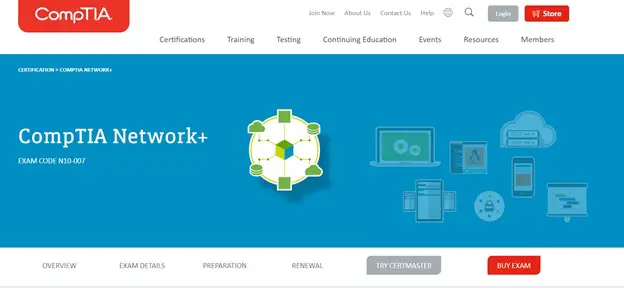 Network+ is a CompTIA certification. The exam is a combination of networks and their security. Applicants must study multiple domains to earn the Network+ certification, including network, network devices, and network security. Applicants should be able to build and implement networks, understand the benefits and shortcomings of existing networks, implement security in a network, understand network security and the function of protocols in making it safe, and troubleshooting in a network.
Please note that applicants need to have knowledge of network device setup or management, as well as how basic network devices (switch/router) work in a segment to establish good routing without producing network collisions.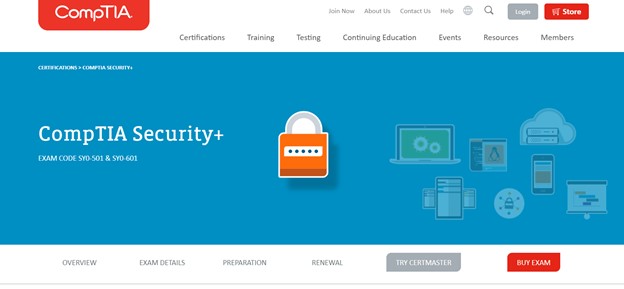 Security+ is organized by CompTIA, and only individuals with knowledge of threat management, cryptography, network access control, risk identification and mitigation, and identity management can pass it. But don't worry too much—you just need basic knowledge to pass it.
Threat management and risk assessment are major components of this certification. Topics like threat modeling teach you how a team can eliminate bugs earlier in the SDLC and save money for the company. Therefore, having these skills is a critical component of any work you do in this field. Therefore, having this certification will prove very beneficial.
Having this certification allows organizations to immediately understand the depth of your knowledge in the subject and how you can assist the organization in being more secure and efficient. 
Certified Ethical Hacker by the EC-Council
The EC-Council is responsible for administering the Certified Ethical Hacker certification. This certification is considered as an entry-level certification for people professionally interested in ethical hacking.
It focuses on the different aspects of cybersecurity and provides students key information about the OWASP Top 10, IoT penetration testing, vulnerability analysis and vulnerability management, among other security concepts. The EC-Council keeps updating this certification with new attack techniques and hands-on hacking based on real world challenges simulated inside a lab.
Furthermore, as the world steadily switches completely to the cloud, this certification has kept up with a focus on the cloud and other hacking tools and techniques. This combination makes the CEH a unique and helpful certification for an entry-level individual.
Global Information Assurance Certification by SANS
SANS, a professional certification provider focused on information security, is in charge of the Global Information Assurance Certification. This certification teaches you practical skills that actually go beyond theory and tests the pragmatics of cyberdefense, penetration testing, digital forensics and incident response, developer and information security management.
It actually offers a lot of different types of certifications within it such as cyber defense, offensive operations, cloud security management and leadership and even the digital forensics techniques. This certification also covers skills needed by a professional who can mitigate threats in the early stages of development by focusing on advanced knowledge and skills like the NICE framework.
Conclusion
We have talked about a number of certificates here, but which one you should take depends on where you want to go with your career in the network security sector. If you wish to cover all aspects of network security gradually, you can obtain all the above-mentioned certifications. Organizations look for individuals who have covered a wide range of domains in their careers to be more valuable to the organization. As we all know, there is always something new to learn.