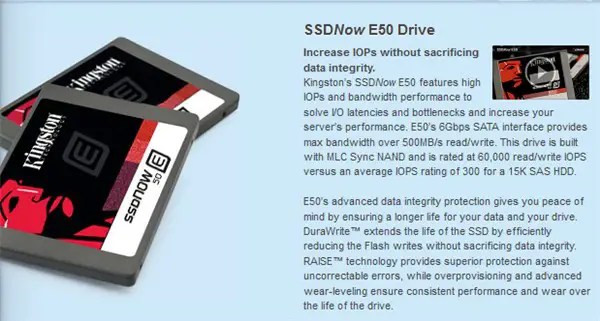 Don't know about you, but I'm all about Solid State Drive (SSD). I wasn't paying attention of this technology until I got my first MacBook Air and experienced it in action. Nowadays, it's a blasphemy for not buying an Ultrabook or laptop powered by an SSD! Check out my recent Kingston SSD (SSDNow V+200) review for some speed comparison.
Kingston's SSDNow E50 features SATA Rev 3.0 with monstrous speed of up to 550 MB/s sequential read and 530 MB/s sequential write, along with extra goodies for an Enterprise solution.
Kingston SSDNow E50 extends the life of an SSD by reducing Flash writes without sacrificing data integrity, thanks to the DuraWrite™ technology. RAISE™ technology protects against errors and ensures consistent performance. If there is a power failure, the SSDNow E50 will also prevent data loss with its intelligent power failure protection.
As an Enterprise-level solution the SSDNow E50 focuses on performance, data integrity, and protection. It comes with a 3 year warranty and free technical support.