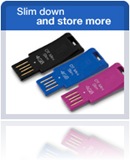 Kingston Mini Slim Data Traveler Review – I got this new USB Flash Drive, the Kingston Mini Slim Data Traveler, today (2 GB capacity). As the product description says, it is both Mini and Slim USB flash drive indeed.
It comes with a variety of colors, although the one that I've got is the Black one.
I think it's time that I throw away my 3 1/2 inch floppy disks collection :D
Kingston Mini Slim Data Traveler Flash Drive is very tiny and can fit on your pocket nicely. It is meant to be carried by you everywhere you go. It is convenient and you can also easily attach it to your house keys.
Because it's created to be awesomely slim, there is no cap or anything on the drive, making the USB head exposed (which can be bad especially during the rainy season). I still yet to test whether it can survive damp and wet environment (Imagine it being on your pocket with your keys and it's raining heavy outside). Since I attach it to my house keys on my jeans pocket, it is also susceptible to scratches.
Kingston Mini Slim Data Traveler Features/Specifications (taken from Kingston's official page):
Capacities* – 2GB, 4GB, 8GB
Dimensions – 1.529″ x 0.645″ x 0.253″ (38.85mm x 16.40mm x 6.44mm)
Operating Temperature – 32° F to 140° F (0° C to 60° C)
Storage Temperature – -4° F to 185° F (-20° C to 85° C)
Simple – just plug into a USB port
Convenient – pocket-sized for easy transportability
Guaranteed – two-year warranty
Fashionable – available in multiple colors – black, blue, pink with grey bottom casing
On its official page, there is nothing mentioning about the read and write speed of it. So I made a little demonstration to find out how fast/slow this Kingston USB flash drive is. In my mini experiment (on Windows XP Service Pack 3), I was using a single 140 MB file to measure the speed. Kingston Mini Slim Data Traveler took 1 minute to write the file and 5 seconds to read the file back. Whereas on my bulkier old Transcend USB flash drive, it took only 25 seconds to write the file to the flash drive.
Kingston Mini Slim Data Traveler also comes with a 2 year warranty, guaranteeing the quality of the product.
Although Kingston Mini Slim Data Traveler is compatible with Windows Vista, it doesn't support Vista's ReadyBoost. So you'd better buy a different model if you are planning to use it for Vista's ReadyBoost.
Conclusion
Kingston Mini Slim Data Traveler is slim, tiny, and can fit nicely in your pants, jeans, or shirt's pocket. It is meant for mobility and you can easily attach it to your keychains. The write speed is quite horrible although the read speed has no problem at all retrieving the data back. So if you constantly write hundreds of megabytes of files daily, you should probably get a different model. However, if you are looking for a tiny and slim USB Flash Drive to be carried with you all the time for occasional data transfer/backup, this one is a winner.  Kingston is a well known brand and with the 2 year warranty from Kingston, you shouldn't be worried too much.
Pros:
+ Kingston, a well known company to deal with data and memory
+ Very slim and mini as the spec said
+ Can be attached to your keys easily
+ Compatible with Vista and work out of the box
+ Cheap (I bought it for AUD $10 only)
Cons:
– You can lose it easily if you are the careless type
– No protection on the USB data head
– Slow writing speed