Jabra Evolve2 75 Review – Jabra Evolve2 75 is the latest Jabra headset in the Evolve range. It's designed for the new standard of wireless on-ear headset for your work-from-home lifestyle and available in two colours (Black and Beige).
This new Jabra Evolve2 75 was released in October 2021 and it's currently sitting just one tier below the flagship over-ear Evolve2 85 which costs $65 more here in Australia. Let's find out if it's any good.
Packaging Contents
First Impression
The leatherette material on both ear cup and headband feel cushy and premium. It looks like it will last a long time without cracking. Please note that I've been testing the Jabra Evolve2 75 headset with my recently updated Windows 11 PC.
The pairing process is straightforward: you take it out of the box, turn the headset on, and voila, it's ready to pair. Or, for easier use, you can just plug in the USB dongle. If you wish to pair it with your Android phone, you'll want to use the Google fast pair to make it a seamless pairing process.
It's recommended to download the Jabra Direct software, should you need to update its firmware. Also, there is a nice pouch to store your headset. Plus, there is a charging stand with USB-A.
Key Features
26% per cent more Noise Cancellation than Evolve 75 through Adjustable Jabra Advanced ANC, dedicated chipset and Jabra's new Dual Foam Technology
Premium Open Office microphones with a 33 per cent shorter hide-away microphone boom arm than Evolve 75
8 microphone technology
Superior quality calls
High-quality audio with the boom arm retracted in discrete mode, or when fully down in performance mode. Optimised for flexible work life.
Certified for all major UC platforms
Up to 30m/100 ft wireless range
Connect two devices with dual connectivity
Dedicated Teams button (on MS Teams variant)
Integrated 360° busy light
Up to 36h MusicTime, 24h TalkTime (without ANC and Busylight) 33% more TalkTime than Evolve75
Powerful music w/ 40mm speakers & AAC codecs
Device management with Jabra Direct and Xpress
Personalisation with Jabra Sound+ and Jabra Direct
Google fast pair* (*Android Only)
Comfort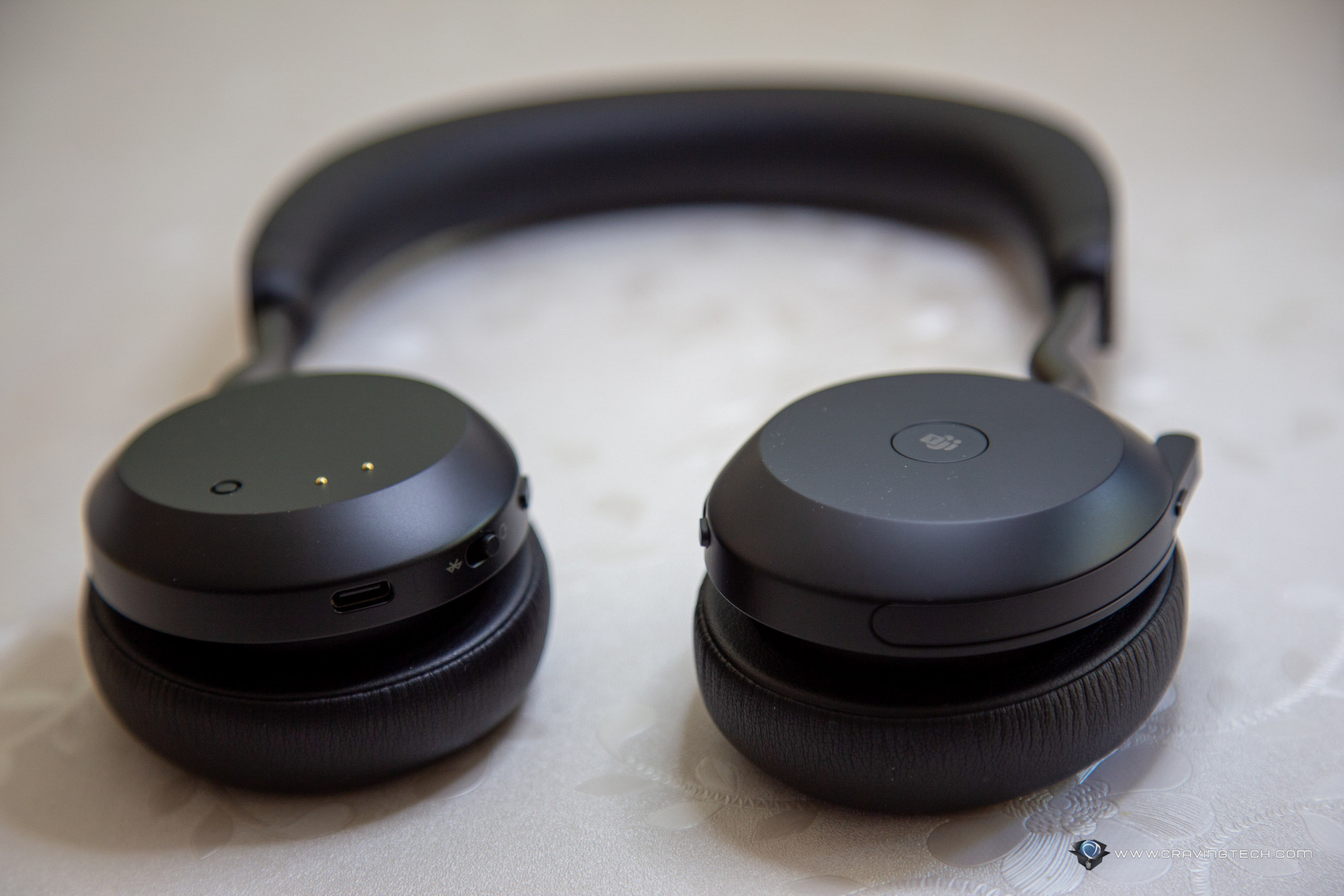 Initially, this Evolve2 75 headset might not feel familiar to put on due to its on-ear design since many people are more accustomed to wearing over-ear headphones, but you'd gradually feel comfortable wearing it after a while. That's what happened to me. I have always preferred over-ear design to on-ear design. However, after wearing this for the past two weeks, I must admit this on-ear headset feels comfortable enough for a long duration.
As a testament, I've used this headset for almost 2.5 hours of Zoom meetings and I didn't feel any discomfort afterwards. In fact, I'm using this headset for music listening when I'm writing this review.
Sound Quality
For music listening, the 40mm speakers produce such great sound quality. The mids, lows, and highs are perfectly balanced. I've spent countless hours listening to music and watching YouTube with this headset. It's that good.
The Evolve2 75 is the first of Jabra's Evolve headsets to include fully adjustable Jabra Advanced Active Noise Cancellation so that you can adjust how much (or how little) of your surroundings you hear. It's called HearThrough which you can enable by pressing the button at the bottom of your left headset.
Microphone Quality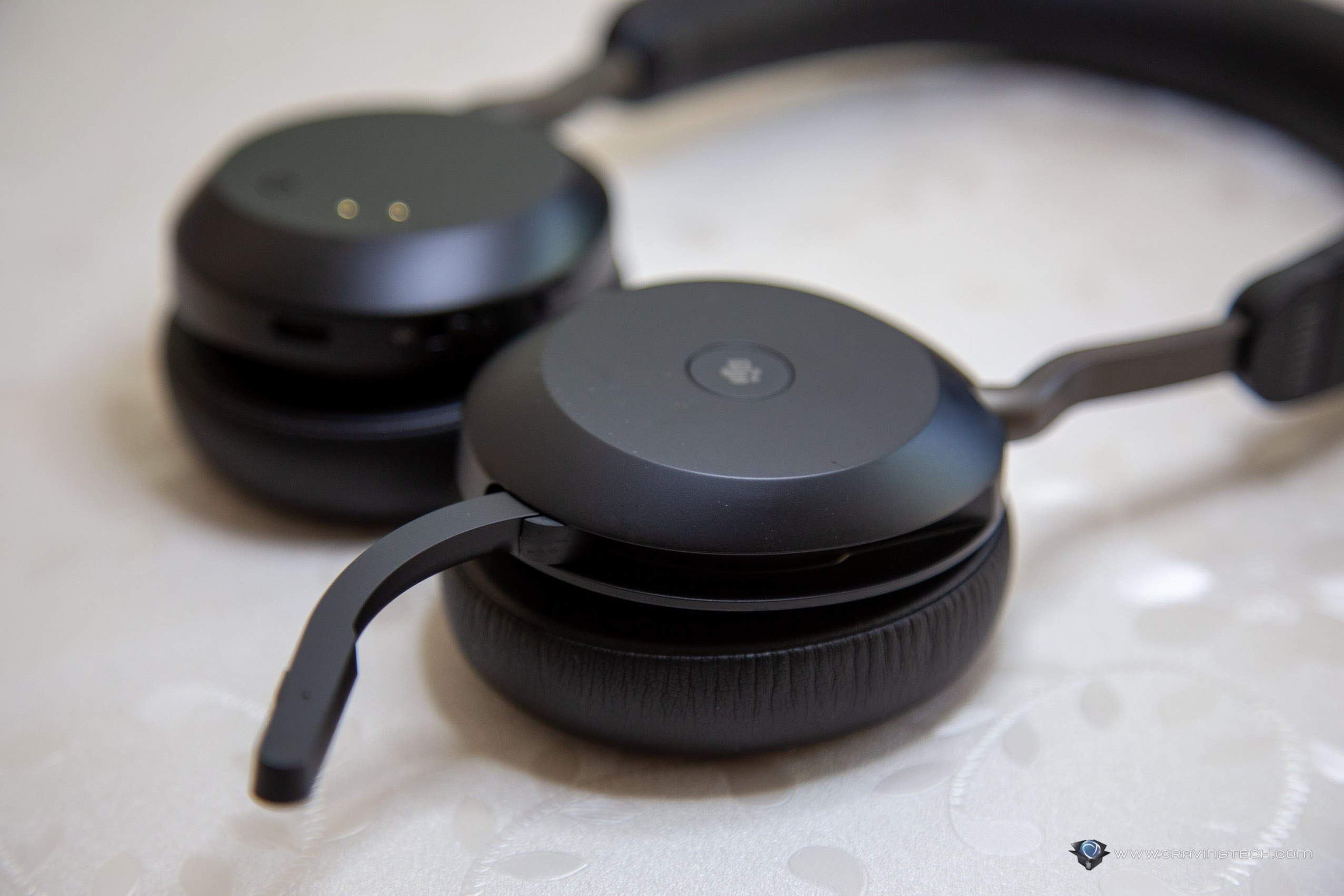 For video conferencing, the 8 built-in microphone works like a charm. The microphone does a great job of isolating any external noise. So it doesn't matter where you are, you can speak in a normal voice without raising your voice and your caller can still hear you.
There are two ways to use the microphone here. First is the performance mode where the boom-arm microphone is down. This is great for noisy environments. The second is the discreet mode where the microphone is tucked in. This one is when you're on the move so that you don't look out of place. Furthermore, there's a red busy light that is visible when you're on call.
Battery Life
The battery life is great considering the lithium-ion battery can last up to 33 hours (with ANC on) for music listening and 25 hours (with ANC on) for talking. In the past two weeks, I've only needed to fully charge once when I first took it out of the box. 
Tech Specs
General
Box content: Headset, Jabra Link 380 Bluetooth adapter, USB cable 1.2m, carry pouch, user documents, desk stand
Packaging dimensions (WxHxD): 199mm x 75mm x 238mm
Main unit dimensions (WxHxD): 145mm x 67mm x 190mm
Materials used: Dual-foam leatherette cushion, Headband ultra-soft foam covered in colour-matched leatherette, Metal slide arm
Weight: 197g
USB cable length: 1.2m
Warranty: 2 years
LED features and functions: Busylight, Desk stand docking indication, Incoming call, Microsoft Teams notifications
Audio
Active Noise-Cancellation: Jabra Advanced ANC™ using 4 of the device's 8 microphones
HearThrough: Yes
Speaker size: 40mm
Speaker max input power: 30 mW
Speaker frequency range: 20Hz – 20000Hz
Speaker bandwidth (music mode): 20Hz – 20000Hz
Speaker bandwidth (speak mode): 100Hz – 8000Hz
Audio codecs supported: AAC, SBC
Microphone type: 4 Analog MEMS / 4 Digital MEMS
Microphone sensitivity: -35 dBv/Pa (analog microphone)/-26 dBFS/Pa (digital microphone)
Microphone frequency range: Analog 5Hz – 20000Hz | Digital 100Hz – 8000Hz
User hearing protection: PeakStop, EU noise at work, G616, Jabra SafeToneTM
Certifications and compliance*: Microsoft Teams, MFi, Zoom, Amazon Alexa Built-in
Fit & Comfort
Headset form factor: On-ear headband
Software & Apps
Compatible software and/or apps: Jabra Direct, Jabra Sound+, Jabra Xpress
Alexa Built-in: Yes
Battery
Music time: Up to 36 hours (with ANC off) / up to 33 hours (with ANC on)
Talk-time: Up to 25 hours (with ANC/busy light off)/Up to 19 hours (with ANC on/busy light on)
Corded charging (cable dependent): USB-C
Sleep mode: Yes
Charging time: Up to 160 minutes
Battery status % after 30 min / 60 min: 30% after 35 min and 60% after 70 min
Battery type: Rechargeable lithium-ion battery
Connectivity
Connectivity: USB-A/USB-C Bluetooth adapter, Bluetooth®
Bluetooth profiles: A2DP v1.3, AVRCP v1.6, HFP v1.8, HSP v1.2, PBAP v1.1, SPP v1.2
Bluetooth version: 5.2
Operating range: Up to 30m
Paired devices: Up to 8 devices
On-head detection: Yes
Extended Info
Operating temperature: -10°C to 45°C
Storage temperature: -10°C to 45°C
Jabra Evolve2 75 Review – Verdict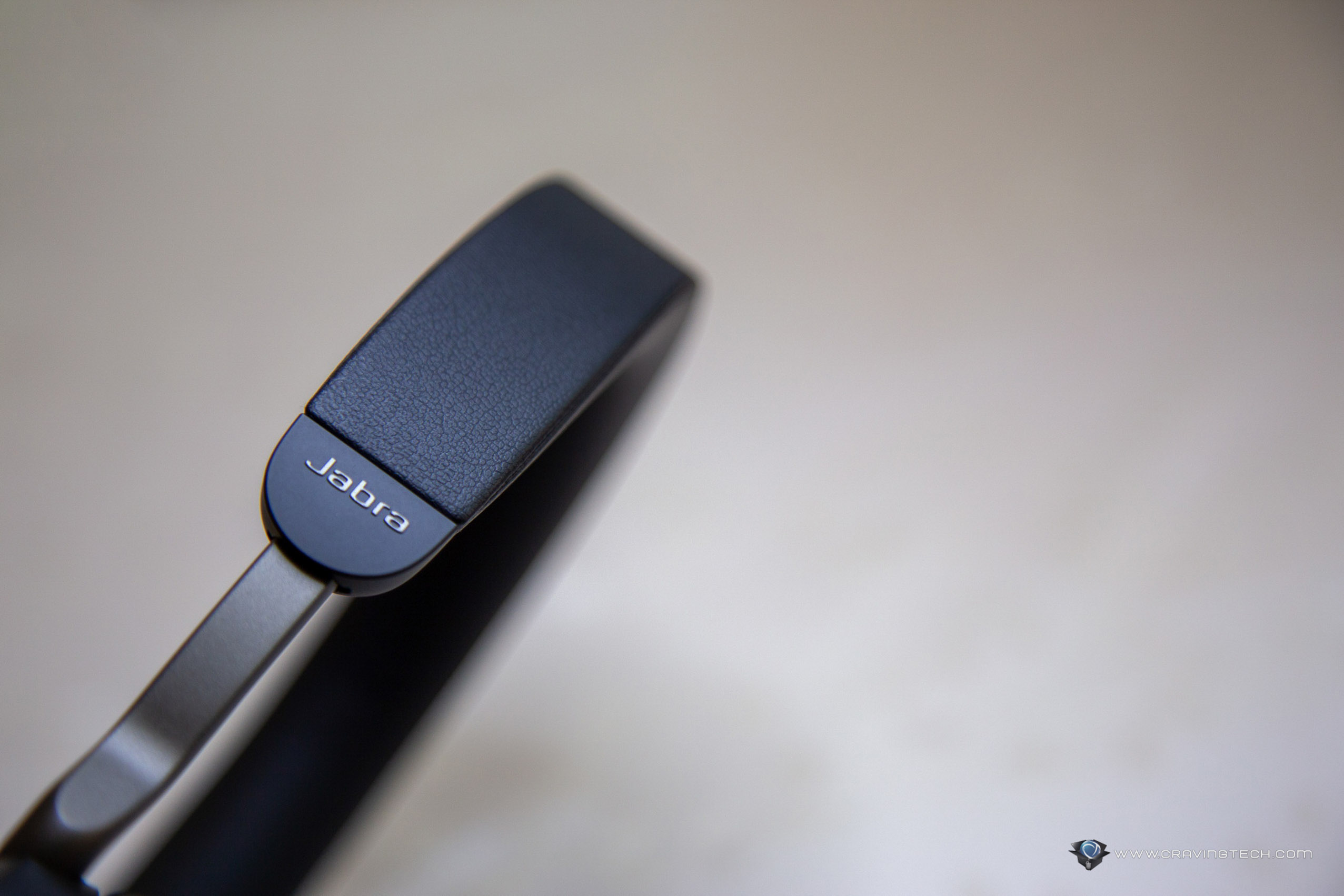 If you're in the market for a nice headset for your work-from-home needs, you'll need to get this Jabra Evolve2 75 headset. You can get one at Jabra's website for A$539 with free shipping and also at retailers around Australia. Also available at Amazon.com.
Disclosure: Jabra Evolve2 75 review sample was supplied for reviewing