Note: This is a guest post written by Jeeva Shanmugam
Recently we have been reporting multiple rumors saying the iPhone 15 Ultra is expected to be released by Apple in 2023 in the forthcoming iPhone launch, and technology experts have speculated that the iPhone 15 Ultra might replace the iPhone Pro-Max line-up. The Ultra might be introduced as a new line-up by Apple instead of being discontinued by the Pro Max series, in my opinion.
The Apple Watch Ultra is a brand-new Apple Watch with significant upgrades. It has a larger, brighter display, longer battery life, a sturdier titanium frame, and a dedicated action button. As a result of these features, the Apple Watch Ultra's price jumped to AUD 600.
The iPhone 15 Ultra should include at least a few distinct features of its own, based on the rumors that have so far leaked, and we can anticipate the same thing to occur with it. Given that the Samsung Galaxy S22 Ultra is now priced at AUD 1,200, reports that Apple may raise the price of the iPhone 15 Ultra from AUD 1,749 for the iPhone 14 Pro to $1,940 for the iPhone 15 Ultra don't seem at all unlikely. Let's talk about a couple more features that might only be available on the iPhone 15 Ultra.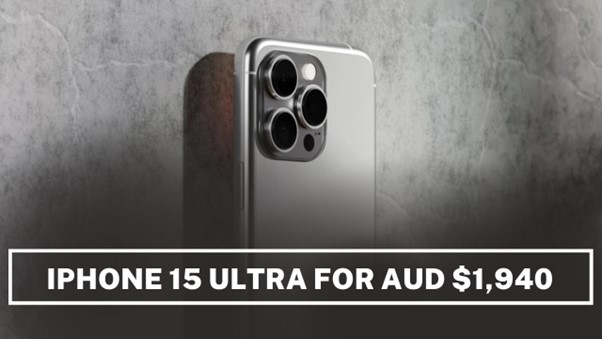 iPhone 15 Ultra could have a Titanium Body 
We have already received news saying that the iPhone is working on a titanium back and an all-curved design just like iPhone 5C, you can follow the article by clicking here.
The iPhone 15 will have a titanium body in place of the current iPhone 14's aluminium one, giving it a more upscale appearance. Which iPhone 15 models—all or only the Pro models—will include a titanium build?
Customers may save $500 without totally replacing their back glass because of titanium's advantages over stainless steel, including weight and strength. However, the price difference between steel and titanium is widely recognized. Apple will thus need to demonstrate that customers would value titanium's improved durability.
iPhone 15 Ultra Could have Dual Front-Facing Cameras
Two front cameras will be available for the Ultra, according to Twitter leaker MajinBu. It is usual to find smartphones with two front-facing in iPhone 15 Ultra that may feature a wide-angle camera for group selfies. For improved self-portraits and online virtual product testing, a depth sensor was integrated into a second front lens. However, we have to wait until the launch of the iPhone 15 lineup.
iPhone 15 Ultra could have a Periscope Zoom
Long-delayed periscope lenses with 5x or 6x optical zoom are anticipated for the iPhone 15 Ultra. The Google Pixel 7 Pro provides a 5x optical zoom, in contrast to the Galaxy S22 Ultra's two telephoto zoom lenses with a 3x and 10x magnification.
Given that the iPhone 14 Pro Max could only go up to 3x optical zoom, this would be a much-welcomed enhancement for the iPhone 15 Ultra. Considering that the highest digital zoom for the iPhone 14 Pro series is now 15x, I also expect that this model's digital zoom will be raised.
iPhone 15 Ultra could have a Doubled Storage Size
Initial storage for the iPhone 15 Ultra will be at least 256GB. One of my critiques about the iPhone 14 Pro series was that it had 128GB of storage, which I felt was unprofessional in an era where users could use their phones to take 48MP ProRAW photos and record 4K video. Additionally, the iPhone 15 Ultra has 8K video recording capabilities, which takes up considerably more space.
To sum up
These are major upgrades we can expect from the all-new iPhone 15 Ultra since these are all rumours we can't rely on completely. The good thing to do is to wait until the forthcoming iPhone launch and check whether the rumours around the iPhone 15 Ultra are true or not.