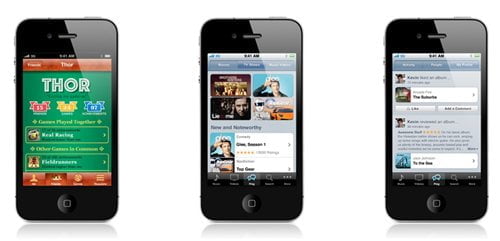 iPad/iPod/iPhone owners, make sure you have checked for an update today at iTunes, because the latest iOS 4.1 update is here! New features include the new Game Center, HDR (High Dynamic Range) photos on iPhone 4, improvements, and bug fixes.
Here are the complete iOS 4.1 changelogs.
iOS 4.1 Software Update
This update contains improvements, including the following:
Game Center
– Send and receive friend requests
– Invite friends to multi-player games over the Internet
– Play multi-player games by auto-matching with other players
– View Leaderboards and Achievements
– Discover new games from friends
High dynamic range (HDR) photos on iPhone 4
Support for TV show rentals on iTunes
Ability to upload HD videos to YouTube and MobileMe over Wi-Fi on iPhone 4
Additional support for AVRCP-supported accessories, including next & previous track control
FaceTime calling directly from Favorites
Bug fixes, including:
– iPhone 4 proximity sensor performance
– iPhone 3G performance
– Nike+iPod fixes
– Bluetooth improvements
Products compatible with this software update: iPhone 4, iPhone 3GS, iPhone 3G, iPod touch 2nd generation, or later. Game Center requires iPhone 4, iPhone 3GS, iPod touch 2nd generation or later.