HyperX Pulsefire Haste 2 Review – The newest Pulsefire Haste 2 from HyperX is an ultra-lightweight, wired gaming mouse (there is a wireless version available), weighing at just 53 grams. It's a very light mouse but at the same time I've had no issue with it being too light on the mouse mat.
Along with a HyperX 26K Sensor with tracking speed of up to 650 IPS and 8,000 Hz polling rate, this is a well-made, high-performing mouse at a fraction cost of the price. For just A$59.99, you'll get one of the highest-performing gaming mouse out there in the market.
HyperX Pulsefire Haste 2 Review – Packaging and Unboxing
HyperX Pulsefire Haste 2 Review – Design and Features
The Pulsefire Haste 2 has a minimalist design, so you probably won't find something exciting here. There are no hot-swappable weights, honeycomb design, or a see-through shell. But what you get, is a basic, vanilla gaming mouse that you can customise a little bit with the included gripping tapes (if you like). The tapes can be installed on the mouse buttons and on both the sides of your mouse. The mouse itself focuses a lot on the performance and sensor, and I have no complaints in that. It's better to have a really good mouse that you can use to play competitively, than something with bling-bling that you don't actually need.
Each click of the mouse sounds and feels satisfying, thanks to the custom HyperX Switches – providing tactile and audible feedback of every shot you fire. The switches are rated up 10 million clicks.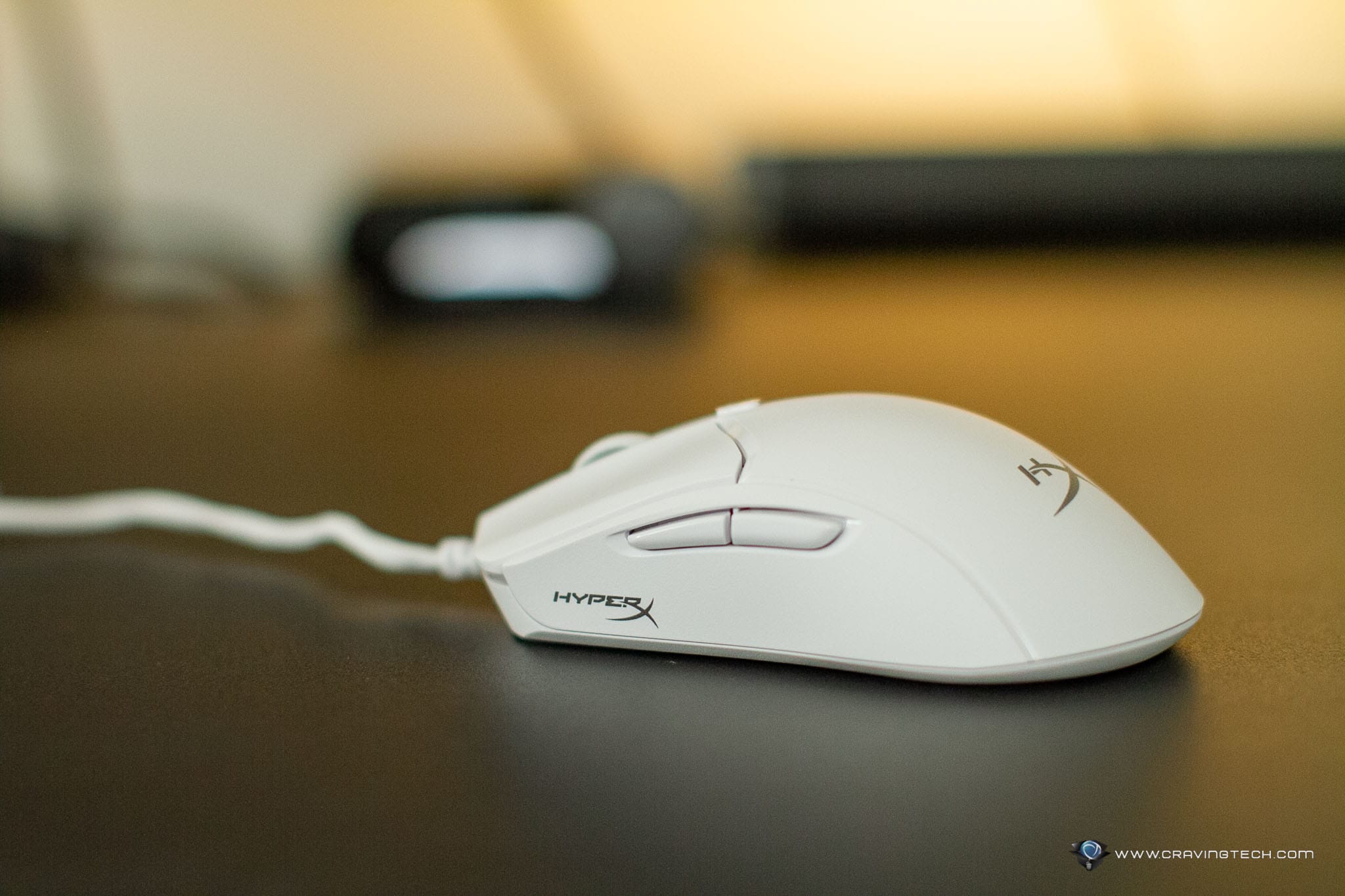 The cable is also lightweight and braided for protection. I've never felt the cord dragging my mouse down below the desk, something that I hate about wired gaming mice.
If you install HYPEX NGENUITY software, you can further create macros for the 6 programmable buttons, customise your DPI settings, and personalise your lighting. The lighting zone is only around the mouse wheel though, so there isn't really much to tinker here.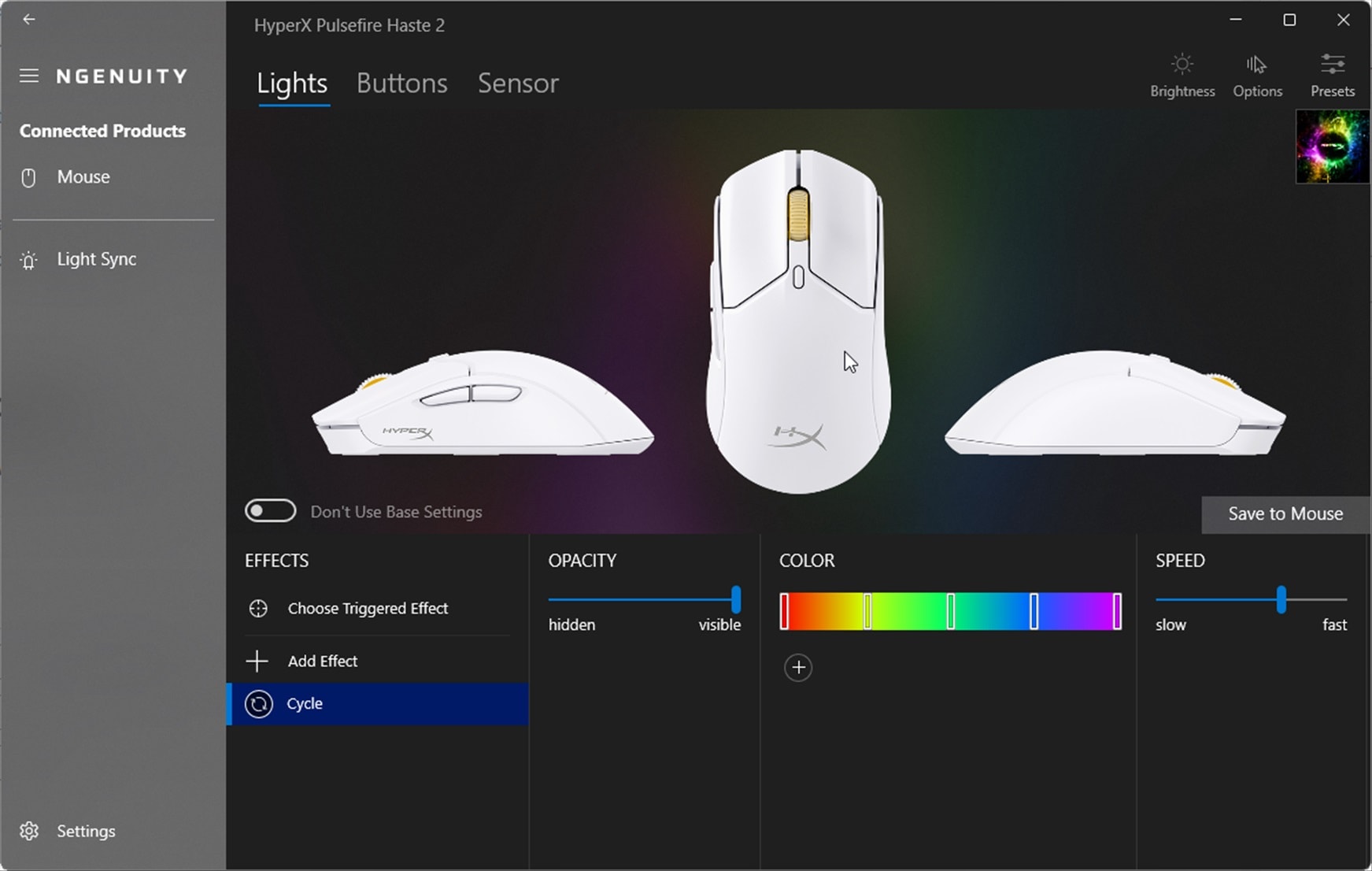 But let's talk about the mouse sensor. It's powered by HyperX 26K Sensor capable of up to 26,000 DPI and can track at speeds up to 650 IPS – which is really, really good. It's also one of the gaming mouse that supports 8,000Hz polling rate, the highest polling rate available so far in the market. So with the HyperX Pulsefire Haste 2, you're guaranteed to never have an input lag and you are using a mouse that has a really good, precise sensor.
I'm a claw grip/fingertip gamer and I find that the HyperX Pulsefire Haste 2 has a good shape and dimensions to glide on the mat. Its lightweight factor makes it even smoother and easier to glide, especially when I need to do a quick, flick shot. The side buttons also require a good force to press, so I've never accidentally pressed them during the game.
The sensor is accurate and even during frantic battle of Overwatch 2, a competitive, online, FPS game from Blizzard, I've never blamed the mouse for not getting my shots. Tracking with the mouse is very easy too.
Here are some clips of Overwatch 2 while I was playing with the HyperX Pulsefire Haste 2:
HyperX Pulsefire Haste 2 Review Conclusion
HyperX Pulsefire Haste 2 is a high-performing, lightweight, wired, gaming mouse with a fraction of the price. For just A$59.99, you get a mouse with a very accurate sensor with tracking speed of 650 IPS and 8,000 Hz polling rate. If wired is not for you, there's also the Pulsefire Haste 2 wireless version up for grabs.
HyperX Pulsefire Haste 2 is available now at retailers around Australia. Also available at Amazon.com
Disclosure: HyperX Pulsefire Haste 2 review sample was supplied for reviewing
HyperX Pulsefire Haste 2 Review
Summary
A lightweight gaming mouse with high performing sensor and high polling rate, at a fraction of the price
Pros
Great shape for claw/fingertip gamer with small hands
Very accurate sensor, high performance
Tactile buttons, satisfying clicks
Lightweight
Cable doesn't drag/pull the mouse down
Cons
Looks and feels cheap, but you get the performance + at a great price
Not for those with large hands
Not much RGB, but more RGB lighting will make the mouse heavier