HP Smart Tank 7605 Review – When you need a wireless, smart printer while keeping running costs low, you definitely want to opt for refillable ink printers like the HP Smart Tank 7605. It offers a higher yield, lower long-term costs, and generates less waste compared to typical cartridge systems.
From the start, you're provided with enough ink to print thousands of pages, both in black and colour. Depending on your print quality and the type of content, HP estimates you can print up to 6,000 black or 8,000 colour pages straight out of the box.
HP SMART TANK 7605 REVIEW – PACKAGING CONTENTS, INITIAL SETUP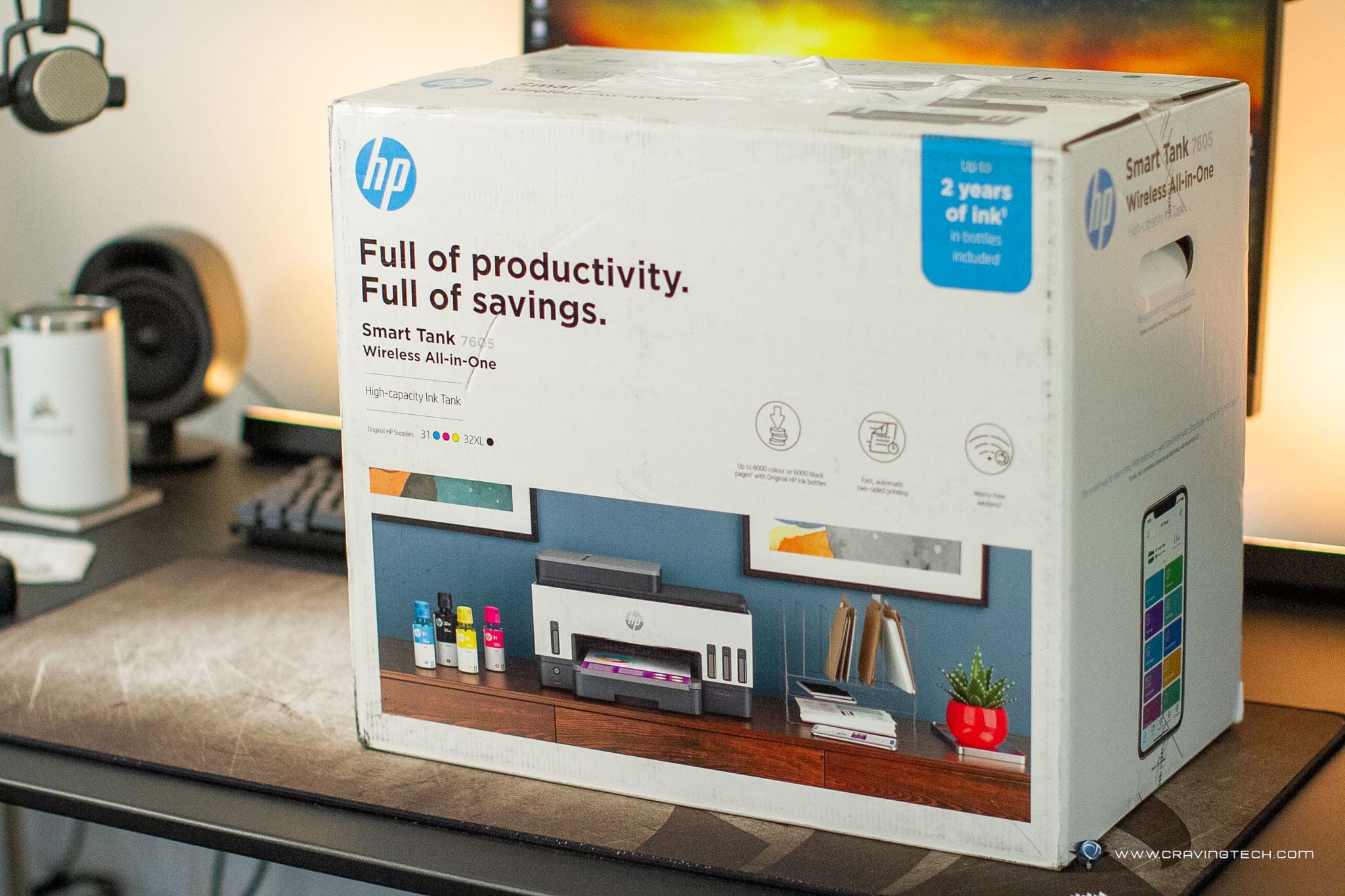 Setting up the printer is fairly simple; most components click into place, preventing any mistakes. Even if you're not technically inclined, you should have no issues with installation and setup.
A handy, albeit small, touch-enabled screen assists with the setup and later with changing printer settings, maintenance, and so on.
All colour inks are included in the package. Refilling the ink tanks is a mess-free process. Once the ink bottle cap is opened, the ink flows into the designated tank without spillage. You simply have to plug each corresponding ink bottle to the right ink tanks, top-down, and just let the ink be emptied into the ink tank. I was also expecting some spill when I had to lift the ink bottle up after refilling but thankfully there were none.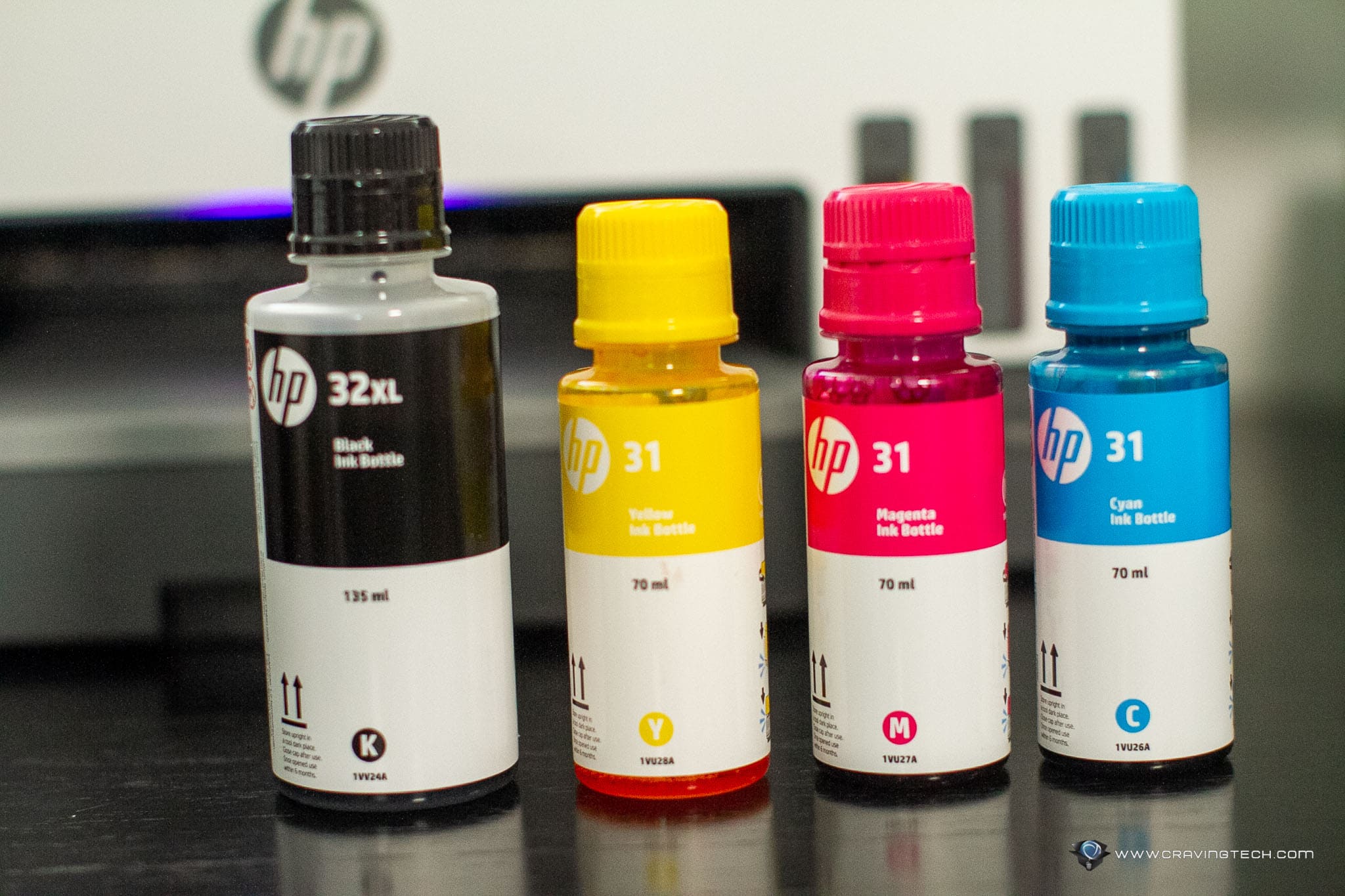 HP SMART TANK 7605 REVIEW – DESIGN AND FEATURES
The HP Smart Tank 7605 is an All-In-One Multi-Function Printer, meaning it can print, scan, copy, and fax (if that's still a thing). In terms of printing, the 7605 model supports these document sizes: A4, A5, A6, B5, C5, C6, DL, and Envelope, with supported printing media of Glossy, Inkjet, Matte Paper, Photo Paper, Plain Paper.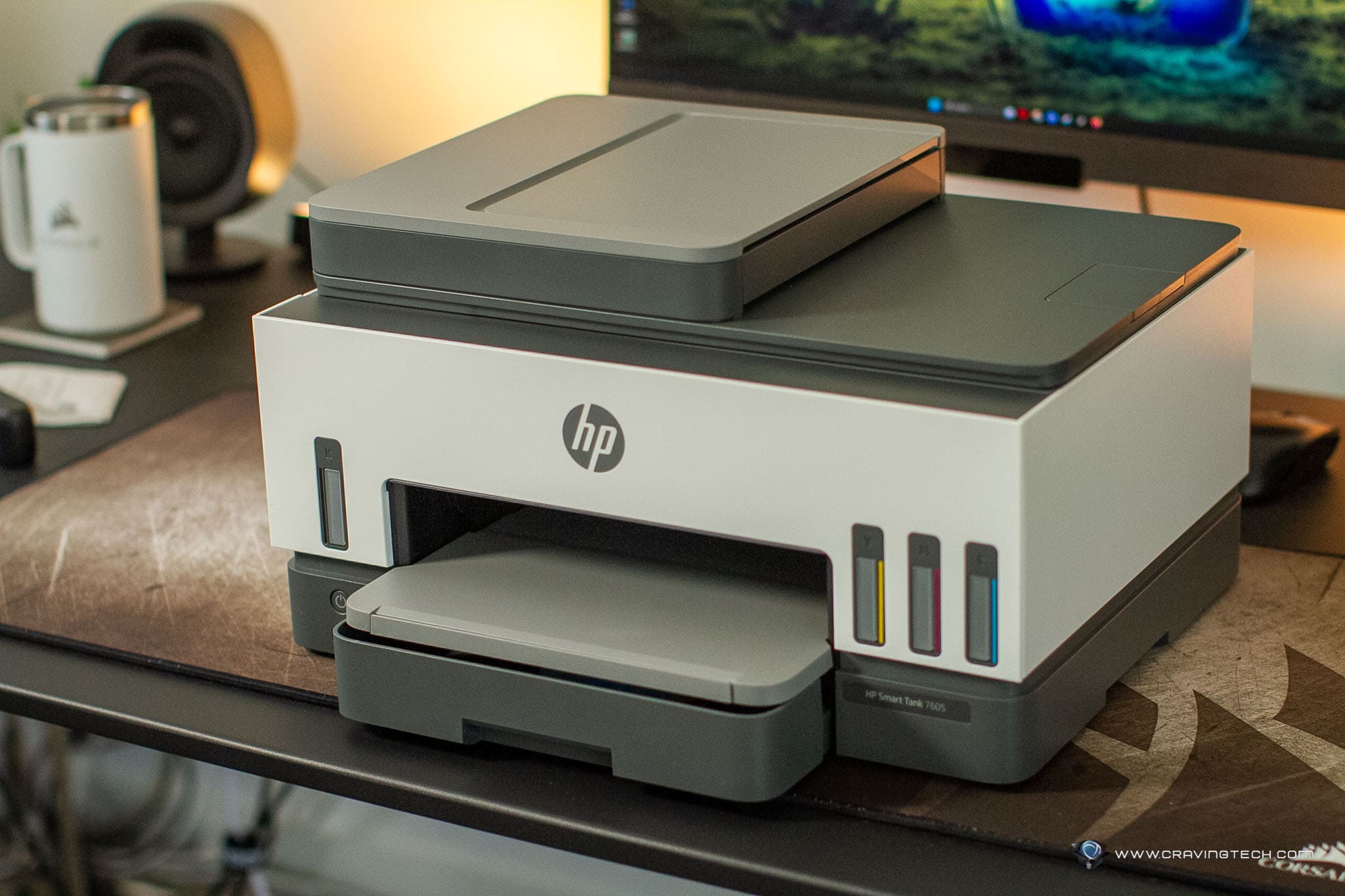 The input paper tray can hold up to 250 sheets roughly, with the scanner able to scan A4 document size.
What I really like about the HP Smart Tank 7605 is how compact it is and how modern it looks on a desk. The combination of White and Grey makes it look professional and elegant, fitting well in modern homes. Sure, it can't print in A3, but for home or small business owners, this is more than sufficient.
You can print in duplex (two-sided printing) with this model, and I do this often to save paper. It's also ideal for printing PDF contracts for signing and re-scanning back into a PDF.
Scanning offers options to save the scanned documents to a network folder, USB drive, or send via email (Scan to Email). Scan to Email is useful but requires SMTP authentication. Ultimately, it's easier to save the scanned documents onto a USB flash drive. Unfortunately, this printer doesn't support duplex scanning, meaning you'll have to scan double-sided pages one at a time manually. Scanning quality has a 300ppi limit too.
The printer can be connected wirelessly via Wi-Fi, supporting dual-band (both 2.4GHz and 5GHz), allowing flexibility depending on your home Wi-Fi setup, printer placement, and wireless signal strength.
Operations are conducted through the compact, minimalist control panel that is touch-enabled. With your fingers, you can slide through menu options and press to make selections. The 7605 menu includes Copy, ID Card Copy, Scan, Fax, Shortcuts, and Menu. Selecting the type of item you're scanning allows the printer to adjust its scan settings automatically for optimum results.
The control panel also displays various informative icons during operations or when issues arise, such as when the paper tray is empty or one of the ink tanks is low on ink.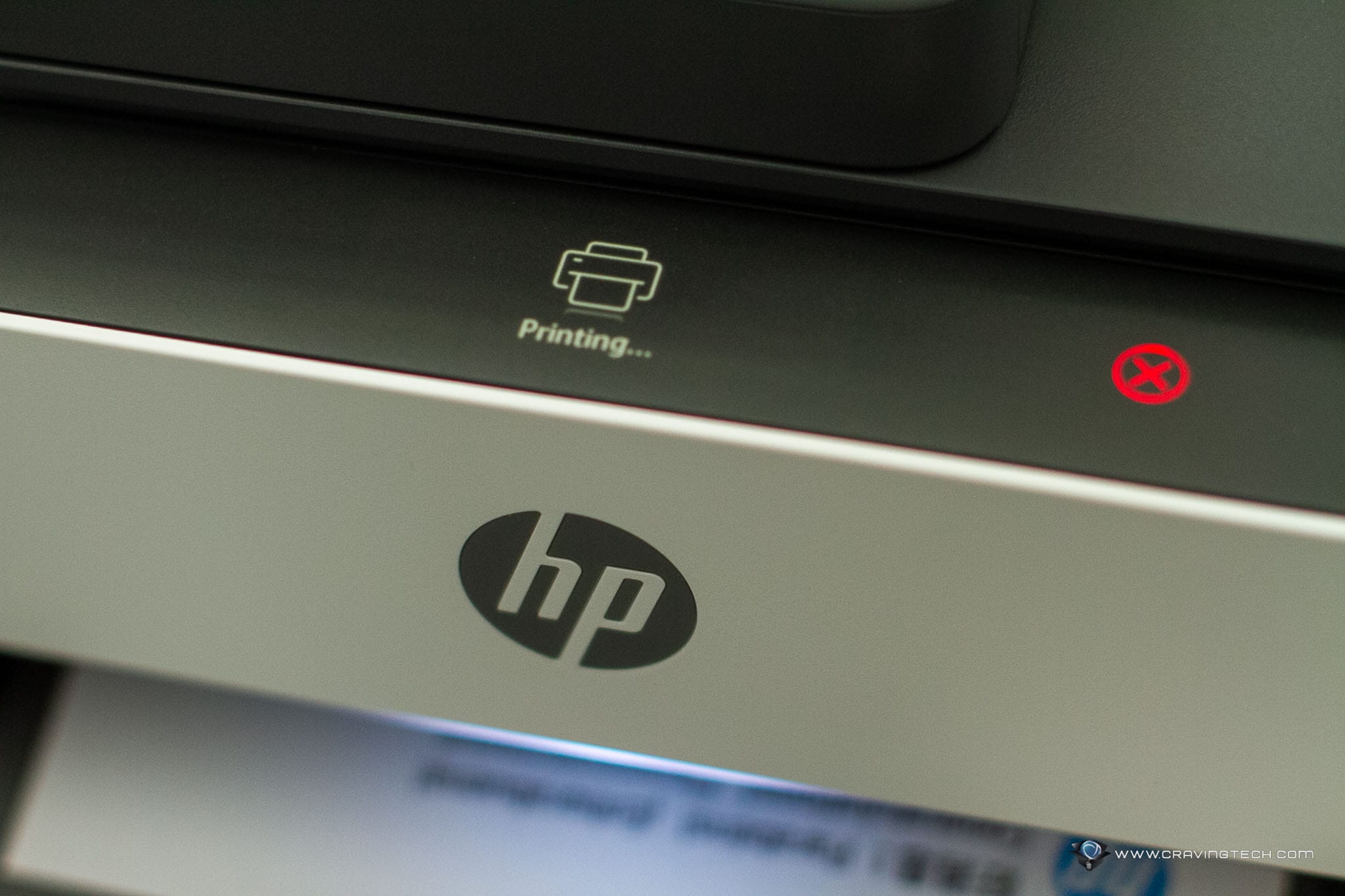 Printing speed isn't bad overall, with 15 ppm (pages per minute) for Black printing and 9 ppm for Colour. It's not the fastest, as my previous printer from Brother could print up to 30 ppm in both Black and Colour. However, the printing results from the HP Smart Tank are clear and sharp, even for photos or images.
You have plenty of options to access the printer. For instance, you can install the HP Software on your Windows PC and/or the HP app on your smartphone. On smartphones, the app makes it easy to print your Photo Gallery straight to the printer.
I also like the Scan module in the app, where you can simply point the camera at a document, allowing the app to automatically crop and post-process the image, much like the Scannable app would do. This speeds up the process of scanning bills and hard-printed documents. You can then use the Share function of iOS or Android to send the scanned documents (in PDF format) to WhatsApp, Evernote, and other apps quickly.
HP SMART TANK 7605 REVIEW CONCLUSION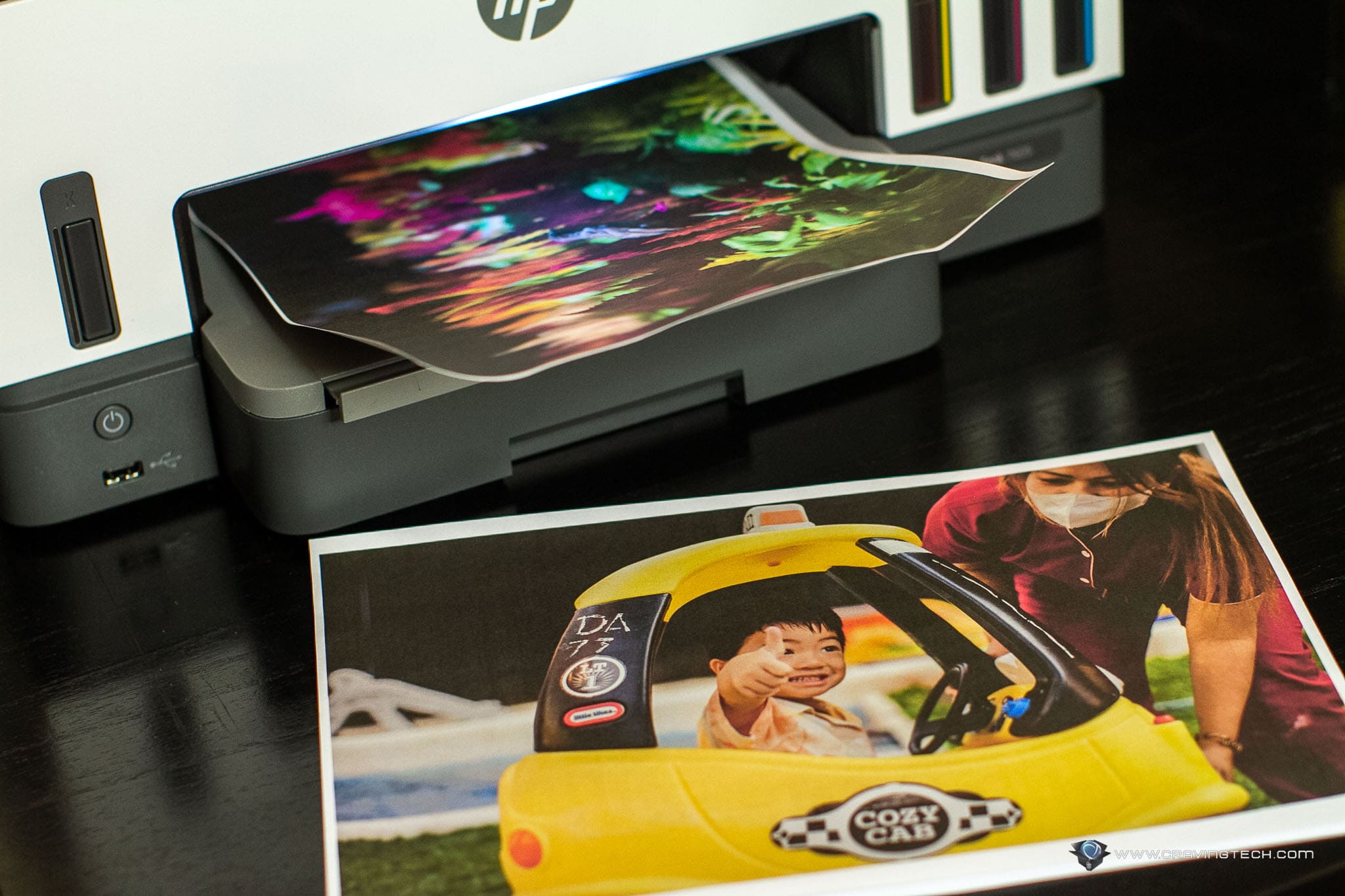 The HP Smart Tank 7605 is a compact, All-In-One Wireless Printer well-suited for both personal and professional use, such as for small business owners. It can handle printing documents from all sorts of sources just fine, and can also scan, copy, and even fax. The low running cost is due to the clever use of ink tanks, which are far cheaper compared to buying cartridge replacements (approximately 2-3 times cheaper). The printer has a higher initial cost compared to other printers, but excels in the long run.
The printing speed is not the fastest, but it's certainly not slow either. And while it doesn't support duplex scanning, if you only need to scan a few pages at a time normally, you should be fine with the HP Smart Tank 7605. Moreover, you can scan documents easily through the Scannable or HP app.
HP Smart Tank 7605 retails for A$648 and is available now at retailers around Australia.
Disclosure: HP Smart Tank 7605 review unit was supplied for reviewing
HP Smart Tank 7605 Review
Summary
The HP Smart Tank 7605 is an All-In-One wireless printer well-suited for both home and small businesses, offering high-yield, low long-term costs and minimal waste
Pros
Compact and modern
Can Print, Copy, Scan, and Fax
Easy to refill without the mess
Variety of paper sizes and types
Dual-band wireless connectivity options
Duplex printing
Excellent app and PC software
Cons
No duplex scanning on the scan feeder (has to be done manually)
Mediocre printing speed
Small control panel screen