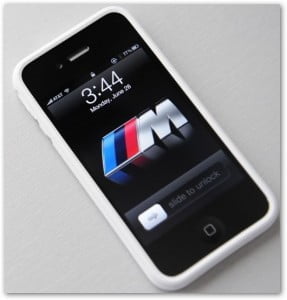 Alright, so you've probably seen and loved the photos of the black iPhone 4 with the Apple's official white bumper case. After you got your iPhone 4, you happily downloaded the free Apple Case program to order the white bumper for free. Disappointed after seeing that only the black bumper is available to be ordered from the app?
There is a way to get the iPhone 4 white bumper case, which I did today.
How to get Apple's white bumper case even when the app only has the black available
Download and install Apple's free case program application on your iPhone 4
Run and follow the instructions on the App
Choose the Apple's Black bumper case if the White is not available to be selected (yes, Black)
Complete the whole thing (your shipping address, etc) until you see the "Thank you" message and that your order has been placed.
Wait for a while (up to an hour) to get a confirmation email from Apple. You should get an order number on the email (at the top right)

Call Apple on 133 622 (or the number mentioned at the bottom part of the email, in case you are not from Australia)
Follow the right options and enter your order number (digits only) until you speak to an operator
Tell him/her that you'd like to change the Black bumper color to White instead (or other colors)
Done :)
It might push your order behind, depends on the stock of the White bumper (or any other colors). Going to take my own photos and share them here when it arrives (in several weeks, I guess *ugh*).