Note: This is a guest post written by Greg Maddison
E-commerce, or the sale of goods and services online, is rapidly growing in popularity. One of the most popular niches in E-commerce is marketplaces. Marketplaces are online platforms that allow sellers to offer their products and services through a centralized website, while buyers can search and purchase from various sellers in one place. Marketplaces offer many advantages for buyers, including the convenience of finding different categories of products in one place. For sellers, it's easier to conduct business as they can create a seller profile on the marketplace and expand their assortment.
According to eMarketer, the global volume of retail sales in e-commerce was approximately $4.9 trillion in 2021, representing an increase compared to the previous year. It is expected that this market will continue to grow in the coming years. In this article, we will guide you on how to build a marketplace app.
Popular Marketplace Apps
Before creating your own app, it's essential to research the market and analyze your competitors. Pay attention to the most commonly used features in existing apps, the tactics companies employ to enhance user convenience and drive profitability, and identify user pain points and areas for improvement. Here are a few companies worth studying:
Amazon 
Amazon is the largest online marketplace in the world. They have an app that allows users to easily and conveniently purchase products from thousands of sellers worldwide, and Amazon is popular for its personalized recommendations based on purchase history. According to statistics, in 2022, Amazon was used by 200 million users, and its annual revenue is over $380 billion.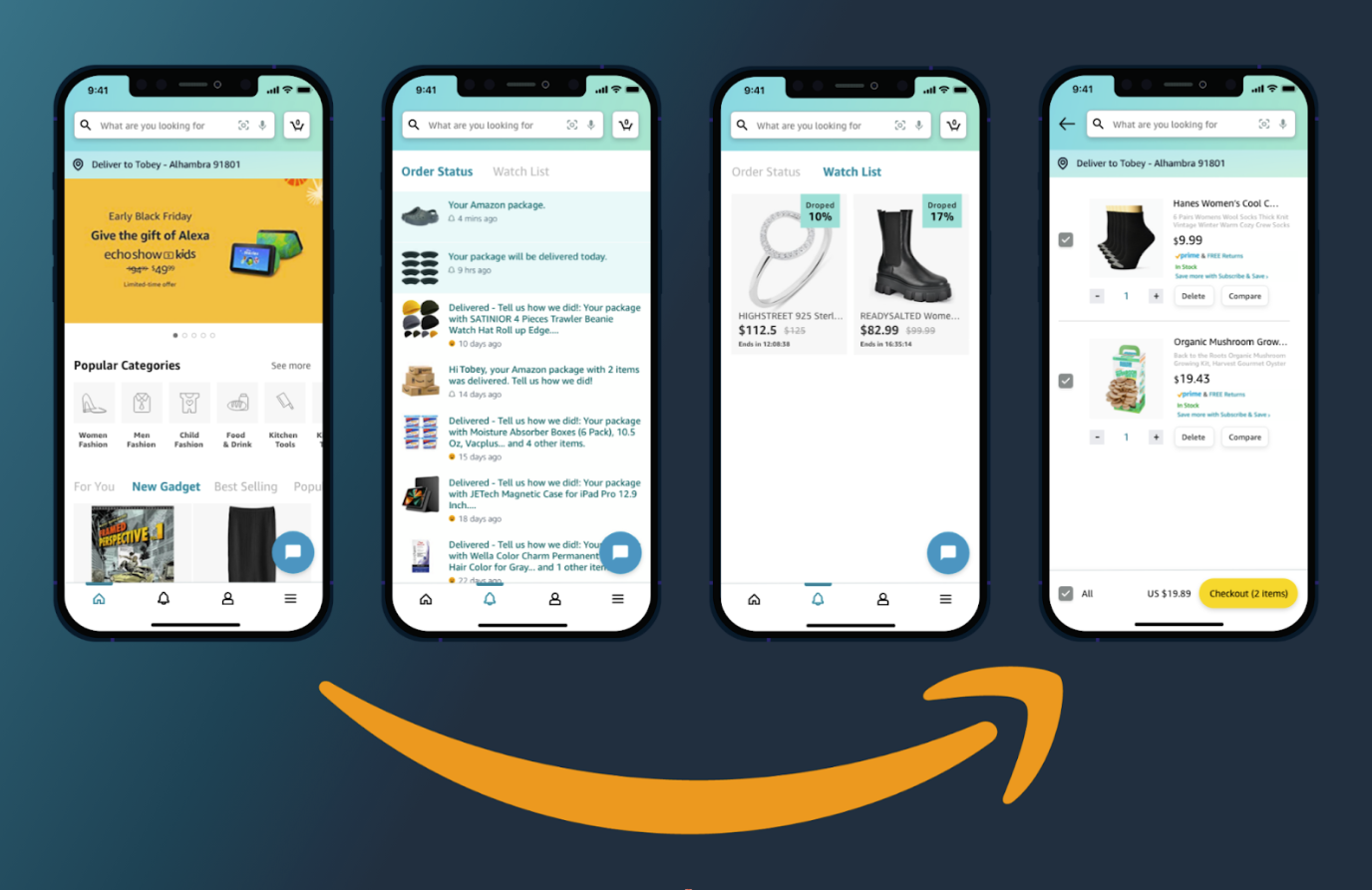 AliExpress 
AliExpress is one of the largest Chinese online stores that offers a wide range of products at low prices, including clothing, electronics, home goods, and more.
As of 2022, AliExpress has over 150 million active monthly users, the majority of which are located outside of China. AliExpress generates over $20 billion in annual revenue, making it one of the largest marketplaces in the world.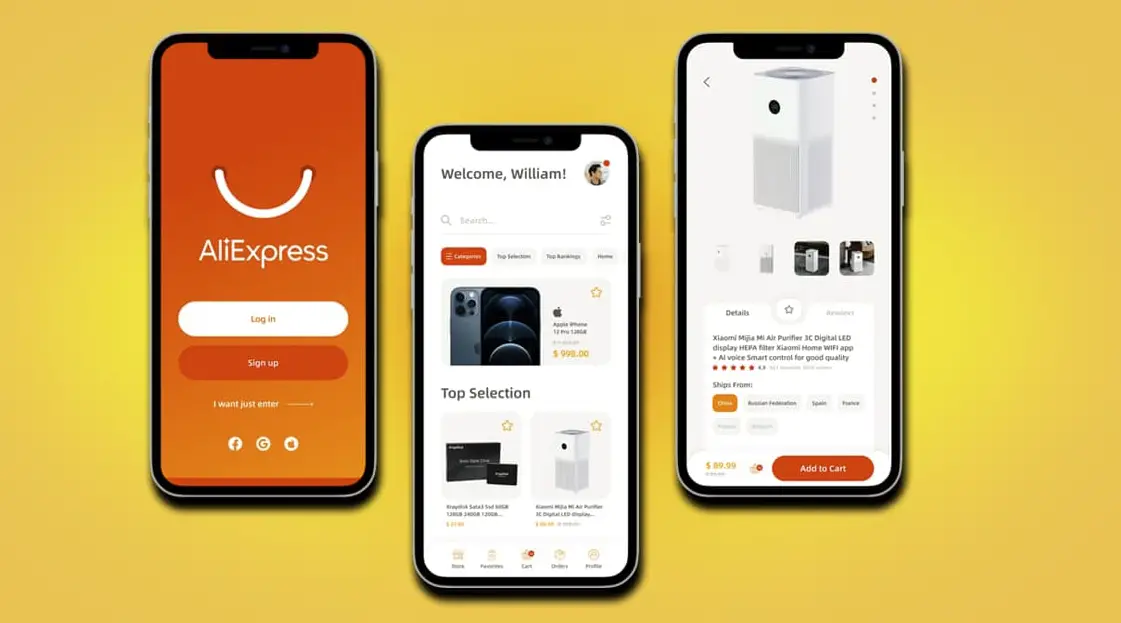 Airbnb 
A marketplace doesn't necessarily have to involve physical goods, and Airbnb is a prime example. Airbnb is a marketplace for renting out lodging or finding accommodations. The Airbnb app provides access to a database of hundreds of thousands of different places to stay, including apartments, houses, castles, and even treehouses.
As of 2022, more than 100 million users are using Airbnb in over 220 countries worldwide. In recent years, Airbnb has become one of the most popular apps for travelers. As of 2021, Airbnb's revenue amounted to over $4.6 billion.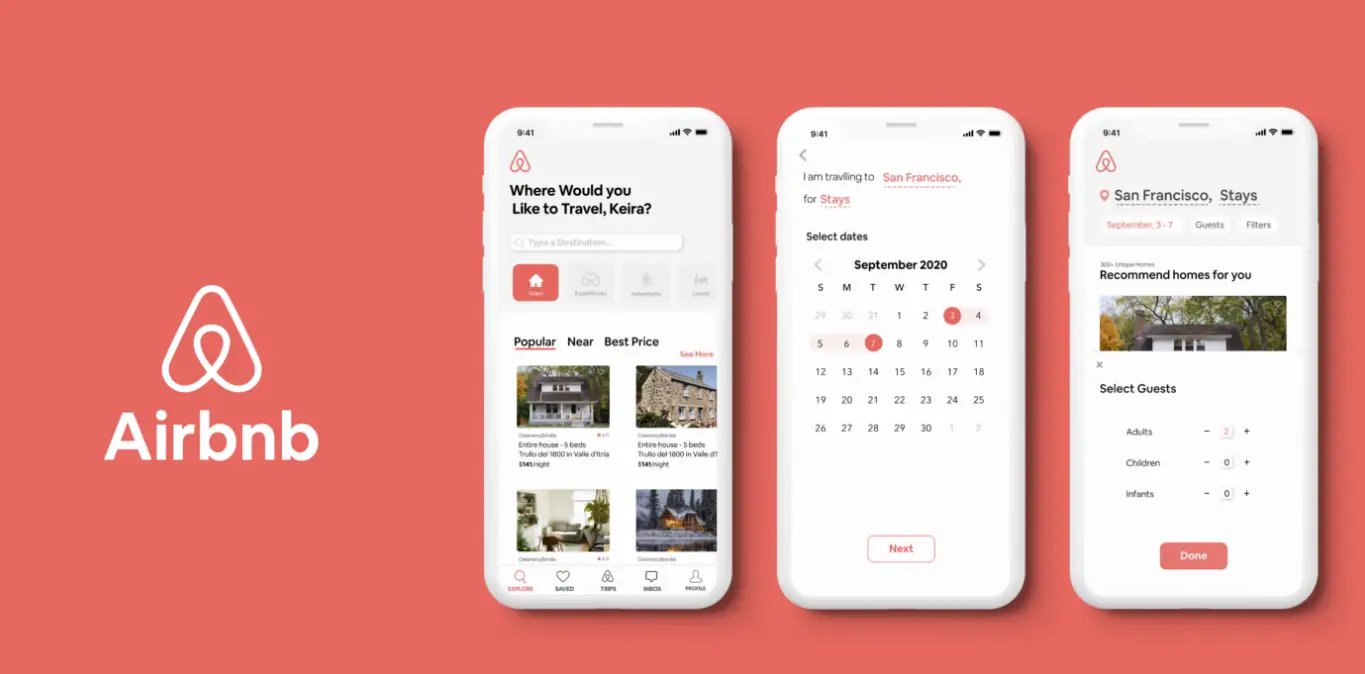 7 Must-Have Features for a Marketplace App
As a marketplace creator, you need to cater to the needs of two different audiences – buyers and sellers. To ensure their satisfaction, consider implementing the following features in your app:
1. User Registration and Profile
Allow users to create profiles, add personal information, and customize account security settings. This builds trust and ensures the marketplace's security.
2. Product Search and Filtering
Provide users with a user-friendly and efficient search function and the ability to filter search results. This saves time and increases the likelihood of making a purchase.
3. Product Comparison
Offer a product comparison feature to help buyers make informed decisions quickly. This feature is especially useful when a buyer has narrowed down their options and needs to compare specific products. Providing a visual table of features, costs, and delivery time can save customers time and effort and increase their satisfaction with the shopping experience.
4. Payment and Order Processing System
It is crucial to have a seamless and secure payment and order processing system to enable users to easily and quickly purchase products. Make sure to provide various payment options to cater to different users' preferences and ensure that their payment and personal information is safe and secure.
5. Notifications and Private Messages
Allow users to send and receive notifications and private messages to facilitate communication between sellers and buyers. This ensures timely updates on order status and promotes personal connections between participants.
6. Feedback and Ratings
Provide users with the ability to leave reviews and ratings on products and sellers to increase trust and transparency. This helps sellers improve their products and service based on feedback from buyers.
7. Statistics and Analytics
Offer sellers access to data on the success of their products. By providing this information, you can attract and retain sellers, ultimately increasing profits for the marketplace.
The Main Steps in Developing a Marketplace App
Once you've researched your competitors and come up with a concept for your marketplace, it's time to start planning the development process. To ensure a high-quality result and minimize risks, we recommend the following 7 steps:
1. Define Your Marketplace Type
To start developing your marketplace app, it's crucial to determine the type of marketplace you want to create. Several factors distinguish various marketplace categories, including the audience type and the type of merchandise provided. 
The audience type:
Peer-to-peer marketplaces connect individuals who have a product with those who want to purchase it. 
Business-to-customer marketplaces directly link retail companies with consumers. 
Business-to-business marketplaces allow companies to offer goods and services to other companies. 
The merchandise type:
Goods marketplaces specialize in selling physical items, while service marketplaces offer services such as Uber, Fiverr, and Airbnb. 
Hybrid marketplaces offer a combination of goods and services, with notable examples like Craigslist and OLX.
2. Integrate Features for both Buyers and Sellers
As we have mentioned before, it is important to ensure convenience for both sides. Only then can your application grow and become popular. If buyers are comfortable using your platform, but sellers do not have such convenience, buyers will have a limited selection. Conversely, if sellers are comfortable using your platform, but buyers are not, sellers will not receive the expected profit from your marketplace and may leave for your competitors.
3. Focus on the UI/UX Aspect
To begin building your marketplace app, the next step is to design its UI/UX based on the identified target audience, objectives, and features. It's usually recommended to start with an MVP, but even for this version, it's important to have a polished UI/UX design. A well-crafted UX and a contemporary, attractive UI will allow you to receive better feedback from the community and make a positive first impression on your intended audience.
4. Technology Tools Selection
When developing an app, it is crucial to select the right tech tools to solve any issues that may arise during the process. With a plethora of tech solutions available today, each with a wide range of functions, it can be difficult to choose the most suitable one. Often, the developer's preference plays a significant role in the decision-making process.
There are several helpful tools that can be utilized during different stages of the development process: React Native is ideal for cross-platform mobile development, while Nest.js and Next.js are excellent for web app development. When it comes to databases, PostgreSQL and MongoDB are popular options.
5. Create an MVP
Creating an MVP (Minimum Viable Product) is a critical step in marketplace app development. Not only does it allow you to identify potential challenges you may face in full-scale development, but it also enables you to test your product's market fit. 
Additionally, an MVP provides an opportunity to gather valuable feedback from your target audience on the app's main features, which can help generate new ideas to enhance your product. This approach is particularly beneficial when developing a complex app with multiple features that require testing and debugging.
6. Expand Your App Possibilities  
If you aim to build a successful marketplace app, it is crucial to expand your reach and target the widest possible audience. This entails making your app available on multiple platforms, promoting it through various popular social media channels, and ensuring that your application can handle a large user base.
This is where cross-platform development tools, such as React Native, prove to be invaluable during marketplace application development. By leveraging these tools, you can design and present your platform on both Google Play Store and Apple's App Store, which is particularly helpful when you're uncertain about which platform your target audience is more likely to use.
7. Maintain and Support Your App
After your app has been launched, your work as a developer is far from over. The next phase involves the ongoing maintenance, support, and improvement of your application. A crucial aspect of this is the testing process, which enables you to gather feedback from your customers and identify areas where improvements can be made. This may involve removing obsolete features or adding new ones.
Additionally, after deploying your app, you'll need to provide customer support, identify and fix bugs, add new functions, and make quality-of-life improvements. In short, maintaining and improving your app is an ongoing process that requires constant attention and dedication.
How to Monetize the Marketplace App?
The article highlights the intense competition in the mobile marketplace application market, where numerous popular competitors exist globally. Hence, creating a high-quality product is crucial to stand out. Considering the revenue and net income of competitors, taking the chance is worthwhile, as success can lead to high revenue. The marketplace application can be monetized in various ways, and here are the most popular methods:
1. Commission Fees
This is the most prevalent way for marketplaces to earn money, as they receive a percentage of every transaction that passes through their application. This approach is ideal for platforms that connect buyers and sellers, such as Etsy, Amazon, and Uber.
2. Advertising
Marketplaces can also generate revenue by displaying advertisements on their platform. This approach is especially effective for marketplaces with a high volume of traffic, such as Facebook and Instagram.
3. Subscriptions
Marketplaces can offer access to additional features and services for a monthly or yearly fee. This approach is particularly well-suited for marketplaces that provide services such as streaming video (e.g. Netflix), music services (e.g. Spotify), or online education.
4. Partnership Relationships
Marketplaces can establish partnerships with other companies to provide extra services or products through their platform. For example, a marketplace that sells event tickets could partner with hotel companies to offer event attendees discounts on accommodation.
It's critical to choose the best monetization approach for your marketplace, one that generates income while also supporting your business's growth. Some marketplaces may employ a mix of these methods to maximize the revenue.