Hearthstone's next expansion is already here! The Festival of Legends adds 145 new cards into the game that you can use into your decks. Note that if you haven't logged on yet, there will be many cards being phased out from your Standard decks and there is a big chance where you need to create a new deck, or replace those cards from your existing decks.
I'm certainly going to miss my Paladin's Dragon deck but at least there are now new decks and cards to try out – which keeps the game fresh in every new season or expansion.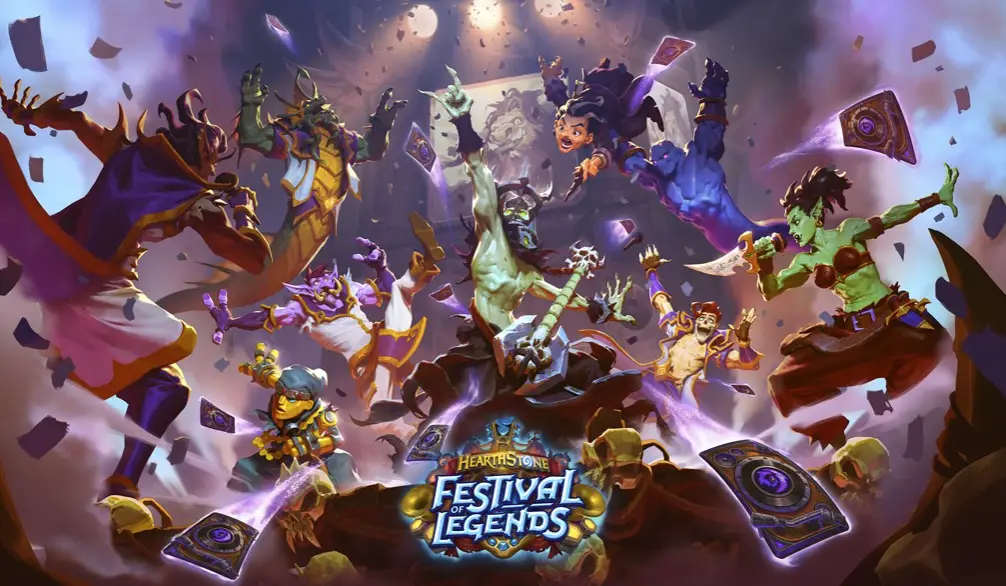 There is a new Finale keyword where you can get special bonuses if you play them using all your remaining mana. And specifically for the Priest Hero Class, you get a new "Overheal" keyword and minions with Overheal will trigger special effects when they are overhealed (i.e healed above their maximum health).
To get the new cards, you can grab the Hearthstone®: Festival of Legends Mega Bundle which contains 80 packs of Festival of Legends cards, 10 improved golden packs, 2 Golden Legendary cards (X that transforms any minion into Ragnaros and Cage Head), a Card Back, and Hedanis Priest Hero Portrait. But of course, you can get the latest expansion packs from the shop with real money and also in-game coins.
Legendary cards that I unpacked from the Mega Bundle Pack are:
Mage focusing on spells will be happy with new cards from the expansion like Cosmic Keyboard, Ghost Writer, Audio Splitter, Keyboard Soloist (since you'll most likely have only a few minions on board), Rewind, Pyrotechnician, and Volume Up. There's a new push to recast the Lightshow spell over and over and lay waste to your enemies the more you cast them.
To play Priest with the Overheal triggers, the expansion cards offer cards like Dreamboat and Fan Club. Death Knights also get awesome, cheap cards like Harmonic Metal that can boost your minions in hand. Hunters who are playing big Beast minions to overwhelm their enemies definitely would want to get the Legendary Card, Stranglethorn Heart, that resurrects all friendly Beasts that cost (5) or more. It's one of those instant win cards when you've played big beasts from your deck. Paladins seem to get a boost to those who utilise Divine Shields with cards like Candleraiser, Funkfin, and Annoy-o-Troupe. However, I did meet a few Paladins with Mechs decks and they're pretty strong too.
The new expansion also features Legendary Musicians and Songs from each class, Instrument Weapons, Stunning Soloists (minions with special Battlecry effects when you control no other minions), and Harmonic Spells. They are for fun but make no mistakes as some of them are pretty lethal!