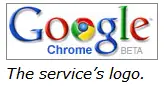 What? Google is making a web browser of its own? Yes, you heard that right. It is named "Google Chrome" and it's coming sooner than expected. In fact, rumor says that it's coming to your "door" tomorrow (Tuesday, 2nd September,  U.S time)
I know that we've already got so many web browsers in front of us that it's no longer funny. However, every invention of Google is worth having a look (at least in my opinion). I love Google and I always love their product inventions.
Google Chrome (by reading all if its features) feels like the best in every browser combined into one. Webkit rendering engine (the one that is used by Safari), less memory usage, slim, advanced keywords URL completion (Firefox 3), speed dials (Opera), privacy mode (IE 8), etc.
And here is an actual screenshot leaked earlier:
I'm not gonna talk too much on this post because if everything goes smoothly on Google's department, this browser should be launched tomorrow (tagged Beta, of course). So I'll write up a longer post on my impression after Google Chrome Beta is officially launched.
To find out more on the features and screenshots, read more on Blogscoped's blog.
Don't miss out the comic created by Google about the browser's features too! It's a really fun comic to read!
You can read/download the PDF from Google's blog here or you can read it online (images) on Blogscoped.