Did you know that Australians had to wait for almost 50 years to get their own right-hand drive Ford Mustang? Well the wait is over! The sixth generation of Mustang is finally here. But don't you worry, the 2016 Ford Mustang still retains the American muscle car look that is bound to turn heads wherever you go.
The new Ford Mustang is available in two variants in Australia: the 233kW/432Nm 2.3-litre turbo four-cylinder EcoBoost (price starts from $50,327 plus on-road costs) and the 306kW/530Nm 5.0-litre V8 GT (starts from $62,198 plus on-road costs). Both variants are available in convertibles too.
What an aggressive pricing from Ford Australia, which has caused a long waiting list if you wanted to buy one now. This puts many European manufacturers to shame when it comes to value. If you were to buy a V8 German coupe, it would cost more than double the Mustang's price easily.
When I was offered to review the new Mustang GT in automatic transmission, I was so psyched and yet I did not know what to expect as this would be my first American muscle car to drive.
First of all, this car attracts so many attentions wherever I go, it made me feel like a celebrity when driving this new Mustang. Maybe it's the red colour? I've had many people came up to me and said "Nice car!".
True story, when the Mustang was parked outside the house momentarily, one real estate agent who was passing by in a late model Mercedes saloon, stopped by and approached me to enquire about the car. Even a few of my neighbours paid me a visit after seeing the red Pony. Mind you, my next-door neighbour drives an M4 and yet he is really fond of the Mustang. "What a chick magnet!" he said.
Ford Mustang 2016 – INTERIOR
The first impression when I got into the car was quite special actually. I found that the interior is pleasing, not too intimidating, and easy to use.
The 8" touchscreen Infotainment is such a joy to use, it is intuitive and seamless to integrate. It took literally less than 40 seconds to sync my Samsung S7 to the system. The 9-speaker sound system is also fantastic when it comes to listening your favourite tunes.
There are few things that need some improvements in the interior department. Firstly, the handbrake lever is on the wrong side. They should have moved it to the right side. Secondly, hard plastic materials can be found in the door trim. I must admit that I am nit-picking here. Other than that, everything else is pretty much spot on.
Ford Mustang 2016 – DRIVING
There are four modes to choose from: Normal, Sport+, Track and Show/Wet. I would recommend putting it to normal mode as it is more suitable for everyday driving.
I found the Mustang's power delivery feels very linear in normal mode, compared to AMG cars which can be very brutal when accelerating hard.
However, the sound of a growling naturally-aspirated V8 engine cannot be replicated elsewhere which can be the main reason why the GT model is leading the sales figure in Australia.
Put your foot down, and 0-100km/h can be achieved in 4.9 seconds.
The Mustang feels muscular and lively, on top of that the ride is surprisingly compliant, considering it's running on 255/40/19 Pirelli Pzero tyres which soaks bump adequately.
Ford Mustang 2016 – FUEL CONSUMPTION
Unfortunately, the GT model only drinks 98 RON according to its brochure, which may become costly if you plan to use it as a daily car.
However, when tested, the fuel consumption has been acceptable so far, given it's a 5.0L V8 engine, the average is 12.5L/100km for highway driving and close to 16L/100km for city driving.
But who buys a V8 and think about fuel consumption anyway?
Ford Mustang 2016 – VERDICT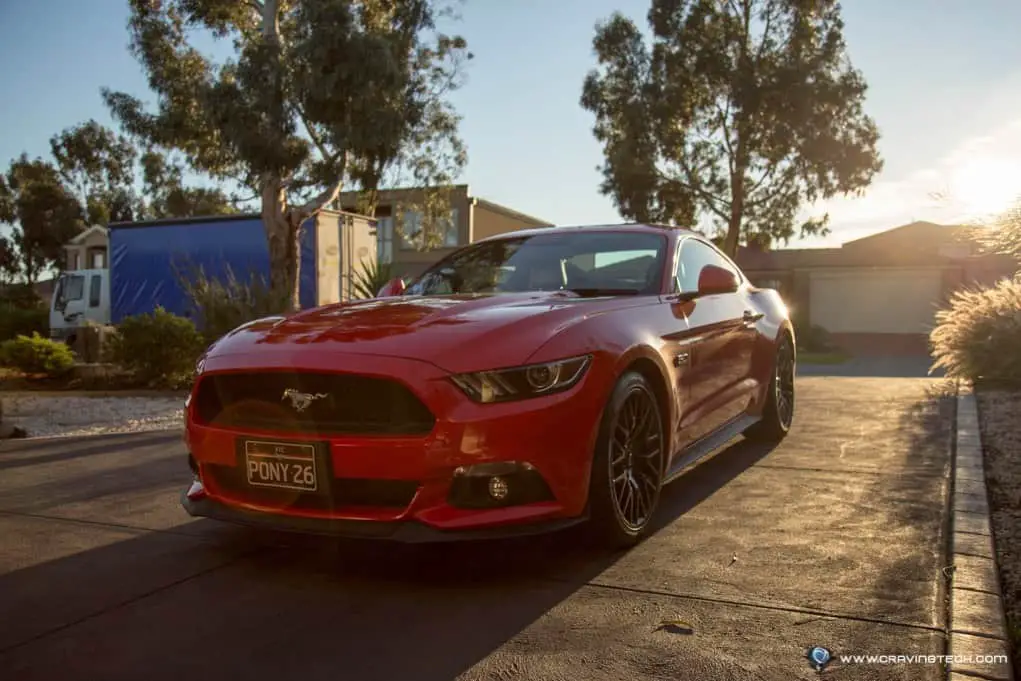 I cannot seem to find a direct competitor to this car in Australia. Within that price range, there are not many worthy cars around. The only contender that I can think of is Nissan 370Z which is already ageing gracefully. But again, I don't believe it is fair comparison for the Nissan, considering the 370Z is lacking two cylinder. The other car is HSV GTS Gen-F2, but this car costs 30k more and it is a 4-door saloon.
To sum up, the new Mustang is a looker, fast, and more importantly, attainable. As Chris Harris put it, this is a happy car!
So, if you are in the market for a V8 coupe that does not cost an arm and a leg, you should definitely consider the new Ford Mustang GT. There are no other cars in the market that can give such tremendous value. Dare I say, it is worth the wait. Well done, Ford!