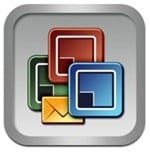 The majority of iPad users always have the same question: How do I create, open, and edit a Microsoft Word document on an iPad? Can I transfer my Office documents from my computer to it? Do I really have to buy the iWorks suite (Pages, Numbers, and Keynotes) for the iPad?
Well, depending on your needs, Documents To Go Premium might be the application for you on the iPad to read, edit, and create Microsoft Office documents (Word, Excel, and PowerPoint).
The Main screen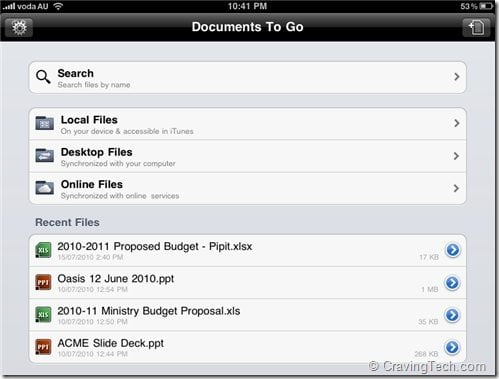 From DocsToGo summary page on iTunes:
DocsToGo Premium lets you:

EDIT, CREATE & VIEW Word, Excel & PowerPoint files (including Office 2007/2008/2010)
View PDF, iWork & other files
iPad/iPhone 4/iOS 4: Send & receive attachments using the device's built-in Mail app
iPhone/iPod touch WITHOUT iOS 4: Send & receive attachments in MS Exchange & Gmail
Access, use & sync files stored in Google Docs, Dropbox, Box.net, iDisk & SugarSync
Includes desktop app (Win & Mac) with 2-way file sync (Wi-Fi required)
As you can see from the summary above, DocsToGo Premium allows you to create, view, edit, and synchronize Office documents and it also syncs documents to your Dropbox, box.net, iDisk and SugarSync online accounts.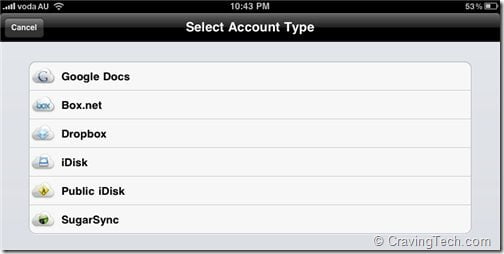 Before I had the Documents To Go Premium app, I tried different apps to even just view my Microsoft Office documents on my Dropbox & Google Docs account correctly. I downloaded Memeo Connect and the Dropbox native iPad app. Although they worked great, I stumbled into an Excel spreadsheet viewing problems a couple of weeks ago with those applications. I was trying to view the budget proposal spreadsheet of our church for the next financial year. The file was made on the Microsoft Excel 2010 on Windows with multiple worksheets and money figures. Some figures actually went missing and the table layout wasn't exactly the same as the original one! Thankfully I found out about this before I went to the meeting! I ended up printing the spreadsheets on hard copies as a result.
After I installed Documents To Go Premium and tried viewing at the same file, these problems actually went away! Figures were correctly presented and I was a happy chappy. There was a problem with some of the formulas because of a missing worksheet and Documents To Go Premium locked the document away so I couldn't edit it. Thankfully, it mentioned the troubled columns instead of giving a generic error message.
When viewing the files on my Dropbox account, the app nicely lists all documents on the account:
and for my Google Docs:
On the Dropbox files list, I can see clearly from the icon whether a file is an Excel or a Word file, but apparently it shows differently on Google Docs files list which is unclear at a glance (compared to the Dropbox icons). Not too sure why they are displayed differently on DocsToGo.
Touch a document to view and DocsToGo Premium app will automatically download a document from your online vault to your iPad so you can work on it offline the next time.
Creating documents is also very easy in DocsToGo Premium and the app supports important tools for creating one. Although you'll probably get more out of the iWorks suite, at times you may not need all the functionalities and goodies inside each application (for example, how many of you actually use all tools in Microsoft Word for Windows?). It can be challenging at first though to find out which icons are doing what in DocsToGo Premium (unless you roll-over the icon to reveal the icon's tooltip) but you'll get the hang of it after a while.
Creating PowerPoint slides is a bit dodgy and left me scratching my head for a while before I figured out that I needed to go to the Outline view to edit texts on the current slide. Coming from Microsoft PowerPoint for Windows, this approach is quite unusual for me. As a viewer though, the PowerPoint tool works great. I could view the slides that I made using PowerPoint 2010 correctly. Unfortunately it's not the perfect tool to be used for presentations, as slide animations don't seem to be supported (but again, I tried MightyMeeting and a few others to view my PowerPoint files and none of them could retain the slide animations. Seems that the only way to do this is to buy Keynote :().
DocsToGo Premium also supports syncing to your computer using a WiFi connection (you have to download and install a desktop app for this to work). Or you can even transfer your document files via iTunes directly, if you don't utilize any of the mentioned online services:
This way, even if you don't have any internet connection, you'll always have your documents with you and ready to be synced back to your computer if you ever need to edit them.
DocsToGo Premium Review Conclusion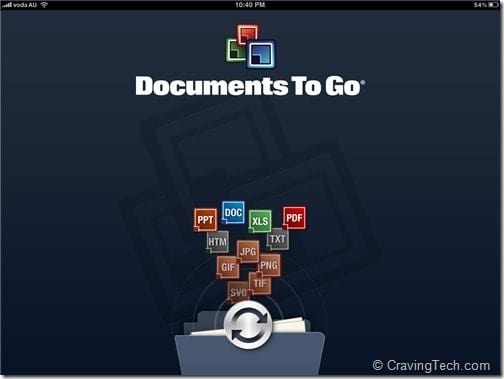 DocsToGo Premium is currently the only application that I've tried so far on the iPad who can read my Office documents without a flaw. It's also a great alternative to create office documents if you want to stay away from the iWorks suite. DocsToGo Premium supports popular online services such as Google Docs, Dropbox and Box.net so you can always have the latest documents with you on the go. You will be able to view, edit the documents and sync them back online. The app also automatically downloads and stores a document offline after you view it so you'll always have the document on the iPad even if you are out of internet connectivity.
Although not as powerful as the iWorks suite, DocsToGo Premium provides plenty of great tools for creating documents nicely on the iPad. Besides, the app can always get new updates with new features in the future. It may not be the app to create a wonderful presentation though but it is enough for making simple weekly presentation reports to your staff.
I love how everything is integrated nicely on the DocsToGo Premium, especially the auto syncing to my Dropbox and Google Docs account!
Documents To Go® Premium – Office Suite – DataViz, Inc.
Note: Promo code provided for the review