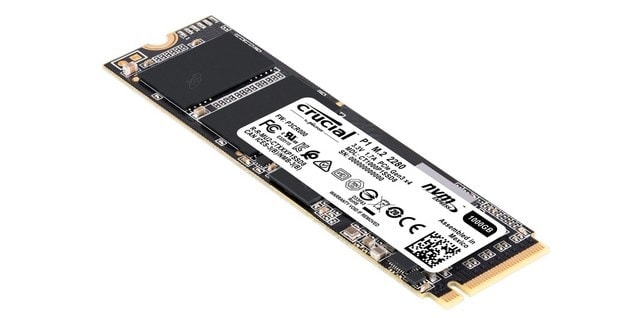 Crucial is quite well known for their RAMs and SSDs (such as the Ballistix Elite DDR4 or the MX500 SSD 2.5″ SATA), but this is the first time Crucial has launched an NVMe SSD. Crucial P1 features Micron's leading-edge QLC (Quad Level Cell) technology, enabling increased speeds and capacities at a more affordable price point.
Crucial P1 NVMe SSD is available in 500GB (at US$109.99) but also at a whopping 1TB capacity (at US$219.99), a perfect drive to store your games or for video editing & processing.
The Acronis True Image HD software will be included as usual to allow easy data migration from an old drive to the P1.
As games get bigger and bigger these days, Patrik Sattermon, Chief Gaming Officer at FNATIC said that the extra storage in the new P1 SSD offers is most welcome. He's excited to install the drives into their Team FNATIC gaming rigs.
Teresa Kelley, VP & GM, Micron Consumer Products Group also said that they have designed the Crucial P1 SSD to deliver all the performance, capacity, and features at an affordable price point.
We have been sent a review sample of the Crucial P1 NVMe SSD, so stay tuned for the review and speed benchmarks here at Craving Tech. As of now, Crucial claims that their new drive can deliver up to 2,000 MB/s read speed and 1,750 MB/s write speed. But we'll know for sure once we get our hands on a review unit. At that speed, the P1 is not as fast as WD Black NVMe (3400 MB/s, 2,800 MB/s), but it comes with a more affordable price!
Crucial P1 SSD Advanced features:
Data loss protection via the Multistep Data Integrity Algorithm
Protection from overheating via Adaptive Thermal Monitoring tools
Faster writes via Hybrid-Dynamic Write Acceleration technology
Data protection at the component level via Redundant Array of Independent NAND
Pricing:
500GB model: CT500P1SSD8 – US$109.99
1TB model: CT1000P1SSD8 – US$219.99
Check out Crucial P1 SSD page to find out more.