If you reside in the U.K and looking for a home or a mobile broadband deal, check out a site called Broadband Genie. It's a 1-stop site that allows you to compare all the latest broadband deals from different ISPs and phone networks. The site allows you to search deals that suit you rather than wasting your time visiting every broadband deals' website one by one.
Broadband Genie also includes searching and comparing packages. So for example, if you are looking for a home broadband with a phone package, you can go to the Phone bundles section and browse the current deals there:

You can also sort the results by length of contract, monthly price, etc.
Another example is a broadband package with free laptop deals: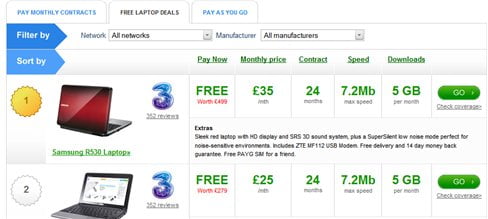 The site is very well designed and it's not hard to find your ways around the site. It includes all popular networks to search for, such as 3, Virgin, Vodafone, and many others.
When I searched for a new phone contract (or a broadband contract), I normally went to most popular ISPs or phone networks and browsed their deals one by one. I made notes and at the end chose the best deal available to suit my needs. It was a waste of time and often there were good deals being missed out, hidden in some pages. Broadband Genie is a must to visit site if you are planning to search and apply for a new contract.
If you reside in Australia, not to worry, because there is an Australian version of Broadband Genie that allows you to search and compare Australia's broadband deals. So go rub the lamp open your browser and let the genie does the work for you.