This is a Sponsored post written by me on behalf of CDW for SocialSpark. All opinions are 100% mine.
No matter what business you are running at the moment (whether it's a small or a large one), there are often times when you simply have to do the process of managing and backing up your data yourself. This includes all the emails that you have composed and replied, important attachments from your clients or contacts, and also other sensitive files that you need to backup every now and then.
Some companies are still doing an on-site backup to a DVD or the good old DLT tape to store massive gigabytes of data. However, they fail to realise that the situation is not always ideal. Catastrophes can happen and these important documents and data can be lost. What if the building burns down? What if there's an earthquake or flood?
Thanks to a company called CDW, you can focus on your business while they take care of your data storage management and virtualisation.
CDW is a company founded in 1984 with around 6,900 employees based in the U.S and Canada. They are offering different services such as Data Storage Virtualisation, Data De-duplication, and a few other software (such as an archiving software) to manage your company's data on their high-end blade servers (A blade server is "the processing power of a traditional server, housed with other blade servers in a chassis that shares the power, cooling, connectivity, and management of each server").
With Data Storage Virtualisation, you can let CDW manage and protect your data so you don't have to manage all of the backup storage devices yourselves and even the backup process itself. This also means you can reduce the cost of running your business quite significantly. Not to mention that the off-site backup gives you an ease of mind should a disaster happen.
For a limited time, you can also download the CDW's Red Report for free. This free resource report will teach you on how to gain faster access to critical information, manage your data, and basically how to run your business more efficiently. The report is only free for a limited time, so make sure you grab one before the free promotion expires.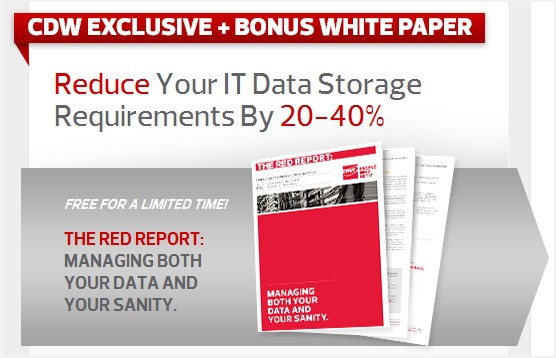 Reduce Your IT Data Storage Requirements by 20-40%