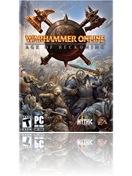 Hey guys, I just recently bought Warhammer Online: Age of Reckoning (which explains why I've "disappeared" from the blogosphere, apart from my daily posting routine). I didn't buy the actual retail box, but only the cd-key. My post some days ago informed you where to buy games online cheaply, however I found a better site if you just want to purchase only the games cd keys.
You can buy Warhammer Online CD Key online and also other games' cd keys such as Call of Duty 4, Spore, Crysis, etc.
OzCDKeys is a legitimate site and not a scam site. I first found out about the site from Whirlpool forum, an Australian community broadband forum. Although I hesitated a bit at first, I read that lots of people have bought from the site before and had confirmed that the keys are legitimate.
I've then decided to buy 5 Warhammer Online CD keys from them (priced at AUD$35 each). It is so much cheaper than buying from the retail shop at AUD$99! With Warhammer Online, you can simply download the Beta client for free, enter your cd key upon installation, and it will be patched to the retail afterwards, allowing you to play the whole game at a much cheaper cost.
Of course, if you are the type that wants to show off your games boxes on your shelf, then you should probably get one on eBay or other online stores that I mentioned earlier.
After I sent the payment (through PayPal), I got the cd keys on my inbox in less than a few hours. I've used 4 out of 5 cd keys (for myself and my friends) and can confirm that they are all legitimate cd keys and I've been playing online for the past week :)
Not too sure where they get the keys from, but my hunch is that they bought it on some asian countries where legitimate games are sold cheap. Of course, I can be wrong :D
Although OzCDKeys.com is an Australian site, you can sometimes get the US cd keys out of the shop. So if you ask yourself "Where can I buy cheap cd keys online?", check the site out.
Alright, back to my Warhammer now *ugh* O_o