Note: This is a guest post written by William Judd. Images courtesy of BlackBerry Global and BlackBerry Australia
The BlackBerry 10 launch event, which took place from 3pm UK time, was certainly quite a show. Amongst the stilted dialogue and missed applause cues, Thorstein Heins and his comrades made a series of new announcements that will have lasting impacts on BlackBerry's continued presence in the smartphone market.
The first announcement was something of a surprise: Research In Motion or RIM is abandoning their historical name for a new, more direct moniker: BlackBerry. The company has unofficially gone by that name in common parlance for a long time, resulting in confusion for everyone involved – if I am looking for the latest BlackBerry handset on a website, should I be looking for Research In Motion, RIM or just BlackBerry? Now, the answer will be an obvious one, as hardware, software, services and company become known by a single name.
Soon afterwards, the newly dubbed BlackBerry CEO was showing off the first two phones to be announced by BlackBerry in more than 18 months – the touch-screen BlackBerry Z10 and the hardware keyboard equipped BlackBerry Q10. While the first model has been leaked to death well in advance of the official announcement, with multiple photos and videos of the phone in operation surfacing, the second was one that many had expected, but no one had seen.
BlackBerry Z10
As a brief refresher, the Z10 is a rather well equipped phone, which a respectable 4.2″ 1280 x 768 display and powered by a dual-core 1.5 GHz processor. RAM is at the 2013 Android standard – 2 GB – and internal storage is on the lower end at 16 GB, although this can added to via micro SD for up to 32 GB of extra room. The camera is rather clever on the software front, but in terms of hardware looks to be the 2011 Android standard of 8 megapixels.
The front-facer is similarly competent, if not at all astonishing. Not much on the inside is worth talking about, but overall it's a solid package that's far closer to Android and other front-running operating systems than before. The chassis is a little more interesting, with a nice black/white colour scheme (with alternatively coloured wedge shapes at top and bottom) and a grilled rear cover.
The Z10 goes on sale in the UK tomorrow and already has a wide raft of BlackBerry Z10 cases available on mobilefun.co.uk – courtesy of the early leaks we've seen.
BlackBerry Q10
The Q10 is rather more interesting, if only because it hasn't been seen before now. The phone is dominated by that traditional white on black physical QWERTY keyboard, which looks to not have been changed significantly since its last iteration – not that surprising given how little competitive pressure that BlackBerry has faced in this area. Above the keyboard is a square touch-screen, which at 3.1 inches diagonally is the same kind of pixel density as the Z10's – 720 pixels square. Reportedly there will be apps optimised for the square display, although we haven't seen any yet.
The Q10 looks to have the same kind of internals as the Z10 too – a dual-core 1.5 GHz CPU and 2 GB of RAM, making it on par with top-of-the-line Android devices of 2011 or early 2012. The phone features a 'glass weave' material on the back that reportedly feels quite luxurious in the hand and should prove a happy alternative to the plastic backs that we normally see. There's no release date or pricing for the Q10, but it shouldn't take too long to arrive we would have guessed.
BlackBerry 10 OS
So what about the BlackBerry 10 OS then? Well, from what we've seen the OS does seem pretty darn solid. As with the software found on the ill-fated BlackBerry PlayBook, it's all about the gestures. With no 'home button' as on Android, iOS and Windows Phone, it's all about swiping in from various places to access different functions.
You can swipe in from the left to see your notifications, and up from the bottom to do multi-tasking. All of the gestures look like they can be performed with one hand and one thumb, which is certainly nice. In terms of upgrades, we've seen video calling added to the BlackBerry Messenger service as well as some rather clever photography functions including a mode that composites multiple pictures to ensure that everyone isn't blinking in the resultant shot.
BlackBerry made a lot of noise about how many apps they had, and while they were able to confirm some big names their marketplace is still a tenth the size of Apple's or Google's.
All in all, it was a fairly impressive presentation. While initial reviews of the BlackBerry Z10 are cautiously positive, all are tinged in doubt – will BlackBerry really be able to turn around their slump, even with nice new phones and a nice new OS? Even fighting for third place against Windows Phone will be difficult, given how hard Microsoft and their partners Nokia and HTC are pushing that OS.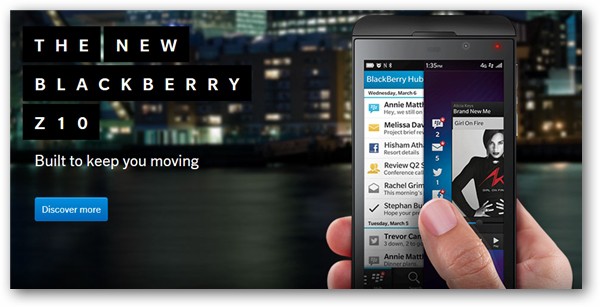 Still, I feel that BlackBerry have done as well as they could – and now it's just up to the users to see whether they trust BlackBerry to provide their next phone.