With GaN (Gallium Nitride) technology, Belkin's new wall charger comes in a compact size, but can deliver up to 68W. The BOOST CHARGE Dual USB-C GaN wall charger delivers efficient and effective power delivery that can charge many devices including laptops.
For example, my HUAWEI MateBook X Pro 2020 comes with its own 65W charger but I can now just use Belkin's solution to charge the MateBook, plus other devices like my iPhone 11 Pro Max with the Belkin's BOOST CHARGE USB-C to Lightning cable.
GaN technology has been gaining popularity for the past few months and we are all up for it. I recently reviewed a GaN multi-travel adapter from Zendure and loving it. I mean, smaller form factor but better charging efficiency? Yes, please.
The Belkin GaN range (both the 68W here and also the 30W model) features built-in overcurrent and overvoltage protection, offering peace of mind, plus warranty.
The BOOST CHARGE Dual USB-C GaN Wall Charger 68W has two USB-c ports which features Intelligent Power Sharing. Basically the charger can automatically detect when either port is in use and direct power accordingly.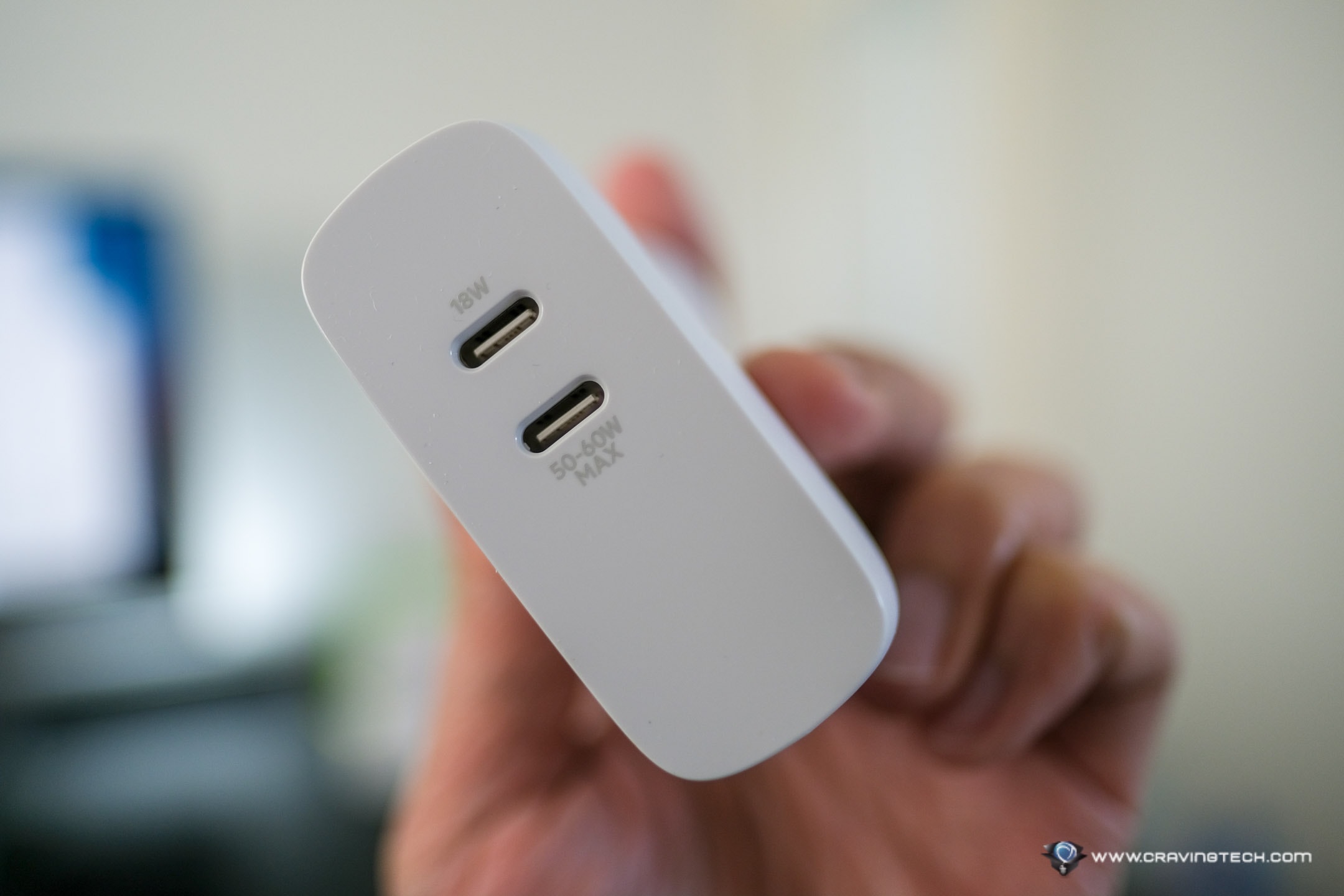 The first USB-C port offers 50W or 60W and the other is 18W. If you are only charging using the 50-60W port, you'll get the whole 60W power output. But if you use these two ports to charge at the same time, the charger automatically balances the power output to 50W and 18W. While I wish that using one port can deliver 68W altogether, 60W is still huge.
And the Dual USB-C GaN Wall Charger charges fast, especially USB-C PD (Power Delivery)-enabled devices. According to Belkin, charging a MacBook Pro 15″ from 0-50% only takes around 60 minutes, and charging an iPhone 8 or later from 0-50% will take 30 minutes.
I've been using it to charge my HUAWEI MateBook X Pro 2020 without any issues. It's a great power charger to bring for interstate travels. You can charge your laptop and smartphone at the same time without bringing an extra charger.
Belkin BOOST CHARGE Dual USB-C PD GaN Wall Charger 68W retails for AU$89.95, and comes with 2-year product warranty and $2,500 Connected Equipment Warranty.
Disclosure: Belkin BOOST CHARGE Dual USB-C GaN Wall Charger 68W review sample was supplied for reviewing but all opinions are mine and not paid
Belkin BOOST CHARGE Dual USB-C GaN Wall Charger 68W Review