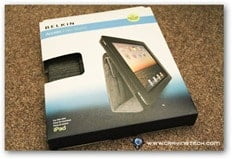 This is my first iPad 2 case review (since I just got my iPad 2 last week) but I have 3-5 more cases coming my way so stay tuned to see my reviews on the other iPad 2 cases.
The Belkin Access Folio Stand iPad 2 case is a good all around case for the iPad 2. It's quite slim but most importantly, it's very practical to be considered as a main case. Let's have a closer look.
The Belkin Access Folio Stand looks pretty nice and fashionable (especially the Black/Gray Woven version that I have). Looks like a book or a folio case (hence, the name).
The case has a unique front pocket, secured with Velcro. This is the first design I have encountered so far on an iPad case and even though it may look weird at first, it's actually pretty handy to store a few iPad 2 accessories.
The pocket, made with a soft fabric, is large enough to store your iPad 2 USB cable or earphones.
There are also cut-outs for all the iPad 2 ports, jacks, and also for the iPad 2's front and back facing cameras:
The cut-outs are spot-on although the earphones jack is a little bit tight.
I do find that the case overall doesn't seem to align the iPad 2 perfectly no matter how hard I have pushed the iPad 2 inside the case. It looks a little bit un-proportional, but not too much to keep you agitated.
The Home button is surprisingly covered with rubber (instead of having a cut-out hole) but thankfully, it doesn't require an extra effort to register. It feels as if the Home button does not even have a rubber cover at all.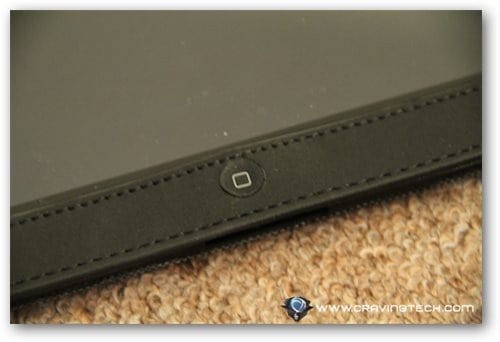 The Belkin Access Folio Stand also has an A-frame stand position so you can "transform" the case into a stand to watch movies or read magazines on the table.

Or "transform" the case to make it easier to type.
Belkin Access Folio Stand case for iPad 2 it light while protects the iPad 2 at the same time. The inner layer is soft and keeps the iPad 2 sits tightly inside the case (which is a problem if you want to get the iPad 2 out of the case as it's quite tight). Overall, the case is quite durable and has some degree of protection. Unfortunately, and I'm not sure why they design it this way, the Belkin Access Folio Stand cannot be closed. There is no magnetic closure, strap, or anything to close the case altogether. While this design means it's easier and quicker to access your iPad 2 right away, it still creates a sense of "unprotected" screen.
It also seems to be poorly crafted in some areas as I can see some loose threads or messy job if I really look at it closely: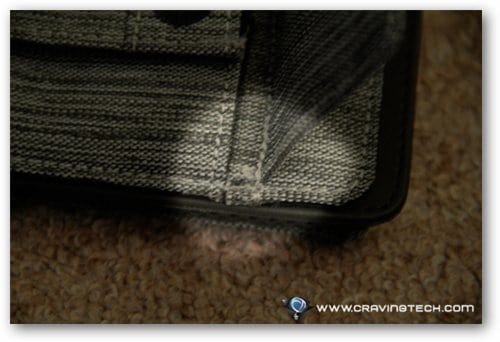 Belkin Access Folio Stand iPad 2 case review – Conclusion
Overall, the Belkin Access Folio Stand is a nice slim case to protect your iPad 2 and to carry a few accessories with it on the go.
The front pocket design does not add too much bulk and the case itself remains light to complement iPad 2's weight. The case is completely designed so that you should never take your iPad 2 out of the case – whether you are reading an e-magazine on the bed, watching movies on the coffee table, or even when you need to carry your iPad 2 inside another travel bag.
Unfortunately, the case cannot be closed/secured and the craftsmanship is a bit lacking in some areas of the case, which is a pity as it would have been a perfect case.
Note: Sample was provided for the review
Belkin Access Folio Stand iPad 2 case Pros
+ Quite slim
+ Has a pocket to store accessories
+ Looks stylish
+ Can be transformed into a stand (to type, read e-magazines, or watch movies)
+ Cut-outs to all ports, jacks, and cameras
+ Good all around case so you don't ever need to take your iPad 2 out of the case
Belkin Access Folio Stand iPad 2 case Cons
– Cannot be securely closed
– Somewhat poor craftsmanship in a few areas