Avast is one of the most popular FREE antivirus solution around (apart from AVG antivirus). 

It has now gone from Avast 4.7 to Avast 4.8. The 0.1 increment may not seem much, but in fact, Avast 4.8 is a great jump from 4.7! Avast 4.8 now has anti-spyware, anti-rootkit and strong self-protection.

Changelog of Avast 4.8.1169
Avast 4.8 now contains a built-in anti-rootkit protection
Avast 4.8 now comes with a built-in anti-spyware protection
new self-defense function to prevent active malware from terminating avast! processes as well as corrupting avast! files and registry items
scanners now display a progress of current scan (percentage of work done)
fixed a vulnerability in AavmKer4.sys kernel-mode driver (problem applies to Windows NT/2000/XP, 32-bit only); special thanks to Tobias Klein
improvements in boot-time scanner (detection & removal of hidden or hard to delete files)
boot-time scanner will not start when booting into Safe Mode (the program was "invisible" in that case, no progress/messages could be seen)
improvements in many unpackers
ACE and RAR unpackers now work even in boot-time scanner
IM Shield: added support for QQ
improvements in handling of NTFS streams
Internet Mail provider now displays the name of the sending/receiving program in the tooltip of its taskbar icon
implemented a protection against false positives in critical system files
removed a small memory leak in one of avast! drivers (Windows Vista and XP 64-bit only)
added support for 64-bit WHS connector (available in WHS Power Pack 1)
greatly improved performance of the updater, especially in cases where many increments are being downloaded (e.g. avast! installations with outdated virus definitions)
silent installation now also includes scheduled tasks, if any
resolved a compatibility issue with Acronis TrueImage (XP 64-bit only)
compatibility tests with Vista SP1 and XP SP3
Now, how many of you actually read the whole change log above (or at least understand all of them?). Whenever our software (at work) had an update, I usually had to send a separate email to our clients, telling them in "less I.T jargons" what the new changes were and how it affected them.
So in "less I.T jargons", Avast 4.8 basically offers better compatibility, new anti-spyware protection, and performance improvements.
I had to uninstall my AVG 7.5 antivirus to try Avast 4.8.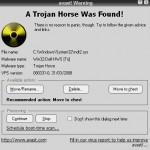 So far so good. After the installation, you have an option to let Avast! scans your entire computer upon reboot. I'd recommend you to let it do so, but it will take a while though.
Avast 4.8 starts detecting trojans and viruses once I let it scan my entire hard drive. There were about 5 trojans in total, things that I didn't even know existed before when I used AVG 7.5.
What hasn't changed in Avast 4.8
The Interface. It's still the same dull look. Even when a trojan or a virus is found, I'd expect a more dramatic kind of window. However as you can see on the screenshot, it's not as dramatic as you'd expect.
Wait until you see the program scanner though:

If you show this screenshot to your little sister (if you have one), I'm sure she'll think that this is a media player, and not an antivirus scanner! Thank goodness though, that you can download a different skin for it, if you want.
But of course, why would an antivirus has a pretty interface? You'll rarely see it anyways and it's best if you don't see it at all! (meaning no viruses ever found on your computer)
Another thing that hasn't changed in Avast 4.8 is the "Virus database has been updated" annoying pop-up sound whenever your virus database has been updated. A lot of times I was jumping from my seat because I set the volume quite high when I was watching movies or listening to my music. Then all of a sudden, this male hunk's voice started to join the fun.
One thing that I did after installing Avast 4.8, is to turn off this sound notification (Program Settings – Sound – Disable avast! sounds)
If you haven't got an antivirus yet, I'd suggest that you do. No matter how good you are about computers, I'll bet that there is at least one virus/trojan horse still lingering around in your computer!
Download Avast 4.8 Home Edition for FREE here. You also have to be registered to get the license key (free). You can register here or run the Avast 4.8 antivirus on trial for 60 days.
If you already have an antivirus, when was the last time you scan your computer? Isn't it about time to do a re-scan? :)
[AMAZONPRODUCT= B0024LZD6Y]
[AMAZONPRODUCT=B002IT9H50]