On September 18th 2013, Samsung Australia launched its latest handset which is Galaxy Note 3, the highly expected Samsung Gear, as well as announcing its upcoming Galaxy Note 10.1 2014 Edition.
Samsung Galaxy Note 3
Tyler McGee, the Vice President of Telecommunications of Samsung Electronics Australia began the line-up of product unveiling by introducing the new Samsung Galaxy Note 3.
(Four Samsung Galaxy Note 3 handsets side by side).
Having sold 45 million Note devices to date (both the tablet and smartphone ranges), Samsung has undertaken a major global researches around purchases of the Samsung Galaxy Note 2 to prepare their new Samsung Galaxy Note 3. The research found that majority of their Samsung Galaxy Note 2 are "younger demographic with a high social profile."
Large screen and the S Pen, the two major peripheral features most liked in Samsung Galaxy Note 2, as well as the S Note and Multi Window features in its software counterpart, have all been improved in Samsung Galaxy Note 3.
Samsung Galaxy Note 3 sports a larger 5.7 inch full HD Super AMOLED display with fresh premium design and textured leather-look-and-feel interchangeable back cover "to reflect look and feel of a traditional notebook." It has a 13-megapixel rear camera with smart stabilisation and LED flash. It manages to pack a 3GB RAM despite it is 8.3mm thin and only weights 168grams. It also includes 3200mAh battery.
A new software that is featured in Samsung Galaxy Note 3 is My Magazine, a "customised magazine-style home page that brings together the content you want including social media feeds, the latest news, sports and entertainment content from 26 countries."
In the S Pen front, Samsung introduces new features for its Air Command: Action Memo, the improved Multi Window, and Pen Window.
With Action Memo, you can write (text and numbers) and link that into action, allowing you to add them to the phone book, messages, maps, or browser for searching.
The new Multi Window sports a new drag-and-drop option to move content (text, images) from one application to another with ease.
The Pen Window allows you to add selected widgets on your phone on the fly and have them always ready on your screen.
To the left: the Air Command's Pen Window featuring Phone widget. To the right: the Pen Window's phone widget minimised, which can then be moved to anywhere on the screen.
You can add several pen windows on your screen to your liking.
Australia's Samsung Galaxy Note 3 purchases will receive $350 worth of entertainment, education, productivity and security tools and apps, including:
turn-by-turn premium navigation with NaviGon

one month free trial of Samsung music hub

8 weeks of free movie streaming with Quickflix

free 12 months Bloomberg news subscription, and

the expected bonus 50GB for two years with Dropbox.
Network wise, Samsung Galaxy Note 3 supports 4G including the faster Cat 4 technology which allow faster broadband speed.
With 32GB capacity, Samsung Galaxy Note 3 comes in three different colours: Jet Black, Plush Pink and Classic White with RRP of $999.
Samsung Galaxy Note 3 is available for pre-sale purchases in Australia as of 18 September 2013 2PM at the Samsung Experience store in Sydney and Melbourne, and officially goes on sale on Thursday, 3rd October 2013.
Here are a few pictures of the new Samsung Galaxy Note 3:
Samsung Galaxy Gear
The bulk of the event was on the new experience Samsung Galaxy Gear, a smart watch companion for the Samsung smartphones. Samsung Galaxy Gear is launched together with its companion software installed in Samsung Galaxy Note 3, with Galaxy S4, Galaxy S3, and Note 2 to receive the companion software update sometimes before Christmas 2013.
Here are some close-up images of the Samsung Galaxy Gear:
Samsung Galaxy Gear charges on a small dock that supports a micro-USB plug and takes only a few hours (approximately 2-3 hours) for a full charge that will keep it going for approximately 25 hours.
Samsung Galaxy Gear comes in various different colours: Jet Black, Mocha Grey, Wild Orange, Oatmeal Beige, Rose Gold, and Lime Green. It has the same pre-order date of 18th September 2013 and launch date of 3rd October 2013 with RRP of $369.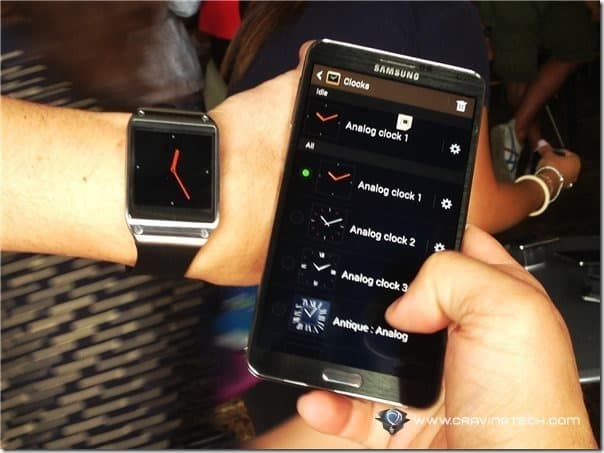 More information on Samsung Galaxy Note 3 & Samsung Galaxy Gear
Samsung Galaxy Note 10.1 2014 Edition
The launch event also briefly introduced the upcoming Samsung Galaxy Note 10.1 2014 Edition to be made available in the near future. No specific details were given, but judging from the showcase, Samsung Galaxy Note 10.1 has the same leather-look-and-feel back as the and it comes with 32GB model in Classic White and Jet Black colours.
More information on Samsung Galaxy Note 10.1 2014 Edition