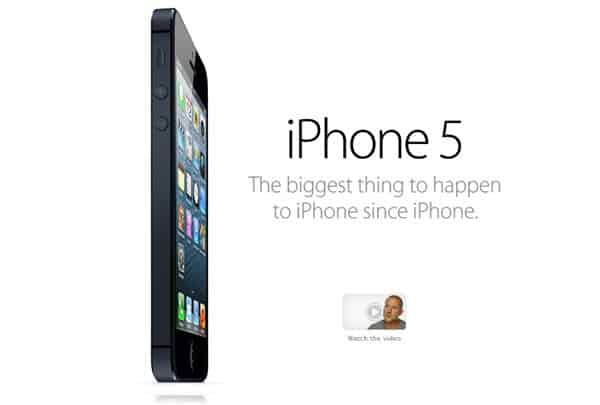 The much anticipated (or not, thanks to the leaks) iPhone 5 was officially being announced today by Apple. As predicted, it comes with a faster CPU and graphic performance (A6 chip), taller display (1136-by-640 resolution), thinner in size, lighter, better camera, LTE, and more.
According to Apple, the device is now 18% thinner and 20% lighter than the iPhone 4S. It's a bit hard to judge by numbers here, so we won't actually be amazed until we get a hold of one and compare it with the iPhone 4S. Nevertheless, iPhone 4/4S users should feel a considerable difference.
Some will get disappointed because of a-still-"small" screen size (in width) but I'd say I agree to Apple (at least in my own experience in owning larger mobile devices before like the Samsung GALAXY Nexus and Note). Sometimes it felt awkward when I have to press something at the top left of corner of the screen with my right hand (I had to wiggle the phone a bit while making sure that it wouldn't fall). But some of my friends argued that it's not the case and they are comfortable with the GALAXY Note. So yeah, I guess this is subjective.
The camera is also what matters most to most people here. I'm not too impressed with the Lumia 800 and GALAXY Nexus/Note/SII camera (haven't tried the SIII, a review unit is coming my way soon). Apple promises a better noise reduction, better shots in low-light condition (which sounds awesome), and also the new Panorama shot (which can be achieved by using an app but again, we have to compare the quality side by side).
A photo sample taken by iPhone 5:
iPhone 4S vs iPhone 5 battery life – How big of a difference is it? Well previously, iPhone 4S gives up to 200 hours of standby time, 8 hours of talk time, and 40 hours of music play time. iPhone 5 gives up to 225 hours of standby time, 8 hours of talk time, and 40 hours of music play time. Better standby time only? Though we have to take into account that iPhone 5 now has more features that are power hungry (bigger display, LTE, etc). It won't be until we have the device that we can make a comment on this though.
I actually woke up "accidentally?" in the middle of the night around 3 a.m and I thought, hey, maybe they have made an announcement. So I woke up and checked Twitter. Voila! Just in time because I saw someone's tweeted "Enough about the iPad, I want iPhone 5" – and seconds later, I've been following those live coverage blogs around.
In the end, I'm still excited about iPhone 5 because I loved my iPhone 4S. The problem was that all the leaks were true – from the design of the iPhone 5, the "Lightning" connector (the name leaked earlier in the morning), the new ear-pod earphones, and even all features of it. Except for NFC.
Will definitely try to grab for one on the day (no no, not going to queue from midnight like a true Apple fan) and share my review with you here at Craving Tech.
iPhone 5 can be pre-ordered on the September 14 and available in store on September 21.
Note: All iPhone 5 images are courtesy of Apple.com