Note: This is a guest post written by Jeeva Shanmugam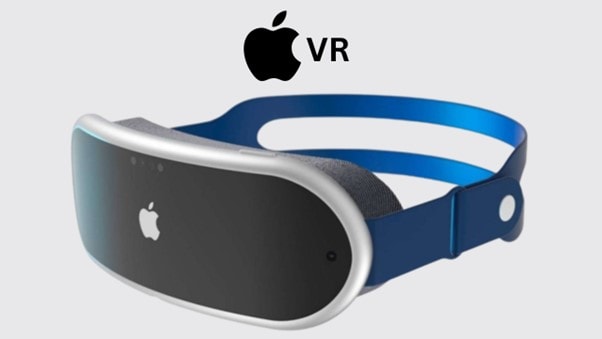 Apple VR headset – Apple's mixed reality headset has been mentioned in the headlines several times, but as consumers and critics, we haven't yet had a chance to check out the eagerly anticipated Apple new device. As the tech giant is anticipated to release its AR/VR headset this spring, this may finally change shortly. Here are some predictions for Apple for this year.
Apple AR/VR Headset May Get Launched this Year
According to Mark Gurman, Apple will introduce the mixed reality headset this year before the Worldwide Developers Conference (WWDC). This rollout occurs a bit later than originally anticipated, in January.
It's important to keep in mind that the Apple headset, which may be known as the Reality Pro, won't be accessible immediately. Gurman claims that after the software features have been thoroughly vetted by developers, Apple will release the device in the fall of 2023.
The AR/VR headset is now being tested by various well-known developers. There is still a number of software and hardware that need to be ironed out before the headset can be made widely available.
I have received a few speculations about the Apple mixed reality headset, and I would love to share them with you.
Apple Mixed Reality Headset
You may know nothing about the mixed reality headset so here is what you need to know, The Apple Mixed Reality Headset is a virtual reality headset designed and developed by Apple Inc.
It is designed to provide users with an immersive mixed-reality experience by blending together virtual and real-world environments. The headset uses advanced tracking technologies to allow users to interact with virtual objects and environments in a natural and intuitive way.
It also features a high-resolution display and spatial audio to enhance the overall experience. The headset is expected to be compatible with Apple devices such as iPhones and Macs, and will likely have a wide range of applications including gaming, education, and entertainment.
Apple Mixed Reality Headset Expected Features
Virtual and augmented reality capabilities: The headset is able to create immersive virtual reality experiences as well as overlay digital elements onto the real world through augmented reality.
High-resolution displays: The headset features two high-resolution displays that provide a clear and detailed image for users.
Hand tracking: The headset uses advanced hand tracking technology to allow users to interact with virtual and augmented reality content using their hands.
Voice control: Users can control the headset and interact with virtual and augmented reality content using voice commands.
Wide field of view: The headset has a wide field of view, allowing users to see a larger portion of the virtual or augmented reality environment.
Wireless connectivity: The headset is able to connect to a variety of devices wirelessly, including smartphones and computers.
Compact and lightweight design: The headset is designed to be lightweight and comfortable to wear for extended periods of time.
High-quality audio: The headset features high-quality audio that enhances the immersive experience of virtual and augmented reality.
Compatibility with a range of devices: The headset is compatible with a range of devices, including iPhones, iPads, and Macs.
Access to a variety of virtual and augmented reality apps and experiences: The headset provides users with access to a wide range of virtual and augmented reality apps and experiences, including games, educational content, and more.
Some sources have claimed that the headset will have a wireless design and will be powered by a custom Apple processor. It is also rumored to have a built-in camera and microphone for capturing video and audio, as well as hand-tracking technology for gesture-based interaction.
xrOS, also known as "Borealis," is anticipated to run on the headset. The name RealityOS was reportedly given to it before. With dedicated processors, a true App Store, and support for a wide range of apps, we may anticipate the device to provide computational capabilities on par with that of a Mac.
The Apple headset may include two 4K tiny OLED panels, iris scanning capabilities for payments and other purposes, and a ton more features to compete with products like Meta's Quest Pro and even the recently released HTC Vive XR Elite. Since a launch is anticipated for this year, we may anticipate formal information to be released soon. Keep checking back for further developments.
Final Phases
In conclusion, There is currently no information available about an Apple Mixed Reality Headset release date. Apple has not made any official announcements or provided any details about the development of such a product.
It is possible that the company is exploring the possibility of creating a mixed-reality headset, but it is also possible that it has chosen not to pursue this technology. Until Apple releases more information, it is difficult to predict when or if an Apple Mixed Reality Headset will be available on the market. We have to wait for Apple's official announcements.