At CES 2023 in Las Vegas, Razer's announcing a list of new gaming products ranging from casual gamers to tech enthusiasts.
So here are all the upcoming products Razer announced for the year 2023.
Razer Edge and Razer Edge 5G
Razer Edge is a handheld device powered by the latest Snapdragon G3x Gen 1 Gaming Platform (designed jointly with Qualcomm) with active cooling for long gaming sessions. The device has a juicy 6.8″ AMOLED display with 2400×1080 FHD+ resolution and 144Hz refresh rate. This sounds like a great device to use for playing AAA FPS games.
The Razer Edge will release in two models: Wi-Fi (US$399,99) and 5G, for U.S only. Razer Edge release date is on January 26.
Project Carol Concept Design
Project Carol is the world's first head cushion to be fit on a gaming chair, with enveloping near-field surround sound and haptics. With included tech like near-field 7.1 surround sound, you'll get a surprising experience for both gaming and movie watching.
The cushion converts game sounds into haptic feedback in real-time so you'll feel explosions and all the cool feedback directly through the cushion.
It's designed to fit all gaming chairs including Razer's Iskur and Enki lines with elastic, adjustable strap. Project Carol provides up to 8 hours of gaming so yes, it has to be charged.
New Razer Blade Laptops
The next generation of Razer Blades are the new Razer Blade 16 and Blade 18, equipped with the latest 13th generation Intel Core i9 HX chipset with NVIDIA's latest RTX 40 series graphic cards, and DDR5 5600MHz of RAM upgrade.
Having an 18-inch laptop category is unheard of, so Razer is taking an aggressive move here. The 18-inch Razer Blade is also Razer's most powerful laptop ever with a large 18-inch QHD+ 240Hz refresh rate.
Razer Blade 18 will be available Q1 2023 and starting at $2,899.
Razer Leviathan V2 Pro
Razer's most popular soundbar also gets an upgrade this year. It has become the world's first beamforming soundbar for desktop with head-tracking AI. This means that no matter where you are or facing, the soundbar can intelligently direct its sound output at you and always deliver the most optimal listening experience.
This is all thanks to the integrated IR camera that can detect your position. The soundbar is also powered by THX Spatial Audio.
It has an included subwoofer for that bass' oomph and has 30 lighting zones for integration with games and Razer Chroma RGB.
Razer Leviathan V2 Pro will be available on February 2023, starting at US$399.99.
Razer Kiyo Pro Ultra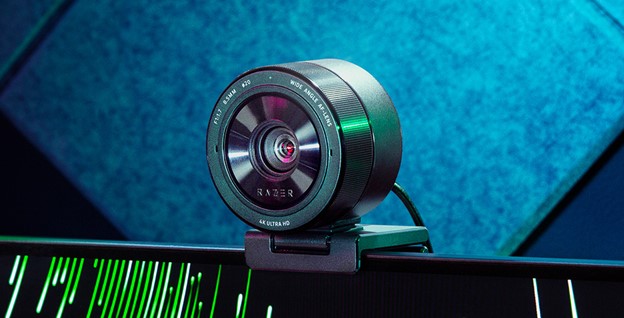 Razer Kiyo Pro Ultra has the largest sensor ever in a webcam for a DSLR-like high quality video. It's powered by the ultra-large Sony 1/1.2″ STARVIS 2 sensor to capture more light and image data in every pixel for exceptional detail and colour.
And thanks to the ultra-large F/1.7 aperture lens, not only it can stream great quality in low lit environment, but it can also give that nice bokeh effect/depth-of-field when you are using it for streaming, content creation, or video calls.
Razer Kiyo Pro Ultra is available now for AU$499.95.
VR Peripherals designed for Meta Quest 2
Two VR accessories for Meta Quest 2 have also been announced by Razer at CES 2023: Razer Adjustable Head Strap System and Razer Facial Interface.
These two accessories are built in collaboration with ResMed to increase comfort when you are using Meta Quest 2 – which means extended VR gameplay.
They will be available starting in the US in Q1 2023.