At least, that's what Symantec is trying to achieve with its latest Norton AntiVirus, Norton AntiVirus Gaming Edition : A winning protection that won't slow you down (or so it promises).
Norton AntiVirus 2009 Gaming Edition is meant to use as little resources as possible and very gaming-friendly (it shouldn't interrupt you at all while you are busy killing other players online. 

Norton AntiVirus Gaming Edition Features (taken from its official page)
Lightning Fast and Light as a Feather
Fastest and lightest virus, spyware, and rootkit protection available, optimized for gaming.
Installs in under one minute on average.
Requires less than 6 MB of memory—eight times less memory than the competitive industry average.
Opens only two processes.
Uses less than 50 MB of hard disk space (without definitions).
Adds less than 3 seconds to boot time.
Norton™ Insight technology scans only those files at risk, resulting in fewer, shorter, and faster scans of less than 35 seconds on average—almost five times faster than the competitive industry average.
Gamer Mode
Suspends alerts and notifications to avoid interrupting game play.
Option to suspend real-time monitoring activities and updates to reduce PC and network resource usage even further.
Automatically enabled when PC is in full-screen mode.
Turn it on manually with a simple click on the Norton system tray icon.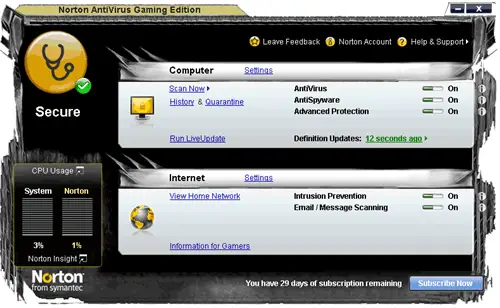 Protection
Automatically detects and removes the latest online threats.
Tiny, rapid Pulse Updates every 5 to 15 minutes—30 times more often than the competitive industry average.
Norton Protection System delivers multilayered protection.
Patent-pending, industry-leading protection from Web-based attacks.
Real-time SONAR™ (Symantec™ Online Network for Advanced Response) technology detects emerging spyware and viruses before traditional definitions are even available.
Botnet detection prevents bots from taking control of your PC.
Norton Recovery Tool boots and repairs badly infected PCs.
Specialized deep-cleaning technology delivers our most complete scan possible.
Easy access to intelligence on Internet threats targeting gamers.
Control Without Disruptions
Smart Scheduler automatically schedules non time-critical activities such as scans and updates to occur while your PC is idle.
Comprehensive control gives you the option to customize your security settings.
Review the security status of every process on your PC.
Since there doesn't seem to be a trial version yet on Symantec's website, I can't give an impression on whether it delivers as it's promised. My concern is that the gaming antivirus edition will not be as smart/intelligent as the non-gaming edition. Hopefully this is not true.
You can read more about the Norton AntiVirus Gaming Edition here.