Man, this case has a long name! The Acase Multifunction Litchi Grain Slim Leather Case for iPad 2 is a slim fit case designed specifically for the iPad 2. The case provides a full body protection (front, back, and the surroundings) for scratches, bumps, and minor impacts.
The leather case itself looks really slim but actually weights more than it looks, which makes the case sturdy and durable (although at the expense of a heavier iPad 2's "magical" experience).
Without the iPad 2, the case looks somewhat funny, probably because it doesn't look like a complete body case. As a matter of fact, I really like this approach because it doesn't remove the aesthetic aspect of the iPad 2. Most cases cover the whole iPad 2 body (except for the screen), making it look less sexy. The Acase Multifunction Litchi Grain Slim Leather Case for iPad 2 only covers the crucial parts, keeping the iPad 2's distinct and sexy look intact.
The interior is made of microfiber which is soft for the iPad 2's screen and the exterior is covered by Premium Litchi Grain Mark leather for an extra protection.
The cut-outs are spot on and you'll never need to take the iPad 2 from this case for any purpose, ever (charging, changing volumes, taking pictures, etc).
The grooves on the microfiber part of the case offer multiple viewing angles, giving you many flexibilities to watch movies on different angles, type notes, or even as a photo frame. The flexibility given here is enormous and there are enough grooves on the case so you can get the best viewing angle.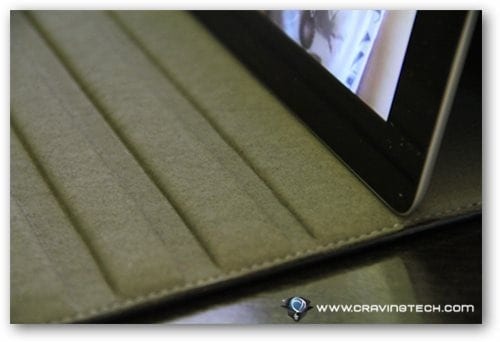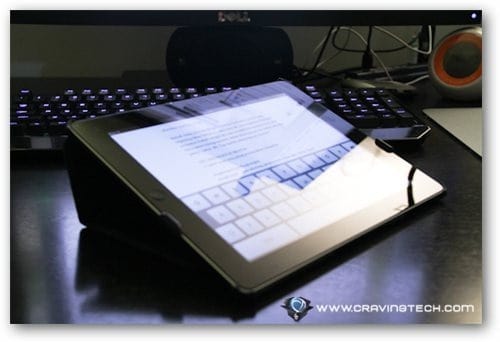 The only problem that this case has is probably the protection from a free fall. The case is quite stiff and there are lots of "open" areas where the iPad 2 body might be in contact with the surface if the force is large enough.
As such, the Acase Multifunction Litchi Grain Slim Leather Case for iPad 2 is great as long as you are not the type who often let your iPad 2 falls from a high altitude or get thrown accidentally. The case keeps the sexy look of the iPad 2 intact while being very practical for typing, reading, or watching movies on the table.
From all the iPad 2 cases, I've reviewed, I pick this iPad 2 case as my primary case because it still maintains the aesthetic look of my iPad 2, gives enough protection, and also gets a thumbs-up for the flexible grooves.
Note: Sample unit provided for the review. Photos taken with Canon EOS 7D
Acase Multifunction Litchi Grain Slim Leather Case Pros
+ Slim, compact
+ Keep the sexy look of iPad 2
+ Good cut-outs for ports, cameras, speakers, etc
+ Flexible viewing angles
+ Good quality material
Acase Multifunction Litchi Grain Slim Leather Case Cons
– Keep some areas of the iPad 2 unprotected from dusts, etc
– May not survive a free fall
– Feels a bit heavy and stiff