Twelve South HoverBar Duo Review – My parents in law make video calls every day to see their 14-months old grandson and we usually use our iPad for that. While the iPad's case has a foldable stand, the angle is often not great and I end up having to hold the iPad with one hand so we can get a good angle of our son. As you can see, this can get tiring quickly and that is why we love having this HoverBar Duo from Twelve South.
Not only we can use it to make video calls, the iPad stand is great for other things like checking the recipes on the kitchen bench while baking cakes, as a second screen to your main PC/Mac, and many other usage.
If you own a store and use your iPad as your POS system for example, the stand is also great to hold the iPad securely on the counter. Not only it looks professional, it's also sturdy enough while you tap the screen away with your fingers.
The packaging comes with a desk base and attached arm, but if you plan to clamp the arm on the desk or cabinet, you also can (it includes an optional shelf clamp). I've tested either way, and they both are very sturdy and I've never had any scare moment.
The clamp can grab any surface thickness from 10mm to 34mm and it's rare to find a clamp that can work with my thick desk, so it's looking great so far.
Unfortunately, it's not straightforward to move from one to another as they have to be secured with screws. It's designed this way to make sure that the arm is properly secured.
The weighted desk stand is pretty heavy and the arm is stiff – all these to ensure the safety of your iPad. This won't prevent you to carry the HoverBar Duo with the iPad on it around the house though.
And thanks to the height-adjustable HoverBar, I can quickly change the positioning (its height and angle) of the iPad depending on what I want to do with it. It's very practical.
You can place the iPad on both Portrait and Landscape orientation too.
Have an Apple Pencil? The desktop stand has a groove to place your Pencil while the iPad is on the stand. It's not magnetised, however.
You can charge the iPad with a cable while it's still on the HoverBar Duo. Perfect for that long video call session or if you are using it in the shop and want to keep it charged.
Twelve South HoverBar Duo Review – Conclusion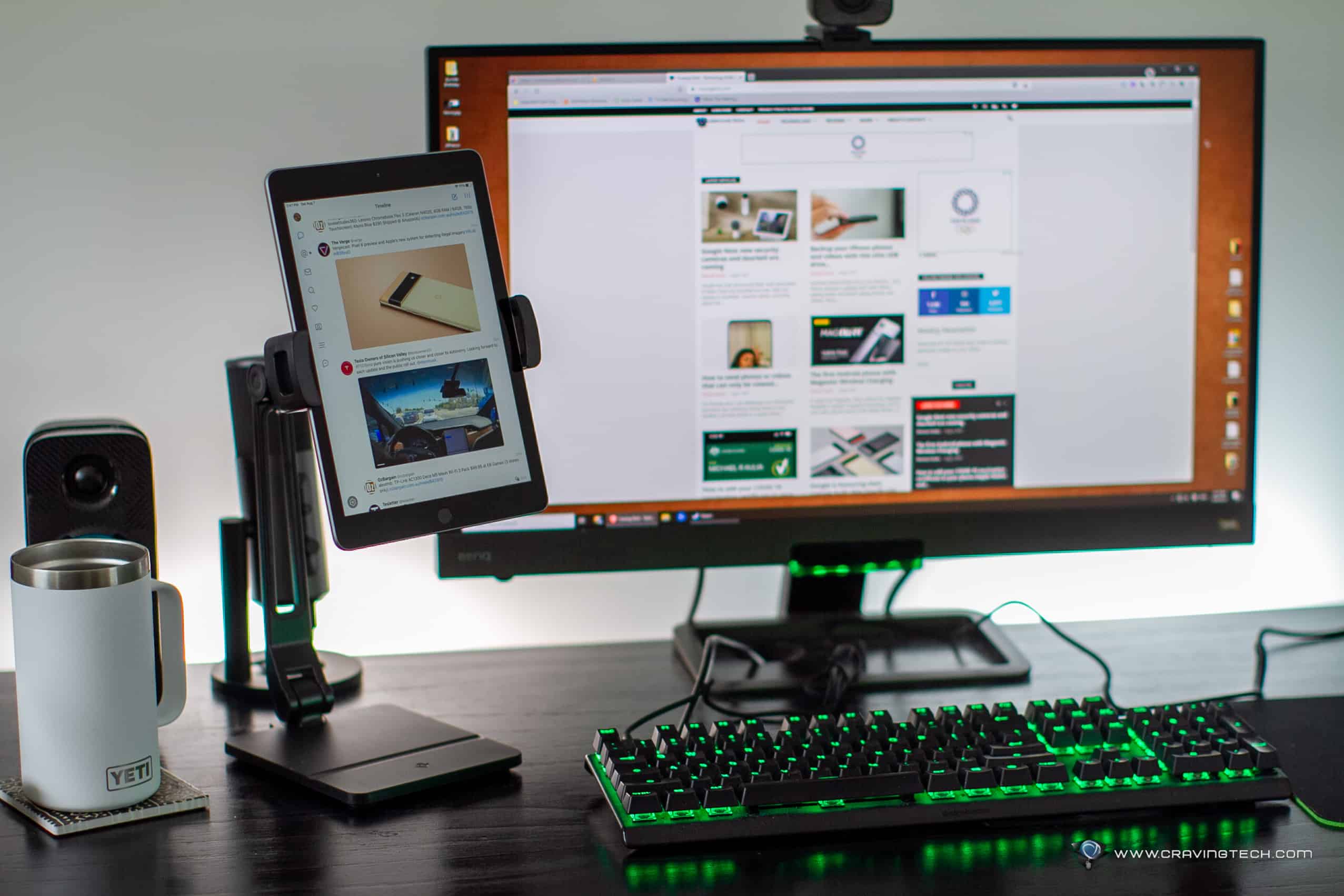 Twelve South HoverBar Duo is a solid and sturdy iPad stand that secures your iPad in any orientation and offers a variety of height and angle positioning. It even works on non-iPad as long as the device fits the dimension requirements on the product page. If you own a Nintendo Switch, it'll also work nicely on the HoverBar Duo.
Both clamp and desk base are included which gives you two options to use your iPad with. I find that the desk base is good enough to be used in a variety of ways but obviously with the clamp, you'll save space and you can even clamp it on a cabinet above the kitchen bench.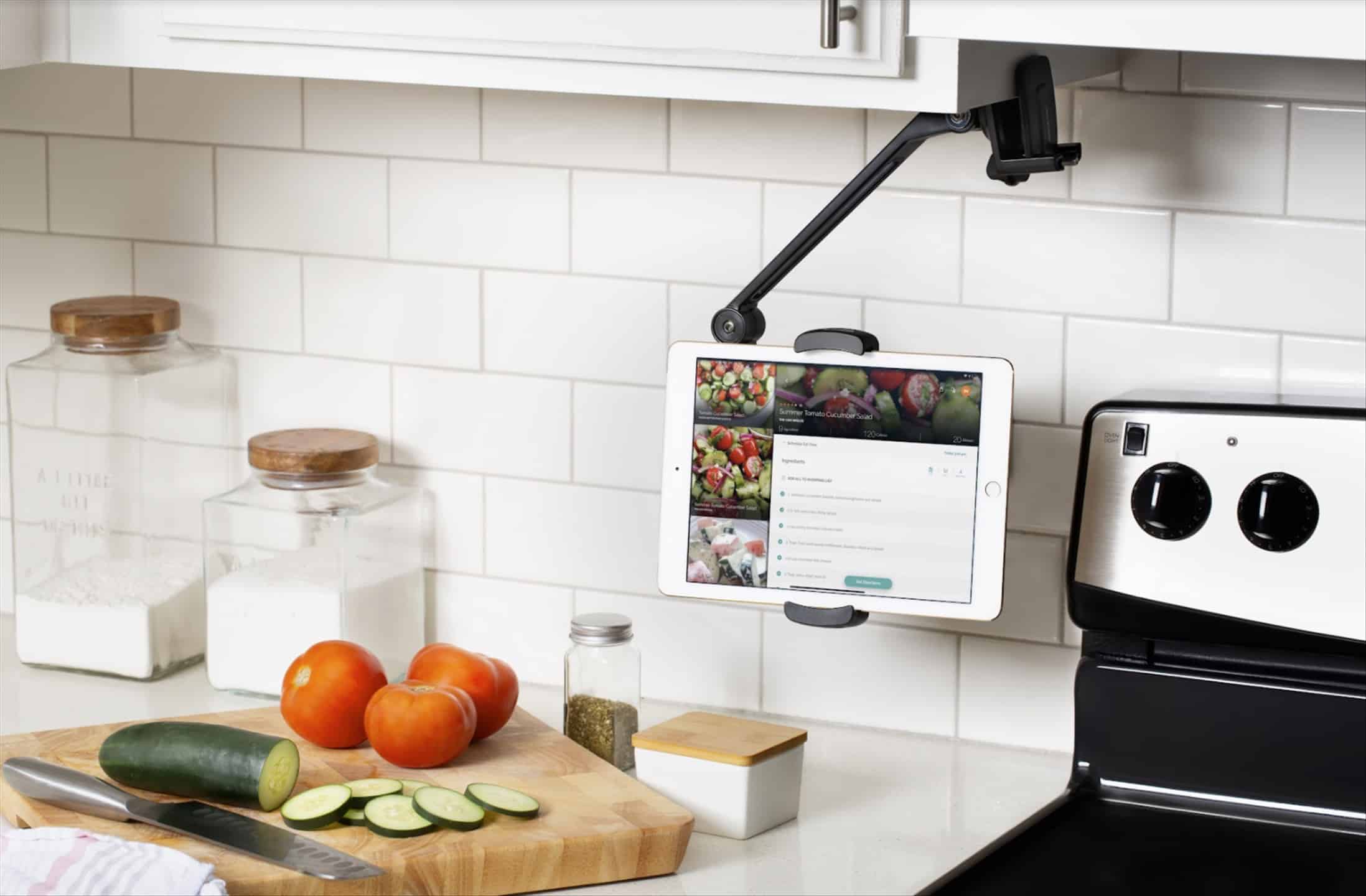 Want to have better angles for video calls and meetings? Check.
Are you using your iPad as your POS (Point of Sale) system in store? Check.
Want to use your iPad as a second or third display? Check.
Twelve South HoverBar Duo is definitely one of the handiest iPad accessories that I've ever come across here at Craving Tech. It's simple, sturdy, and very practical. It retails for A$139.99 and available now for purchase.
Disclosure: Twelve South HoverBar Duo review sample was supplied for reviewing
Twelve South HoverBar Duo Review
Summary
A both desk stand and shelf clamp to hold your iPad (and other supported devices) sturdily with fully adjustable arm to get that perfect height and angle
Pros
Includes desk stand and shelf clamp in the packaging
Very sturdy, durable build
Fully adjustable arm to get that perfect angle and height you want
Supports other tablets, Nintendo Switch, and devices with the right dimensions
Cons
An expensive iPad stand if you don't need it to be that flexible
The groove to place the Apple Pencil is not magnetised, it's ok if you don't move the stand around