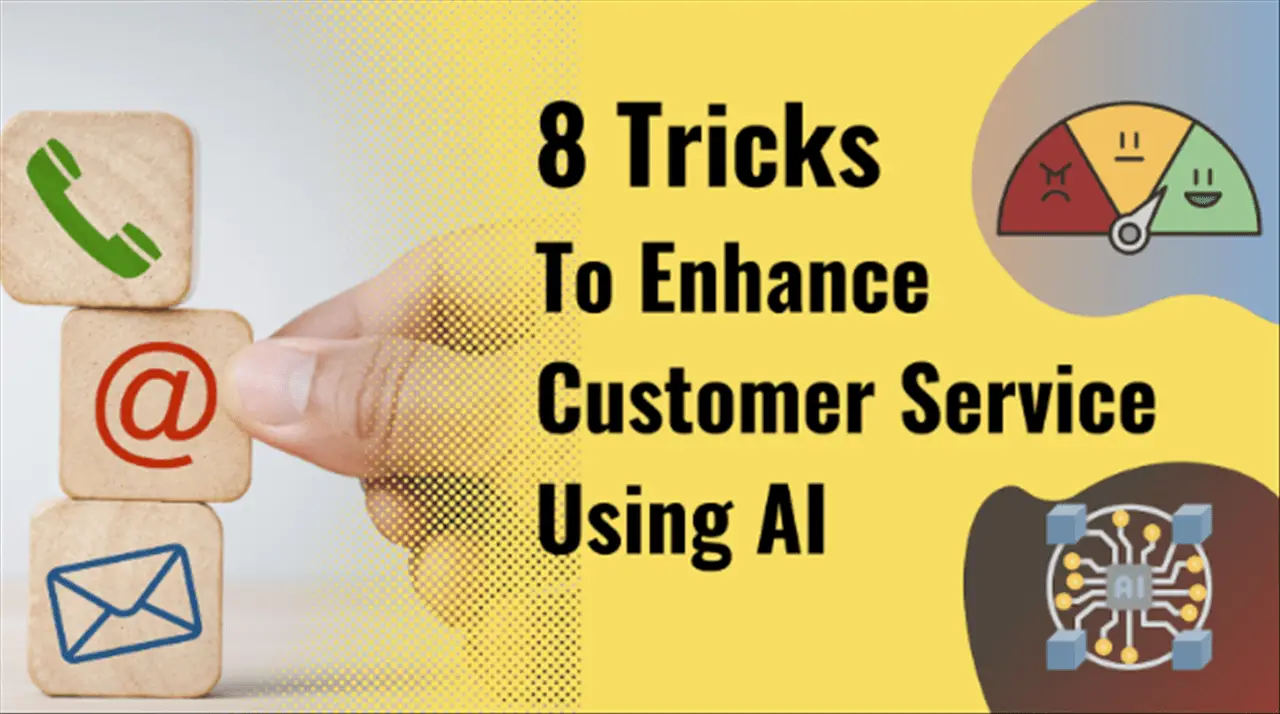 Note: This is a guest post written by Dan Martin
With 433 billion US dollars in worldwide artificial intelligence profits, that figure is anticipated to reach half a trillion US dollars by 2023. Getting visitors is not at all challenging, but turning them into customers and keeping them is a fiercely competitive arena.
Have you ever purchased a long-lasting item ordered in a different color from an online retailer? However, contacting them via customer support was a truly weird response. You might have experienced this once in your life.
Therefore, having one client with several purchase histories is preferable to having hundreds of customers with negative brand perceptions. But regardless of all variations, what strives to win over customers' trust? 
Nothing less than outstanding customer service, as success isn't just a function of the quality and cost of the goods. It is impossible to reply to hundreds of client messages in a single day. It's time to enlist AI assistance.
Businesses are also using remote call centers, where a team of agents takes care of consumers from their homes rather than an office.
What is Artificial Intelligence? 
Particularly computer intelligence, artificial intelligence is required to comprehend, synthesize, and transfer information much like human intelligence.
Applications for artificial intelligence (AI) include recommendation systems, human speech recognition software (Alexa), and web search engines (Google) (Youtube and Netflix).
In addition to reasoning, issue solving, knowledge presentation, natural language processing, search, and optimization, customer service is another objective of AI for organizations.
AI is designed to help self-service support grow and improve. In addition to providing the benefit of lower corporate costs, it also collects pertinent customer data and automates more tedious operations to produce outstanding customer service.
Some Common Advantages of Using Artificial Intelligence
The concept of customer service is broad. To develop an AI chatbot for customer care successfully, the goal must be made clear. The following are the main advantages of utilizing chatbots for customer service:
AI-powered consumer insights
Email content selection using intelligence
Improvements in productivity
Better lead generation and client service
Instantaneous responses to specific queries
User instruction on the process
The chatbot can also assist with eCommerce when it comes to
Find products that clients are interested in
Assist them in selecting product characteristics, and have them check out 
Tricks to Increase Customer Service Using AI 
Give Your Customers A Personalized Perspective  
Personalized client engagement is more important than ever as businesses compete for the attention of potential customers. Companies may provide their clients with a more individualized experience thanks to AI. 
Firms like The North Face use AI to pose questions to customers and then suggest products based on their responses. Additionally, songs and playlists are presented by apps like Spotify based on the user's previously played or saved music.
Develop Customer-Friendly Technologies
In recent years, businesses have used Aeologic Technology to enhance the consumer experience. Virtual reality provides fresh ways to interact and immerse.
Also, chatbots have improved company responses, while AI has stimulated new learning and interaction possibilities. Additionally, the Internet of Things allows various connections, and programmatic advertising has increased targeting. 
The performance of an organization in a cutthroat industry has been altered by digital transformation.
The following technologies have improved in-store retail for customers. These technologies offer the following services:
Creating interactive elements
Streamlining Procedures to Cut Down on Wait Times
Providing e-commerce solutions
Give customers a choice
Measuring customer satisfaction
Selecting the Right Technology
By combining this data with previous customer transactions and behaviors, businesses may gain a 360-degree perspective of their customer experience.
Set Up A Call Center
For improved customer service, a call center is a centralized department that manages both inbound and outbound leads. Call centers differ from contact centers, which concentrate on various contact channels like SMS, emails, and social media accounts. 
They have a single primary objective that centers on phone conversations. You can set up several call centers depending on your requirements. Remote call centers, sophisticated call centers, and virtual call centers are potential options.
A remote call center operates remotely as opposed to internally. Remote call center employees take customer calls, pay close attention to what they say, and attempt to answer any questions they might have while seated in their homes.
Businesses like remote agents because they are more productive and passionate about their work, which results in a better client experience. In the end, customers are happier as a result.
In contrast, virtual call centers are contact centers that are hosted in the cloud and don't require specialist infrastructure. It enables supervisors and agents to communicate with remote and other agents worldwide.
Try Virtual Call Center Softwares 
Additionally, you can set up virtual call center software that boosts customer loyalty, increases agent productivity, and lowers operational expenses. Make sure any software is based on VoIP calls, which form the foundation of virtual contact centers, before installing it. 
Additionally, it should concentrate on CRM connectivity, like Salesforce, which internally tracks and retains customer data. Genesys, Zendesk, Freshdesk, Talkdesk, CloudTalk, and Aircall are a few examples of virtual call center software. 
Companies that employ this softwares properly might reap countless productive benefits from them.  
Train Your Team Members In Virtual Call Centers 
Your team and its employees are a tremendous asset when trying to enhance the customer experience in call centers. Effective team building immediately affects how they react to your brand. 
You must have effective training plans in place for your customer service staff. Engage your creative side by using riddles, multimedia, and animated white charts to train it.
Create An Effective Omnichannel Customer Experience
Businesses that use an omnichannel strategy concentrate on delivering a seamless customer experience across different channels. Six touchpoints allow brands to communicate with customers and maintain their connection. 
It is simple to reach more clients in a trackable and brand-focused way with the integration of mobile apps and websites. This tactic keeps customers interested while interacting with them on the channel of their choice.
Predict Your Customers' Behaviors With A Focused Eye 
Predictive analytics is a useful technique that uses data collection, forecasting, and statistics. It leads to predictive engagement that facilitates quick evaluation of significant amounts of data.
Using artificial intelligence (AI), employees monitor direct interactions between brands and their customers and produce real-time information from predictive analytics. 
Evaluate Real-Time Decisioning 
Brands use in-the-moment decisions like customized recommendations to give customers more pertinent material. 
Brands can perceive and understand the intentions of their customers in real-time with the use of artificial intelligence and making real time decisions. 
Frequently Asked Questions
Q: How does AI assist organizations in enhancing the consumer experience?
A: AI gathered, examined, and interpreted data about clients based on their prior actions. These insights assist business owners in developing further initiatives aimed at increasing client trust.
Q: Does AI have any key attributes? 
A: Yes, categorization, machine learning, collaborative filtering, and classification are the four main characteristics of AI.  
Q: What is a big 5 model in AI?
A: Openness, agreement, extraversion, and neuroticism are the five variables that comprise the big five model. It is simple to evaluate personality traits on a broad spectrum with accurate and quick findings with the aid of AI.